Faculty of Engineering and Computing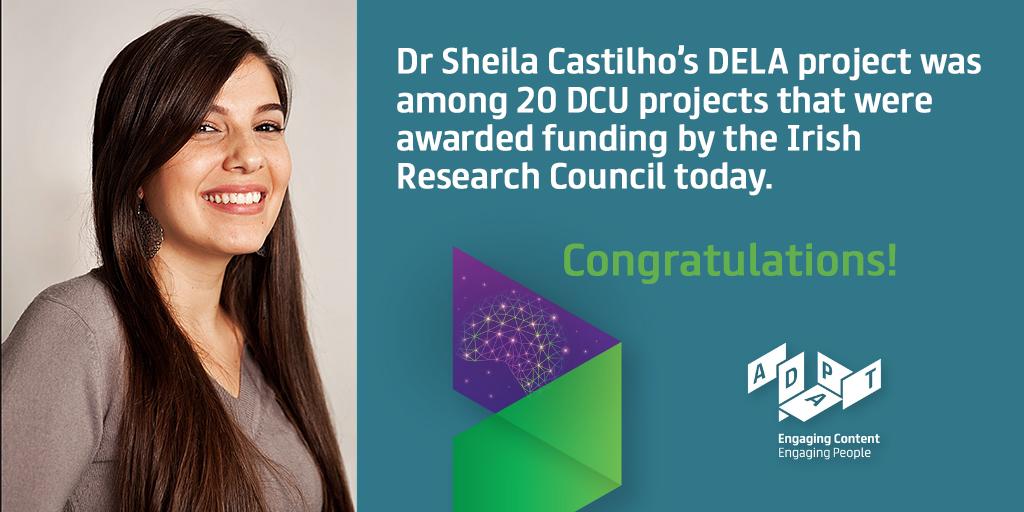 ADAPT Researcher Sheila Castilho awarded funding under Irish Research Council Government of Ireland
Dr Sheila Castilho's DELA (Document-level Machine Translation Evaluation) project was among 20 other DCU projects that were awarded funding by the Irish Research Council today. 
Announcing this year's awards, Minister Simon Harris said, "I am delighted to announce this investment by government in developing the next generation of research leaders across disciplines. Across higher education, enterprise, civil society and the public sector, expert knowledge and skills is a critical need for our present and our future. The awards announced today support a pipeline of research talent which will be at the forefront of addressing the many challenges and opportunities we face.
The COVID crisis alone has demonstrated the importance of investment in expertise across all disciplines, whether in the form of advice on public health, the development of vaccines and treatments within industry, or, crucially, in working through the many longer term social, economic and cultural impacts of the crisis. It can be seen today how Ireland is benefiting from investment in basic research made some years ago, and this will be the case in the future with ongoing support for the pipeline of excellent researchers. I wish the many awardees starting their new projects the very best."
The purpose of the DELA project is to demonstrate that it is time to switch to document-level assessments in order to address a big challenge in Machine Translation (MT): handling discourse dependencies and big picture context of documents. The goal is to avoid errors like mistranslations of gender, ambiguous words, or number agreement, by going beyond just sentence-level translation, as is the current standard. 
Dr Sheila Castilho is the Principal Investigator of the project, with Professor Andy way serving as mentor. The project will run for two years, until September 2022 and is supported by DCU, EAMT, and the IRC.