Faculty of Engineering and Computing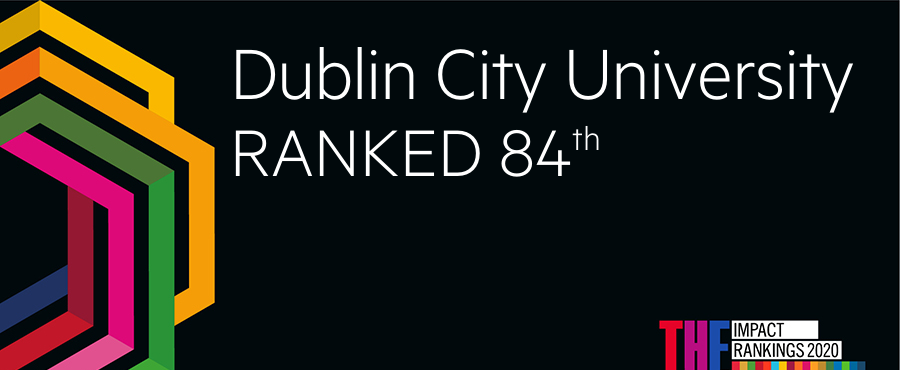 DCU ranked 84th in the world in the 2020 THE Impact Rankings
Dublin City University has been ranked 84th in the world in the 2020 Times Higher Education (THE) Impact Rankings, which capture universities' impact on society and is based on institutions' success in delivering the United Nations' Sustainable Development Goals (UN SDGs).
The UN SDGs, which were developed and agreed by 194 nations and which came into force in January 2016, provide an internationally recognised framework for measuring progress towards sustainable development.
THE's University Impact Rankings 2020, which examined research, outreach, and stewardship in a total of 766 universities from 85 nations, were published today.
While DCU ranked in 14 of the overall 17 SDGs, it performed particularly strongly in the areas of reducing inequalities, gender equality, responsible consumption and production and zero poverty, achieving the following global rankings in each category:
15th Globally for SDG12 - Responsible Consumption and Production:
DCU scored strongly here because of its sustainability strategy, its effective approach to waste reduction and disposal, its success in becoming the first Irish university to go "single-use-plastic-free", and its consistently high ranking (currently #12 in the world) in the global University GreenMetric Rankings for commitment to sustainability.
27th Globally for SDG 1 - No Poverty:
DCU was recognised for its well-established and comprehensive approach to widening participation in higher education, including the Access to the Workplace initiative, which supports students from economically disadvantaged backgrounds to secure summer work-placements, supported by the DCU Educational Trust. This ranking also acknowledges DCU's ongoing commitment to eradicating poverty through external community engagement, e.g. the Educational Disadvantage Centre in the DCU Institute of Education.
36th Globally for SDG 10 - Reduced Inequalities:
This ranking recognised the diversity of the DCU student body, and acknowledged DCU's pioneering work in being recognised as the world's first Autism-Friendly University. The University also scored highly on its research in addressing societal inequality and its commitment to equality, diversity and inclusion, as reflected in its establishment of the DCU Centre for Excellence in Diversity and Inclusion – the first of its kind – which is driving change in the workplace.
43rd Globally for SDG 5 - Gender Equality:
DCU scored strongly in this category because of clear evidence of its commitment to gender equality in its staff and student body. DCU's score recognised the progress made by the institution to date in addressing gender inequality in senior academic positions, its Women in Leadership suite of initiatives, and the impact of its research in the area of gender equality. Developments in this area include DCU's continued encouragement of women in leadership through its 30% Club Scholarships.
In addition to the above, DCU achieved strong recognition for its activity in addressing Quality Education (SDG 1), Decent Work and Economic Growth (SDG 8), Partnership for the Goals (SDG 17), and Peace, Justice and Strong Institutions (SDG 16).
These key areas of impact were also highlighted in DCU's annual Impact Report 'Making A Difference', which was launched earlier this year. The report used the 17 UN SDGs as a framework to convey the broad range of impacts that the university is making on wider society.
Speaking about the rankings, DCU President, Professor Brian MacCraith, said:
"DCU's strong showing in these global rankings offers clear evidence that the University's mission 'to transform lives and societies' is being translated into real impact across the broad spectrum covered by the UN SDGs. This is a testament to the hard work and dedication of our staff and students and their commitment to our mission and values. I want to congratulate them all on this significant global recognition of their work. The rankings also demonstrate how the UN SDGs can provide a valuable 'real world' measure of the real impact that universities are making."