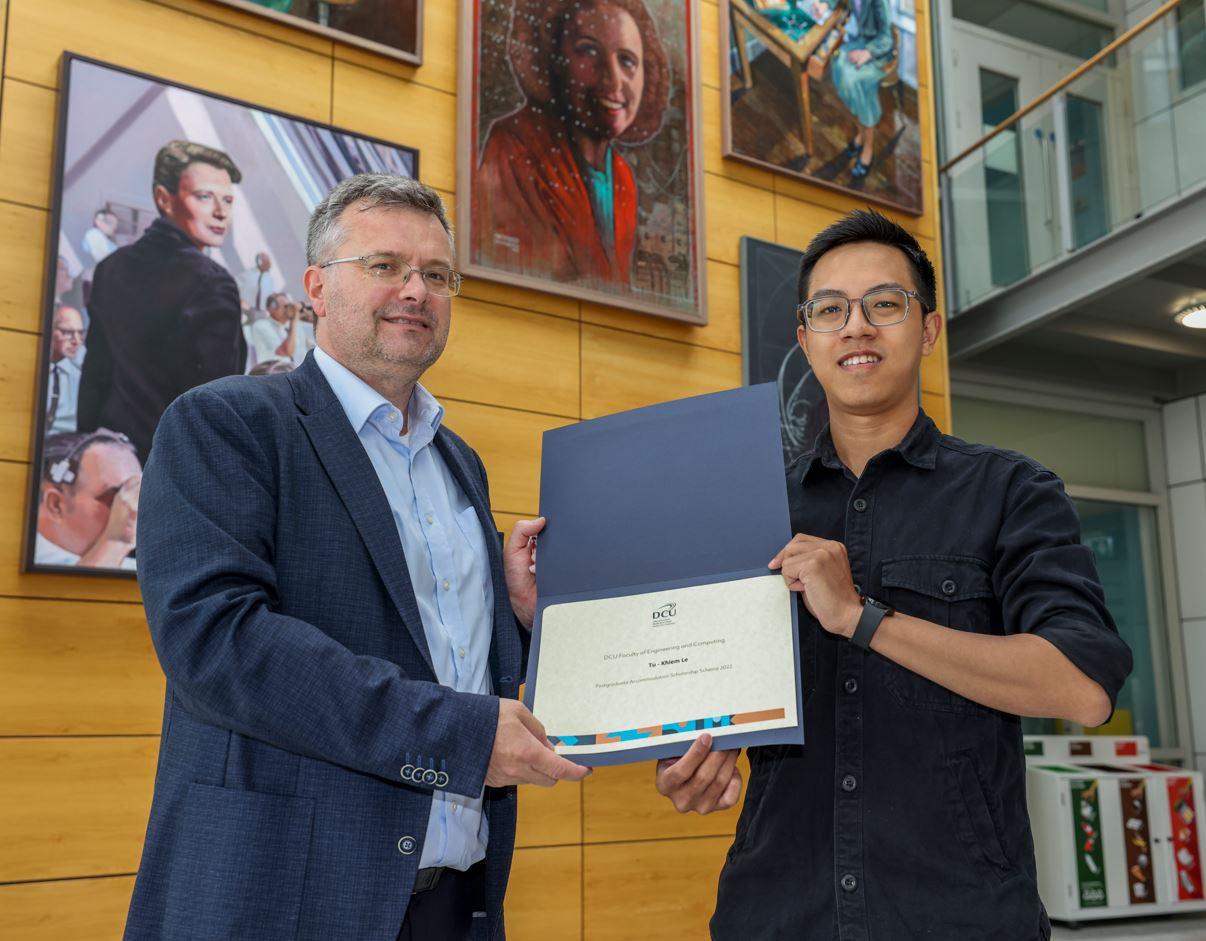 School of Computing Student wins Postgraduate Accommodation Scholarship Award
School of Computing Student wins Postgraduate Accommodation Scholarship Award
The Postgraduate Accommodation Scholarship scheme is run each year by the Graduate Studies Office, and it affords one student the opportunity to live rent free on campus for one year. The winner is selected based on their academic performance and contribution to the Faculty and needless to say, it is a highly competitive process. The review panel consists of the Research Convenors along with the Associate Dean for Research, Dr. Pascal Landais. 
The Faculty is delighted to announce that this year's winner is PhD candidate Tu-Khiem Le (School of Computing, Year 3), who was selected by the review Committee as an outstanding applicant. After completing his Bachelor's degree in Computer Science in Vietnam, he came to DCU to join an EU-funded project as a Research Assistant. Khiem then got funded by the Insight SFI Research Centre for Data Analytics to become a full-time PhD student. His research interests lie in the area of Information Retrieval, Lifelogging, and Eye Movements. Khiem is focusing on identifying eye movement measures that characterise the humans' reading comprehension level, which will be incorporated into the process of indexing and retrieving the information that one has previously seen in daily living.
In response to the award, Tu-Khiem said: "Regarding the scholarship decision, I am sincerely honoured to have been selected as the recipient of the scholarship. This scholarship is greatly meaningful to me as it helps to reduce the financial burden of the rising costs of living and allows me to have a safe and convenient place to spend my fourth year of PhD. I am deeply grateful for the support that the Faculty of Engineering and Computing has offered."
We wish him every success with his studies for the remaining duration of his time in DCU.