Faculty of Engineering and Computing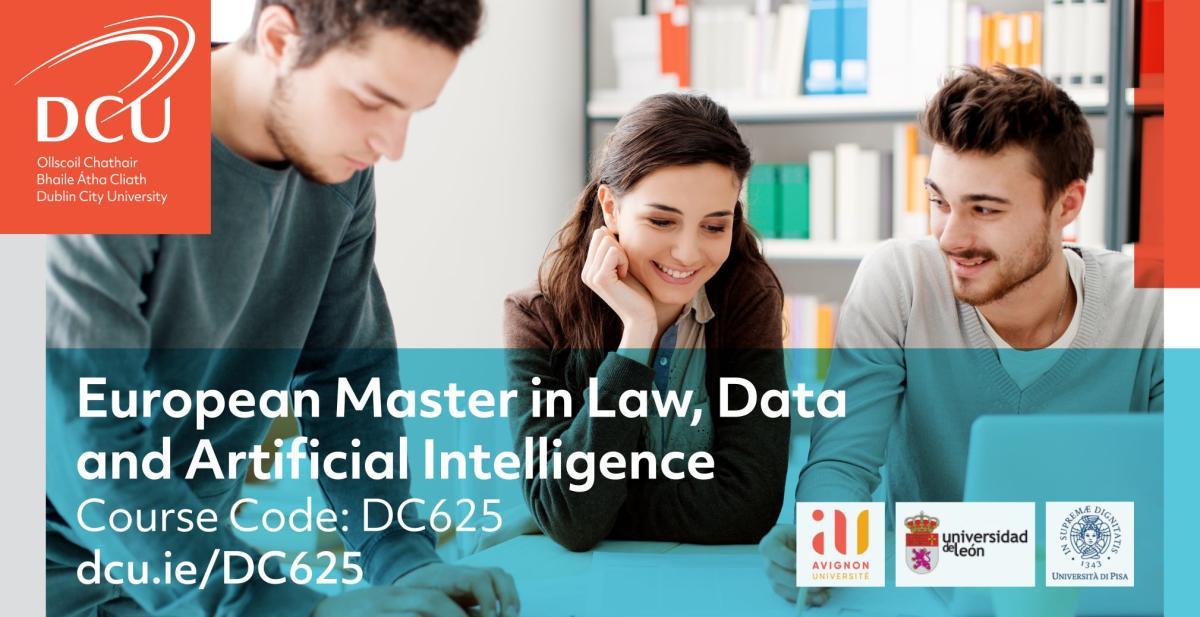 DCU launches exciting new EU-funded Masters in Law, Data and Artificial Intelligence
Right across the globe, as companies and organisations in all sectors strive to stay on top of digital acceleration and managing data associated with technological advancement, DCU launches a new European Master's degree that is uniquely positioned to create graduates to meet their needs.
The European Master in Law, Data and Artificial Intelligence (EMILDAI) is an exciting new master's degree that aims to bridge the gap for businesses and institutions that require experts to legally, ethically and safely process data, in particular in the context of the use of Artificial Intelligence systems. 
Funded by EU
This course is an Erasmus Mundus Joint Masters, which is the most prestigious and integrated study programme at master level funded by the European Union. The EMILDAI project was awarded a grant in excess of €5m by the European Union. At present, DCU is the only institution in Ireland coordinating an Erasmus Mundus Joint Master. DCU will deliver this programme in partnership with three leading European higher education institutions: Avignon Université (France), Universidad de León (Spain) and Università di Pisa (Italy).
Unique mix of law and computing
The European Master in Law, Data and Artificial Intelligence (EMILDAI) offers a unique mix of law and computing modules in a highly internationalised learning environment creating experts in data protection, governance, cyber security, law and ethics of AI. 
Prof Daire Keogh, President of DCU, said: 
"International collaboration in research, teaching, and learning, is a priority for DCU and we are working to advance this through a development of our European and international networks, particularly in the prestigious Erasmus Mundus space. EMILDAI will be the first Erasmus Mundus master coordinated by DCU, and the only one to be currently coordinated by an Irish University."
Dr Edoardo Celeste, programme chair and coordinator of the EMILDAI partnership, welcomed the EU Commission's €5m+ funding to the programme, stating: 
"The next few years until 2030 have already been called the 'digital decade'. The EU is investing significantly in the digital transition. DCU and its partners will contribute to address the challenges of the digital revolution by offering a unique degree that will educate future leaders in this sector."
Scholarship opportunities
A key mission of EMILDAI is to attract talent from all over the world with particular attention to aspects of equality, diversity and inclusion. The course launches with very attractive scholarship opportunities and students are encouraged to apply when admissions open on 28th February as these opportunities will only be available to those who apply before the end of March 2022. Scholarships cover tuition fees and offer a monthly stipend of €1400.
Multilingual learning
In addition to core computing and law modules, EMILDAI students will benefit from multilingual learning related to English and one other European language (French or Spanish). This combination of skills is highly sought after by international organisations, tech companies, the legal sector and European and global institutions.
Supported by research and industry
This European master's degree is also supported by three Research Associate Partners, which represent leading research centres in the field of law, data and AI:the ADAPT Centre, ISTI and Centre de Recherche en Droit A. Favre. The programme also involves more than 70 public and private organisations in the delivery of work placements, seminars, thematic weeks and summer schools.
Who should consider this master's degree?
The EMILDAI will be of key interest to students with a degree in computer science or computing and related areas as well as those with a degree in law or with a degree containing law as a key component. Applicants for this new master's degree will also hold a proficiency in two languages, including English.
Learn more at www.emildai.eu