MSc in Science and Health Communication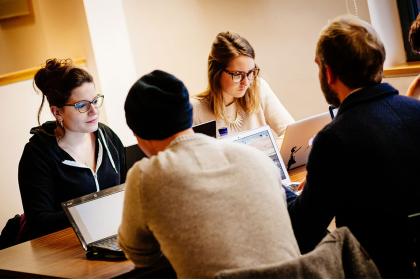 Course Code:
DC606(Full Time), DC607(Part Time)
Course Type:
Postgraduate
Duration
(FT - 1 Year), (PT - 2 years)

+353 (0) 1

padraig.murphy@dcu.ie
The University has launched a new student application portal. For applications to this programme see the Make an Application section below.
We are happy to announce that we will be delivering this programme fully online in Semester 1 in 2020-2021. See further details under the Programme Tab.
Introduction
The world has changed dramatically since the arrival of SARS-CoV-2 coronavirus in late 2019. Never before has it been so crucial to have skilled science communicators presenting technical information accurately and engagingly, while also organising and managing the flows of communication within and across the complex new crises we face on this planet. While there are fears of misinformation to be addressed, it is also crucial to engage society to participate in scientific research, and to make science more accessible and inclusive. Traditional political and community forums, online platforms, vlogs, broadcast news, social media, conferences, seminars, policy briefings and even science fiction are just some of the ways we can address both the scientific and the social issues associated with climate change, pandemics, future and emerging technologies, and the science of the world around us. 
The MSc in Science and Health Communication will not only explore these and emerging forums for science communication, but will also examine the best methods to communicate scientific information effectively to the many different groups within society.
A masters' degree in science communication at DCU was founded in 1996 and is well recognised and received in Ireland and abroad. A health communication strand was added in 2018. Many of our past students have become key figures in science communication, science policy and public engagement. We welcome prospective students who are already in careers in STEM education and public engagement, working in scientific, engineering, environmental and medical fields, in addition to those with backgrounds in the humanities and the social sciences who are interested in science communication as a field and a profession. We also welcome those interested in leadership and communication in the commercial biomedical sector as well as public health policy, administration and regulation, and environmental communication. The common interest we seek from these diverse backgrounds is that they share a passion and commitment for effectively communicating inspiring, emerging and at times challenging scientific knowledge to various groups and sectors across society.
The MSc in Science and Health Communication includes modules on e-health governance, gender and inclusivity, and data communication, alongside modules on media skills, audience research and planning strategic communication programmes.
Our alumni are sought after by many private and public sector institutions who strive for better communication of science. Our students, and what they will learn, will be at the centre of global policy for the foreseeable future.
DCU's School of Communications has just been ranked in the top 200 communications schools internationally. The only ranked Irish media/communications School in the QS ranking. 
This programme is being offered fully online in Semester 1 for the 2020-2021 academic year. Most lectures will be delivered in on-campus classrooms equipped with live-streaming technology or via the Zoom video platform. All lectures will be supplemented by recorded versions of the same content, as well as online discussions, on-campus small group seminars and individual and group assignments. Teaching will be facilitated through DCU's online learning environment, LOOP, the Zoom video platform, and other tools.
In order to join the programme, students are required to either be on campus or be able to participate remotely via online means, and all students must have access to a desktop or laptop computer and a reliable internet connection. Prospective students may avail of the blended offering from the beginning, or alternatively have the option to begin their study in Semester 1 through online engagement and, pending the lifting of health, travel and visa restrictions, join activities on campus in Semester 2, or continue to access classes online if necessary.
Dissertations can be supported remotely where necessary, but certain components of the programme, such as work placements/internships, are less likely to be available to students who could only do them remotely and may have to be replaced with other options.
Subject to public health advice, should the restrictions around on-campus delivery of teaching change, some components of the programme could take place entirely online or in a mixed mode combining in-class and online engagement. However, students who are unable to join on-campus activity will be able to complete their degree fully online.
The blended programme is delivered by the same high quality and experienced staff who traditionally delivered on campus. Lecturers will provide feedback on your assignments and you will have access to staff via email or Zoom video calls to discuss your work.
The above conditions are subject to government and public health advice with regard to restrictions and social distancing measures and may be modified or adapted as the situation changes.
This programme is offered full-time over one year and part-time over two years.
Students take a combination of core and option modules in areas such as Research Methods; Strategic Communications for STEM, Environment and Healthcare; Informatics in eHealth; Science and Health in the Media; Data Communication; Understanding Social Media. The programme also includes practically oriented modules including Media and Communication Skills and Making Smartphone Videos. All students complete a Major Project/Dissertation and can avail of a work placement.
View the current course structure
The MSc in Science and Health Communication is located in t
he School of Communications at DCU, which has an internationally recognised reputation for teaching and research excellence in media, communications and journalism. Staff include leading academic scholars and experienced industry professionals. Their innovative peer-reviewed and internationally ranked research, which is shared in a classroom environment, also helps shape policy decisions about the worlds of media, communications and journalism both in Ireland and internationally. With a tradition stretching back almost 40 years, today the School is home to almost 1,000 students studying
undergraduate
and
postgraduate
degrees as well as undertaking
doctoral research
.
Graduates of this programme have found employment in science public relations and information services, science journalism, science broadcasting, science teaching, science demonstration and display, science publishing, web editing for science institutions and educational software authoring.
Requirements
General Entry Requirements
For admission to the MSc in Science and Health Communication programme, successful applicants will have - 
A degree at the level of an Irish or UK Honours undergraduate degree (H2.2 or above) or equivalent
Applicants with appropriate combinations of professional qualifications and experience may also be considered. This includes discipline-specific knowledge and know-how; transferable skills; basic research competency; personal effectiveness.
International candidates who are non-native speakers of English must satisfy the University of their competency in the English language.  More information about the English language requirements for DCU's School of Communications can be found 

here

.
Fees