MSc in Public Relations and Strategic Communications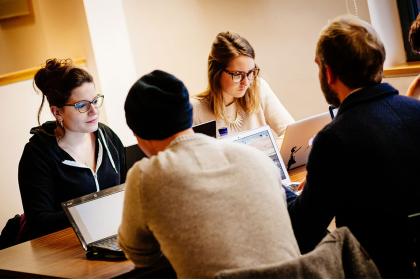 Course Type:
Postgraduate

+353 (0) 1

martin.molony@dcu.ie
The University has launched a new student application portal. For applications to this programme see the Make an Application section below.
We are happy to announce that we will be delivering this programme as a blended online/in-classroom experience in 2020-2021. See further details under the Programme Tab.
Introduction
Effective communication is the lifeblood of any organisation. Strategic communication is an essential factor for an organisation's success and how it effects their end goals and not just their image.
DCU's MSc in Public Relations and Strategic Communications (MScPR) provides a focus on the "why" of communication decisions, rather than merely on the "how" of any communication activities. The programme is designed to provide the skills and ability to think strategically and make effective use of the latest tools in modern communications.
Why do this course?
A 54-week programme delivered with a high level of industry involvement.
Designed and continually updated in conjunction with both leading industry and academic experts in Ireland and abroad.
100% continuous assessment, including several live client-applied projects.
High employment rates in leading professional communications workplaces.
Industry mentor provided for each student.
Three-month industry placement, co-ordinated by DCU, in blue-chip agency or in-house communications organisations.
Accredited by the PRII, a member of the Global Alliance of Public Relations.
DCU's School of Communications is ranked in the top 200 communications schools internationally and is the only ranked Irish media / communications school in the QS ranking.
The MSc in Public Relations has been developed in partnership with the public relations industry in Ireland and with the advice and expertise of academics and practitioners across Europe and in the United States. The course is accredited by the Public Relations Institute of Ireland (PRII), which is part of the Global Alliance of PR associations, representing 280,000 practitioners and academics in 126 countries. The MScPR programme is revised annually, with PRII input, to reflect the changing landscape of communications and the emerging use of the latest digital technologies.
Since the programme's establishment in 2016/17, graduates are now working in communication roles on three continents, including in Australia, France, Italy, Norway, United States, as well as in the UK and Ireland. 
The programme provides students with public relations theory and practice alongside an understanding of recent developments and challenges for the profession. These include the impact of social media; the decline of traditional media; growing issues of corporate social responsibility influencing organisational reputation; and the increasing influence of other social science disciplines on Public Relations theory and practice.
Based in DCU's School of Communications, the MSc in Public Relations & Strategic Communications is built on the experience and expertise of the school's research in media, communications and journalism for almost forty years.
The MSc in Public Relations & Strategic Communications has several features distinguishing it from other postgraduate offerings in this field:
All modules include lectures from market leading practitioners.
The programme is fully integrated with the Irish and European communications sector, within both the academic and professional circles.
The award-winning teaching staff have expertise and experience in key aspects of public relations and strategic communications.
The blended delivery of this programme requires students to work with online technologies that are a critical part of a contemporary workplace environment.
A capstone supervised dissertation, focusing on current topics of importance to the public relations, media and communications sectors.
Our mentorship scheme partners each student with a senior communications executive from an agency or in-house department for the academic year.
An emphasis on the vocational aspect of the course includes a "Careers Bootcamp" workshop in conjunction with members of the HR & PR sectors. 
The MScPR is completed with a supervised three-month work placement with leading agencies and significant in-house communications departments.
Further information can be found on the programme's social media accounts:
Facebook: https://www.facebook.com/MScPRDCU/
LinkedIn: https://www.linkedin.com/company/mscpr-dcu
Twitter: https://twitter.com/MScPRDCU
Link to the programme's Facebook page: https://www.facebook.com/MScPRDCU/
DCU's School of Communications is ranked in the top 200 communications schools internationally. The only ranked Irish media/communications School in the QS ranking. 
Programme
DCU's MSc in Public Relations and Strategic Communications focuses on the "why" of communication decisions, rather than just the "how" of any communication activities. As a result, students completing the programme will: 
understand and be able to reflect critically on the role, the benefit and the processes of public relations in organisations and society.
appreciate the strategic importance of public relations and how it can have a central role in the success of an organisation in any of the corporate, political and non-profit sectors.
engage with topics and issues about public relations through thoughtful reflection in discussions and group work that will give them a base of knowledge to advise and take a lead in their future public relations careers.
develop practical skills for PR planning and implementation alongside reflective skills and scholarship and understanding of the role and agendas which develop from PR as a strategic discipline.
DELIVERY: 
This programme continues to be offered as a blended online/in-classroom experience for the 2020-2021 academic year. Most lectures will be delivered in on-campus classrooms equipped with live-streaming technology or via the Zoom video platform. These will be supplemented with online discussions and on-campus small group seminars, as well as individual and group assignments. Teaching will be facilitated through DCU's online learning environment, LOOP, the Zoom video platform, and other tools.
In order to join the programme, students are required to either be on campus or be able to participate remotely via online means (in real time), and all students must have access to a desktop or laptop computer and a reliable internet connection. Prospective students may avail of the blended offering from the beginning, or alternatively have the option to begin their study in Semester 1 through online engagement and, pending the lifting of health, travel and visa restrictions, join activities on campus in Semester 2, or continue to access classes online if necessary.
Dissertations can be supported remotely where necessary, but certain components of the programme, such as work placements/internships, are less likely to be available to students who could only do them remotely and may have to be replaced with other options.
Subject to public health advice, should the restrictions around on-campus delivery of teaching change, some components of the programme could take place entirely online or in a mixed mode combining in-class and online engagement. However, students who are unable to join on-campus activity in Semester 1, will be able to complete their degree fully only if they are able to come on campus in Semester 2 and able to participate in all required learning and research activities.
The blended programme is delivered by the same high quality and experienced staff who traditionally delivered on campus. Lecturers will provide feedback on your assignments and you will have access to staff via email or Zoom video calls to discuss your work.
The above conditions are subject to government and public health advice with regard to restrictions and social distancing measures and may be modified or adapted as the situation changes.
The programme is normally delivered over 54 weeks from mid-September in four parts: 
two twelve-week teaching semesters consisting of, 
three modules delivered from mid-September to mid-December and 
three modules delivered from late January to late April. 
the completion of a capstone supervised research dissertation, focusing on current topics of importance to the public relations, media and communications sectors, for submission by 30th June.
participate in a three-month formal supervised work placement in a leading public relations agency or within a significant in-house communications department. This is co-ordinated by the university and take place over July, August and September.
The MSc in Public Relations & Strategic Communications makes use of blended learning techniques, where some classes are taught in a traditional classroom setting, while other classes are online, or may be accessed remotely using market standard videoconferencing technology 
This programme is not available entirely online.
TIMETABLE: 
Semester One classes comprise face-to-face sessions on Monday afternoons and evenings and on Thursday evenings, with an online (but real-time participation) class on Wednesday evenings. 
Semester Two classes comprise face-to-face sessions on Monday afternoons and evenings, with an option to either attend in person on Wednesday and Thursday evenings, or to access these sessions remotely.
WORKPLACE INTEGRATION: 
The programme places particular emphasis on building familiarity for students with the public relations workplace, through continuous engagement with public relations practitioners and their work.
With that in mind, a number of industry-supported elements complement the traditional classroom activities:
The core lecturing team includes experienced practitioners, with greatly varying experiences and still active in the marketplace,
Each module features guest lectures and panel discussions from practitioners drawing on topical experiences within the communications and media sectors.
Each student is provided with a personal one-to-one industry mentor to support them throughout their year on the programme. 
Each student is automatically registered as a student member of the industry's professional body, the Public Relations Institute of Ireland* (PRII) a status that remains in place for two years post-graduation.
Students attend the annual conference of the Public Relations Institute of Ireland in October as part of a module assessment.
Students are asked to tackle real life case-studies, provided by client organisations, to which MScPR student groups prepare and deliver a pitch to  professional agency standards.
A "Careers Bootcamp", is organised annually, involving CV, and career planning support from DCU's Career Service and a full mock interview followed by feedback with a panel of senior industry communications and HR professionals. 
*The PRII is part of the Global Alliance for Public Relations and Communications Management which provides reciprocal recognition for PRII accredited qualifications throughout the world 
In semester one, students take the Managing the Message and Strategic Communication modules in a face-to-face classroom setting and Contemporary Public Relations Issues in an online environment (but in real-time). In preparation for their MScPR Dissertation, they join students from other postgraduate courses in a first-semester module on Research Methods.
Semester two comprises modules in Contemporary Communication Channels and MScPR Dissertation workshops in a face-to-face environment. Students then have the option to participate in Integrated Communications and Communication Management modules face-to-face or remotely (but in real time).
Students complete their MScPR Dissertation by 30th June, before starting taking up their work placement for July, August and September.
Semester one:
CM5013 Managing the Message
Effective messages must be targeted, focused and planned. This module equips students to identify, map and manage relevant stakeholders; to identify and use the most appropriate communication channels for their purpose; and to appreciate the most appropriate form and content for the messages employed – be that text image or audio based.
CM5022 Strategic Communication
In addition to its immediate purpose, communication must also contribute to the overall strategic success of any organisation. This module provides students with an appreciation of strategic thinking and the development of strategic communication as part of strategic management of an organisation.
CM5014 Contemporary Public Relations Issues
The practice of Public Relations evolves within a changing and challenging environment. Drawing on the expertise of current PR practitioners, this module considers broad trends influencing the direction of public relations practice illustrated through current Irish and international experiences.
Semester two:
CM5025 Contemporary Communication Channels
The pace of development in digital and social media challenges communication professionals to select and adopt their most effective use. This module introduces students to the strategic use of emerging communication technologies for effective Public Relations practice and to the range of issues to be considered in the strategic use of digital communication channels within contemporary Public Relations.
CM5021 Communication Management 
Effective communication requires systematic planning, implementation and monitoring of all aspects of the communication process. This module gives students a clear understanding of the techniques and processes required to operate a communications function, to develop and deliver communications plans; to manage internal and external communication resources using traditional and digital channels of listening; and to develop a good working knowledge of the theories, practices and key issues involved in managing effective communication.
CM5020 Integrated Communications
Successful strategic communication requires the integration of all communication tools. This module will introduce the student to the theories, principles and practices of integrated communications. The module will enable the student to appreciate the components of integrated communications and particularly Public Relations.
View the current course structure
"It's young, gifted and on track. DCU gives students vital experience and skills to augment their academic studies and is instrumental in producing an exceptional calibre of graduate, primed and ready to face the future. They also perform better at interview." – The Sunday Times.
DCU is a young, dynamic and ambitious university with a distinctive mission to transform lives and societies through education, research and innovation. Since admitting its first students in 1980, over 50,000 students have graduated from DCU and are now playing significant roles in enterprise and business globally. 
DCU's excellence is recognised internationally with the University being ranked highly among leading global institutions. DCU is the fastest growing university in Ireland and regularly features in the QS Top 50 under 50 and the Young University rankings (a ranking of the Top 100 Universities under 50 years of age). In the last nine years, DCU has twice been named Sunday Times 'University of the Year'.
DCU alumni are in evidence throughout the Public Relations industry across all sectors in Ireland and overseas. They play leading roles in key industry bodies and public discourse, and are intimately involved in the continued development of the MScPR programme.
The School of Communications at DCU has an internationally recognised reputation for teaching and research excellence in media, communications and journalism. DCU lecturers, with extensive practice experience across the sector, have excellent industry links and are active in researching and analysing communications nationally and internationally.
DCU's School of Communications is ranked in the top 200 communications schools internationally and is the only ranked Irish media / communications school in the QS ranking.
Our graduates hold senior industry positions working in print, broadcast and online media organisations, in public relations firms, for political parties and government, and in the corporate and non-governmental sectors. It is not difficult to look too far in the space of media, communications and journalism in Ireland to find a graduate of the School of Communications.
With a tradition stretching back almost 40 years, today we are home to almost 1,000 students studying undergraduate and postgraduate degrees as well as undertaking doctoral research.
The School is also the location of a number of research projects / centres, including the Institute for Future Media and Journalism (FuJo), the Media History Collection and Celsius, a science, technology, environment and medicine research group.
The skills of strategic communications are used with organisations of all types: in public service, charities, voluntary organisations, entertainment, sports, education and business – across all sectors, including technology, food, healthcare, leisure and utilities.
Graduates from the MSc in Public Relations & Strategic Communications will pursue careers both within and within in-house communications departments and public relations agencies. The programme provides the necessary skills and knowledge for careers in:
Public Relations

Strategic Communications
Advocacy
Media Relations
Content Management
Political Communications
Communications Management
Brand Engagement
Reputation Management
Community Management
Public Consultation
Sponsorship
Corporate Responsibility Management
Since the programme's establishment in 2016/17, graduates are now working in communication roles on three continents, including in Australia, France, Italy, Norway, United States, as well as across the UK and Ireland. 
Requirements
General Entry Requirements
For admission to the MSc in Public Relations and Strategic Communications programme, successful applicants will have - 
A degree at the level of an Irish or UK Honours undergraduate degree (H2.2 or above) or equivalent.  Entry to this programme is very competitive and places are limited. Applicants will normally have a strong honours primary degree in a related discipline. 

Appropriate combinations of professional qualifications and experience may be accepted as equivalent to an honours degree, in accordance with the relevant regulations of the university. This may apply to applicants who have worked in advertising, journalism, marketing, media, public relations, or in a communications role / function for several years.

International candidates who are non-native speakers of English must satisfy the University of their competency in the English language.  More information about the English language requirements for DCU's School of Communications can be found 

here

.
Qualification
Master of Sciences in Public Relations and Strategic Communications
Fees