School of Electronic Engineering
Masters Engineering Qualifier - Electronic & Computer Engineering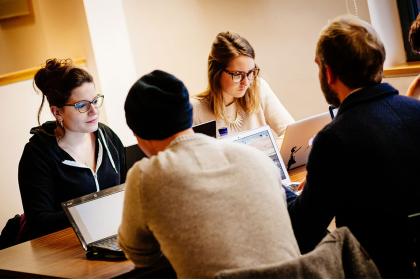 PAC Code:
Sep DC847 (FT) DC830 (PT) / Feb DC848 (FT) DC831 (PT)
Course Type:
Postgraduate

+353 (0) 1

ee.queries@dcu.ie
Deadline for all EU Applications extended to 30th September 2020
Students who do not have the entry requirements to enter directly onto the Masters programmes may be offered entry on the Masters Qualifier Programme. The Master Qualifier contains the same modules as our Masters. Students on the Masters Qualifier Programme may transfer onto the Masters programme, subject to the transfer requirements and without loss of accumulated credits. A Graduate Certificate exit award is potentially available if a transfer to the Masters Programme is not possible or desirable however, a minimum of 4 advanced (Level 9) modules must be successfully completed in order to exit with a Graduate Certificate.
To give students the knowledge, experience and skills to access either of our Masters programme in Electronic & Computer Engineering. The MEQ course itself does not carry an award, but it offers students the opportunity to advance their knowledge and skills in order to demonstrate their aptitude to join the Masters programmes.
View the current course structure
Established: with more than 20 modules available, there is great scope to tailor the programme to specific needs and interests in the largest and longest-running programme of its type in the country.
Flexible: combine full-time/part-time, on-campus/remote, a choice of two starting times each year.
Modern: The course is continually kept up- to-date to reflect changing technological advances in industry and research.
Relevant: Acquire knowledge and skills that are in high demand in industry.
Candidates who successfully complete the Masters Qualifier can transfer to the M. Eng in Electronic & Computer Engineering.
Fees
Requirements
General Entry Requirements
Entry to the Masters Qualifier Course is available to Electronic Engineering or cognate discipline graduates with:
An NFQ Level 8 qualification below H2.2 equivalent.
An NFQ Level 7 qualification, with a minimum of three years relevant experience.
Both cases are subject to an interview if deemed necessary by the Chair of Programme or Head of School.
Important Note:
Students who meet the minimum entry requirements are not guaranteed a place on the programme and DCU reserves the right to interview candidates to confirm their suitability for the programme. Applications are open to EU Applicants only
Make an Application
All Applicants Must submit
Academic transcripts for each and every year of study, with certified English translations if applicable.
Personal Statement of 250 words
Curriculum Vitae (CV)
Non Native English Speakers must also submit
Applications are made through the Postgraduate Application Centre. (PAC)  http://www.pac.ie/
Closing Dates
October 2020 Intakes: 30 September 2020, selecting either DC847 (Full Time) or DC830 (Part Time)
February 2020 Intakes: 8th January 2020, selecting either DC848 (Full Time) or DC831 (Part Time)
Queries on completed applications can be made by e-mail to registry@dcu.ie.