School of History and Geography
MA in History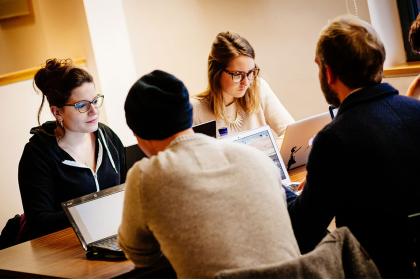 Course Code:
DC677(Full Time), DC678(Part Time)
Course Type:
Postgraduate
Duration
(FT - 1 Year), (PT - 2 years)

+353 (0) 1

daithi.ocorrain@dcu.ie
The University has launched a new student application portal. For applications to this programme see the Make an Application section below.
We are happy to announce that we will be delivering this programme as a blended online/in-classroom experience in 2020-2021. See further details under the Programme Tab.
Introduction
Gain a deeper understanding of Ireland's social, cultural, economic and political history from the Middle Ages to the present day.
DCU's MA in History offers fresh perspectives on Ireland's journey from colony to independent state, on how Irish sovereignty has developed, on the centrality of land and landscape, and on the fluctuating fortunes of religion, language and gender. 
The combination of the disciplines of History and Geography in our school is unique in Ireland.
Through our innovative and dynamic teaching, you'll gain rich insights on Ireland's fascinating historical story and its broader international context; both are essential to understand the world today and how our future is being shaped.
This programme is being offered as a blended online/in-classroom experience for the 2020-2021 academic year. Most lectures will be delivered in on-campus classrooms equipped with live-streaming technology or via the Zoom video platform. All lectures will be recorded and made available online. These will be supplemented with online discussions and on-campus small group seminars, as well as individual and group assignments. Teaching will be facilitated through DCU's online learning environment, LOOP, the Zoom video platform, and other tools.
In order to join the programme, students are required to either be on campus or be able to participate remotely via online means, and all students must have access to a desktop or laptop computer and a reliable internet connection. Prospective students may avail of the blended offering from the beginning, or alternatively have the option to begin their study in Semester 1 through online engagement and, pending the lifting of health, travel and visa restrictions, join activities on campus in Semester 2, or continue to access classes online if necessary.
Subject to public health advice, should the restrictions around on-campus delivery of teaching change, some components of the programme could take place entirely online or in a mixed mode combining in-class and online engagement. However, students who are unable to join on-campus activity will be able to complete their degree fully online once careful consideration is given to the choice of dissertation/thesis topic.
The blended programme is delivered by the same high quality and experienced staff who traditionally delivered on campus. Lecturers will provide feedback on your assignments and you will have access to staff via email or Zoom video calls to discuss your work. 
The above conditions are subject to government and public health advice with regard to restrictions and social distancing measures and may be modified or adapted as the situation changes.
This taught MA is designed not only to help you obtain a deeper understanding of Irish History in a comparative context, but also to acquire advanced research skills that are transferable to a variety of career paths. You'll also have the opportunity to explore the past from social, cultural, economic and political perspectives. The MA in History at DCU is unique in terms of its cohesiveness and is the only programme to offer a historical geography component. 
Programme Structure and Content
Modules are taught through a combination of seminars, workshops, small group discussions and field trips. There is a strong emphasis on active and independent learning.  All modules are 10 credits and are examined by continuous assessment in the form of reviews, essays, research papers, learning journals and class presentations.
SEMESTER ONE
Interpretation and Argument in History Writing
This module introduces students to the tradition of history writing (historiography) as it has evolved and developed in Europe and the world since classical times, and in Ireland from the early seventeenth century to the present. Click here for more information.
Research Methods
This module introduces a range of research methods and focuses on active engagement with the processes of gathering, evaluating and analysing historical evidence. Students are guided through the process of using archives and various online resources. A novel feature of this module not offered elsewhere is an introduction to Geographic Information System (GIS). A fundamental objective is to equip students to devise, and execute independent research projects. The module imparts important transferrable, research and writing skills. Click here for more information.
Ireland in the Twentieth Century: Crisis, Continuity and Change
Crisis, continuity and change are recurring themes in the history of twentieth-century Ireland. This module examines the central political, economic, social and cultural features of that historical experience using primary sources in a seminar-setting. Click here for more information.
SEMESTER TWO
Ireland's Landscapes: from Plantation to Celtic Tiger
This module examines how changing relationships between economy, politics and society have moulded the Irish urban and rural landscape over the past four centuries. Taking a Historical Geography perspective, students will be exposed to key concepts and methods including fieldwork by which they can trace the evolution of the landscape.  Click here for more information.
The Irish Revolution in a Revolutionary World
This module interrogates the Irish revolution (1912-1923) by placing it in the context of, and comparing it with, other European revolutions that occurred during that era of imperial decline. By examining Irish and other European sources, students will not only deepen their knowledge of the Irish revolution but will consider what can be learned about the Irish experience through the study of other revolutionary or state formation moments, and debate what, if anything, made the Irish experience different? Click here for more information.
Gender and Society in Ireland since 1867
This module examines shifting gender roles in Ireland through the lens of individual women's lives. Using a variety of primary sources, the module will chart the trajectory of continuity and change in the construction of gender roles. Click here for more information.
Dissertation
This year-long module allows students to produce their own piece of independent historical research, guided by a supervisor who will be an expert in the field. Click here for more information. 
Programme Aims and Objectives
Acquire specialist knowledge and understanding of the complexities of modern Irish history and historical geography

Enhance your critical, analytical and interpretative skills

Develop the ability to plan, research and write a substantial original research project

Cultivate transferrable skills of independent thinking, analysis, communication, organisation and time management
DCU is ranked in the top 250 universities in the world in the area of Arts and Humanities by Times Higher Education, one of the leading third level ranking bodies. The School of History and Geography at DCU is unique in Ireland in its interdisciplinary range. It is recognised nationally and internationally for its high impact research on Ireland's History, Geography and Landscape. The MA in History is led by expert faculty members whose work has been published widely in books and leading journals and disseminated in the media and other fora.
The location of DCU in Dublin makes it an ideal choice given  the range of library and research institutions in the capital, including the National Library of Ireland and the National Archives of Ireland.
Programme Chairperson: Dr Daithí Ó Corráin
Tel: +353 (0)1 884 2117
Email: daithi.ocorrain@dcu.ie
(Testimonials)
"The MA was a great experience. I grew a great deal during this one-year course, both personally and academically. A Master's in History allowed me to further explore a subject which I have always loved. It also pushed me to limits I wasn't sure I could reach. I thoroughly enjoyed the modules, essays, exploring the archives for research and even writing the thesis. It was a valuable experience that I would highly recommend."
Aoife McCabe
As a student of the MA in History, you will develop many aptitudes attractive to employers. These include independence of thought; the capacity to marshal, evaluate and communicate complex ideas and information; robust research and analytical skills; reflective writing, presentation and project management skills.
Potential Careers
The MA in History is highly versatile and our graduates progress to a variety of careers in sectors such as education, university and arts administration, business, consultancy, the civil service, the heritage sector, journalism, media and publishing. Some advance to doctoral research.
Requirements
General Entry Requirements
For admission to the MA in History, successful applicants will have -
A degree at the level of an Irish or UK Honours undergraduate degree (H2.2 or above) or equivalent, in History or a cognate subject.
Applicants with appropriate combinations of professional qualifications and experience may also be considered. This includes discipline-specific knowledge and know-how; transferable skills; basic research competency; personal effectiveness.
International candidates who are non-native speakers of English must satisfy the University of their competency in the English language.  More information about DCU's English language requirements can be found here

.
Fees