School of Mechanical and Manufacturing Engineering
Master Engineering Qualifier B - MEng in Mechanical and Manufacturing Engineering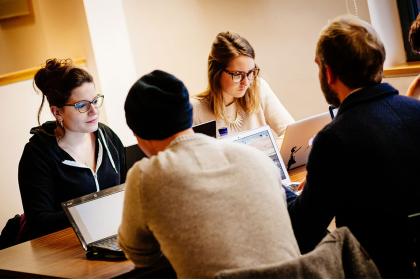 Course Type:
Postgraduate

+353 (0) 1

Tamas.Szecsi@dcu.ie
The University is moving to a new student application portal on 30th November 2020. Applications for entry to courses normally via PAC (closed 30th October 2020) that are moving to the new student application portal can be made from 30th November 2020 onwards.
For those students who do not meet the normal Masters entry requirements, but have a level 8 H3 degree in Mechanical and/or Mechanical Engineering, this course offers an alternative entry route to the MEng in Mechanical and Manufacturing Engineering. Successful completion of the Master Engineering Qualifier B programme allows the student to progress to the MEng programme, from which Graduate Diploma or Graduate Certificate exit awards are also possible.
The credits from the Master Engineering Qualifier B are carried forward to the MEng programme. This is a one-year, part-time course.
To give students the knowledge, experience and skills required to enter our Masters programme in Mechanical & Manufacturing Engineering.
 The Qualifier course itself does not carry an award, but it offers you the opportunity to advance your knowledge and career aspirations and the credits from the Qualifier can be transferred to the MEng programme.
View the current course structure
You can study part-time and remotely for maximum flexibility.
It offers an opportunity to change your career path.
It is a unique programme not available anywhere else in Ireland.
Located in a modern, state-of-the-art building with excellent teaching, laboratory and computing facilities.
Candidates who successfully complete the Masters Qualifier may transfer to the MEng in Mechanical & Manufacturing Engineering programme.
Fees
Requirements
General Entry Requirements
The normal entry requirement for the Qualifier B programme is:
H3 level 8 (NFQ level 8 qualification) Honours degree in Mechanical and/or Manufacturing Engineering
International Applications
International candidates are expected to have educational qualifications of a standard equivalent to those outlined above. In addition, where such candidates are non-native speakers of the English language they must satisfy the university of their competency in the English language. For further information on international applications click here.
This programme is not available to non-EU students.
Make an Application
All Applicants must submit
Academic transcripts for each and every year of study to date with english translation if applicable
Curriculum Vitae
Personal Statement of 100 words
Dates for Submission of Applications October 2020
EU Applicants: Apply online through the Postgraduate Applications Centre (http://www.pac.ie/dcu) by 30th September 2020 for October intake
International applicants from diverse educational and/or employment backgrounds will be evaluated on a case-by-case basis.
Non Native English speakers must submit evidence of competence in English as per DCU requirements see link http://www.dcu.ie/registry/english.shtml
 Commencement of Programme
October 2020