School of Mechanical and Manufacturing Engineering
Mechanical and Sustainability Engineering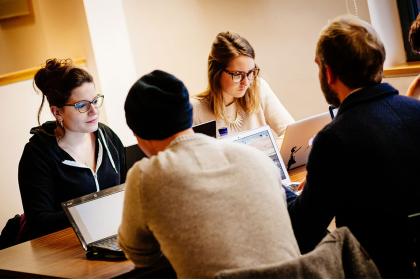 Course Type:
Undergraduate
NFQ Level:
8 - Please see
www.qqi.ie
for further information

+353 (0) 1
+353 (0) 1 7005104

mmesecretary@dcu.ie
Introduction
Transitioning to zero carbon is one of the biggest challenges faced by humanity. Our planet is in dire need of solutions for the environmental challenges we face and many of those solutions will be rooted in mechanical engineering. To truly address these global challenges, an engineer must be able to take a holistic view, both to tackle climate-related challenges directly, but also to make wider engineering choices around design, materials and resources with the environment in mind. 
If you care deeply about the environment, but would also like to finish university as a mechanical engineer with additional skills in sustainability, this is the perfect course for you.
Truly sustainable engineering 
While this programme offers you the opportunity to specialise in sustainability, it also provides rigorous engineering training and will be accredited by Engineers Ireland. It also encompasses extensive learning around climate and sustainability issues. Many projects will look to tackle issues related to the UN Sustainable Development Goals, for example. 
Industry partners will be involved throughout, lending their expertise and advice to reviewing module content, mentoring you and setting assessments. 
Balancing theory and practice
Already committed to innovative teaching and learning methods, the School of Mechanical and Manufacturing Engineering has sought to evolve that approach with this future-focused course. The programme has been designed to offer a strong balance of practical engineering experience and theory. 
You will learn through immersive challenge-based learning, for example, while also using new technologies to engage in online tutorials and collaborative peer learning. You'll also get plenty of hands-on experience in building and making mechanical systems in DCU's cutting-edge engineering labs.  
Engineering a better future 
This programme has been carefully planned to ensure it produces industry-ready graduates who are prepared to tackle some of the huge challenges thrown up by climate change, while also being mindful of the environmental impact of any engineering work they do. 
Industry partners are keen to share with students the breadth of potential roles for which they would be suited while they also play an active role in creating and developing the course material and will join in workshops, challenge-based learning and other aspects of the course.
Mechanical and Sustainability Engineering: Areas of learning
Energy systems: power systems, buildings, transport

Thermofluid sciences

Water and waste management

Environmental standards and risk 

Process design and modelling

Energy management

Mathematics and computing

Mechanics and mechanics of materials

Sustainable design and manufacture

Project management and professional development
Skill set for world-saving
Innovation and creativity

Leadership and management

Project and quality management

Professional development

Teamwork and collaboration

Fostering diversity and inclusivity
View the current course structure
Course Life
We have a unique and vibrant culture on our modern campus close to Dublin city centre. We provide state-of-the-art study facilities for all our courses and everything else you need for a healthy, fun and active student life.
Exceptional Facilities
DCU students enjoy exceptional teaching and learning facilities across our 3 academic campuses. These include modern learning theatres, research centres, television and sound studios, classrooms, computer suites and advanced laboratories in the areas of languages, engineering, physics, chemistry and biotechnology, as well as a sports performance centre and a virtual hospital ward.
A Vibrant, Dynamic Social Environment
Student facilities include a superb sports complex with a 25 metre pool, two libraries and The Helix, our renowned performing arts centre. In 2016 we announced plans to invest over €230m in developing new, world-class facilities across our three academic campuses. Already building has begun on an exciting, new €14m Student Centre that will be home to the more than one hundred and twenty student clubs and societies. This commitment to student facilities means that our world-class learning experiences are complemented by a vibrant, dynamic social environment.
A breadth of career options
There is huge demand for well-rounded mechanical engineers with a finely-tuned understanding of environmental standards and issues. As a graduate you will find employment not only in sectors such as transport and energy, but also across multiple sectors such as food and beverage, pharmaceuticals and semiconductors, in utilities, and in other design and manufacturing businesses where engineers are needed to design and maintain complex mechanical systems that are truly sustainable. 
Typical roles would include mechanical engineering roles such as: 
Process engineer

Sustainability engineer

Sustainable industrial designer

Renewable energy engineer

Energy audit engineer

Project manager

Energy analyst
"This programme is industry-relevant, but it's not just designed for industry. It also considers the global challenges we face, and how we can seek to tackle them in a holistic way. Solving these problems is about more than throwing engineering solutions at them. It's about understanding the root cause and the societal issues as well as the technical analysis." - Dr Lorna Fitzsimons, Assistant Professor, School of Mechanical and Manufacturing Engineering, DCU and programme chair BEng in Sustainable Systems and Energy
Requirements
General Entry Requirements
In addition to the general entry requirements for admission to the university the following entry requirements apply
Minimum of H4 Mathematics or H4 Applied Mathematics with H5 Mathematics
Leaving Cert
In addition to the general entry requirements for admission to the university the following entry requirements apply
Minimum of H4 Mathematics or H4 Applied Mathematics with H5 Mathematics
GCE A Level
In addition to the general entry requirements for admission to the university the following entry requirements apply
GCE A Level C Mathematics
FET Level 5
For details of QQI requirements and relevant codes please click here. Simply enter the DC code for the programme you are interested in or if you are not sure of the code enter DC in the Select by Institution option, then click on Go. 
EU Transfer Applications
The engineering schools consider transfer requests based on the performance of the candidate. The overall set of guidelines which is in use for equivalent qualifications is as follows:
Qualification Possible Point of Entry
| | | |
| --- | --- | --- |
| Relevant Higher Certificate/National Certificate | First year | (Distinction) |
| Relevant Higher Certificate/National Certificate  | First year | (Merit plus Experience) |
| Relevant Bachelor (Ordinary) Degree/National Diploma | Second year | (Merit or Better) |
| Relevant Bachelor (Ordinary) Degree/National Diploma | Third year | (Distinction plus a possible interview) |
Please apply directly to DCU using the R10 form. Closing date for applications 1st July.
International Applications
International candidates are expected to have educational qualifications of a standard equivalent to those outlined above. In addition, where such candidates are non-native speakers of the English language they must satisfy the university of their competency in the English language. For further information on international applications click here.
Fees
Full time
Student Contribution
€3,043 per annum
EU Status Fee
€6,679 per annum
Non EU Fee
€15,000 per annum