School of Chemical Sciences
Chemistry with Artificial Intelligence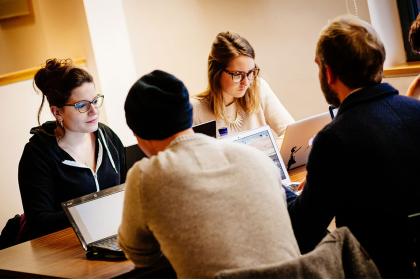 Course Type:
Undergraduate

+353 (0) 1
700 7860

emma.coyle@dcu.ie
To study Chemistry with Artificial Intelligence, you must join our Chemical Sciences General Entry programme (DC163) and choose this option at the end of Year 1.
In this groundbreaking degree programme, one of the first of its kind, students will learn both the chemistry and computing skills they'll need to harness the enormous potential of applying artificial intelligence to chemistry.
Why is it exciting?
It's not often anyone has the opportunity to be first in the world at something. Those who choose to study for the BSc in Chemistry with Artificial Intelligence at DCU will indeed be part of a global first, as there has never been a degree of its type before. The programme sets a new bar for chemists, giving them cutting-edge skills and knowledge in a specialism that has been broadly limited to PhD students before now.
This modern chemistry degree will give students an excellent grounding in the fundamentals of chemistry combined with a deep specialism in artificial intelligence (AI). It has been designed to produce graduates who can harness the enormous potential of AI in chemistry, whether that is producing new sustainable materials or new drugs such as cutting-edge vaccines.
Artificial intelligence (AI) is revolutionising how drugs and materials are discovered, developed and produced. For example, it is helping drug development scientists bring Covid-19 vaccines to market faster, by rapidly accelerating potential vaccine discoveries, identifying potential side effects, and making the production process faster. 
That's not all. Globally, scientists are beginning to unlock the power of AI to help them find new medicines and sustainable materials. In fact, they are creating a new tomorrow. 
To study Chemistry with Artificial Intelligence, you must join our Chemical Sciences General Entry programme (DC163) and choose this option at the end of Year 1.
To hear more about the School of Chemical Sciences, listen to Prof Silvia Giordani in this short video. Silvia is the Head of School and Chair of Nanomaterials and you can see a showcase of her work designing nano-sized chemotherapies in this edition of Nature.
What will I study?
The BSc in Chemistry with Artificial Intelligence is run by the DCU School of Chemical Sciences in collaboration with the DCU School of Computing.
Students will gain an overarching knowledge of how drugs and materials are discovered, developed and produced, and how AI can be used at every stage. Whether they are assessing which type of material to make or how a material will degrade when it is no longer in use, they can use AI to mine data and yield insights, reducing the time and resources needed for practical investigations.
In addition to lecture and in-person lab work, they will engage in interactive learning, virtual lab work, and real-life challenge-based learning, involving interdisciplinary participants, meaning students will get the chance to collaborate with those in other courses.
 In years 1 and 2, you'll study the fundamental basis of chemistry, and build on this to learn:
how medicines work
what causes climate change
how to drive reactions to go faster
how to determine the source of a water pollution event
...and much more.
Our student-focused laboratory practical sessions are a combination of wet labs and virtual components. In these you'll learn in small student groups, assisted by fully trained laboratory tutors and our award-winning technical team, getting hands-on experience on the instruments and techniques used in the industry. The AI strand begins in Year 2, with modules in programming and machine learning throughout Years 2-4.
In the third year, you'll get to work in the industry as part of our integrated training programme (INTRA). In years 3 and 4, you'll also study the skills and theory you need to apply AI to chemistry. A major element of final year is the capstone research project, in which you get to pursue independent research in an area of applied chemistry.
AI is already at the heart of many transformational molecular discovery and technical applications, typically employing a combination of data analytics and machine learning. You'll explore AI applications in chemistry using massive datasets, powerful computing architectures and advanced learning algorithms to develop your understanding of how to apply AI techniques and technologies in a modern chemistry setting.
Rather than learning only by rote, students will learn how to drill into information and problems they encounter, how to gather and process evidence, and how to gain useful insights. Students will have a sense of ownership and feel empowered to tackle difficult challenges as they build their skill sets, while learning all the time from their tutors, lecturers and industry partners.
Training for the future
The use of AI is only going to further increase in drugs and materials firms, and the programme has been designed to ensure graduate employability into the future. Industry partners will be actively involved throughout the four years, helping to develop the programme, deciding skill sets, suggesting software, providing assignments and offering assessments. 
For more information on every aspect of studying at DCU visit our CAO Hub where you can listen to taster lectures, hear from our student ambassadors and find answers to frequently asked questions.
We have a unique and vibrant culture on our modern campus close to Dublin city centre. We provide state-of-the-art study facilities for all our courses and everything else you need for a healthy, fun and active student life.
We have three academic campuses close to Dublin City centre - they are located in Glasnevin and Drumcondra, and can be reached by public transport (Dublin Bus).
Each campus has libraries, study spaces, restaurants, and on-campus residencies. Sports facilities are located on two of the academic campuses. We also have a dedicated sports campus in the form of St Claire's. 
Exceptional facilities
DCU students have access to exceptional teaching and learning facilities across our three academic campuses. 
These include modern learning theatres, research centres, new media and TV studio, radio/podcast studios, classrooms, computer suites and advanced labs in the areas of languages, engineering, physics, chemistry and biotechnology, as well as a sports performance centre and training hospital ward. In 2021, we opened our first virtual reality 'Leadership Lab', which is located in our Business School.
Construction on our FutureTech building on the Glasnevin campus will get underway in 2022. Once completed, this facility will advance DCU's international reputation for excellence in science and health, computing and engineering disciplines. It will have the capacity to accommodate an additional 3,000 STEM students on the university's Glasnevin campus.
Campus life
DCU student facilities boast a fully equipped sports complex with a 25-metre pool, three libraries and The Helix, our renowned performing arts centre.
Our purpose built, state-of-the-art new student centre known as 'The U' serves the needs of a rapidly growing student body of 18,500. It is home to the Student Leadership and Lifeskills Centre, performing arts and cultural spaces for students and the wider community, and the Entrepreneurship and Innovation Hub.
DCU Students' Union and the Office of Student Life are also based in the U. The centre is a space for students where they can meet, with lots of charging points and isolation booths. Clubs and socs avail of meeting rooms here and it's also home to DCUFM. NuBar, Londis and the Venue are also located here.
There are more than 140 clubs and societies for students in DCU, with 'Clubs & Socs' days taking place on both the Glasnevin and Drumcondra campuses at the start of the academic year.
Student Supports
We have a number of academic, professional and social supports for students.
Student Advice Centre: Offers a wide range of supports and services to students and advice 
The Writing Centre - drop-in writing workshops for students through the academic year 
Maths Learning Centre - provides maths support for students of all ability levels with maths modules 
Student Learning: facilitate the transition from passive to active learning for students at DCU, by teaching study skills, nurturing critical thinking and building student confidence. 
Careers work with students to help them on their professional journey into graduate employment.
Our student support team offers a comprehensive support programme, helping students make that all important transition into university life and focusing on building confidence and skills which are key to success at third level.
Given the scale of the chemical pharmaceutical industry in Ireland and globally, chemistry graduates are always highly sought after. Those who choose to study chemistry with AI will find themselves in particularly high demand, given industry needs and a dearth of chemists with specialist AI know how.
Graduates could opt to work for large multinational companies in the pharmaceutical or materials sectors, but could also choose to join a start-up that needs an AI specialist to help direct its activities or a small-to-medium-size company that needs desk chemists with an AI specialism.
Careers
Analyst
Consultant
Drug discovery, design, delivery
Environmental monitoring
Formulation chemist
Marketing and sales
Process chemist
Quality Control
Research and Development
Synthesis
Teaching
In these areas
Education
Energy Industries
Fine Chemical Industries
Food and Beverage
Materials Industries
Pharmaceuticals
Plastics
Veterinary Industries
Requirements
General Entry Requirements
Fees
Full time
Student Contribution
€3,043 per annum
EU Status Fee
€6,679 per annum
Non EU Fee
€15,000 per annum