School of Theology, Philosophy and Music
Theology and Religious Studies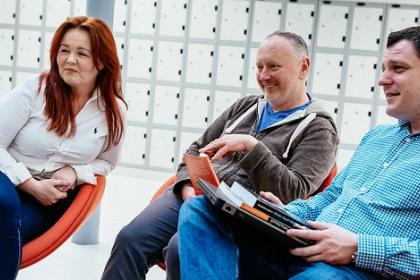 Course Type:
Undergraduate
NFQ Level:
8 - Please see
www.qqi.ie
for further information

+353 (0) 1
700 7479

john.murray@dcu.ie
Introduction
This honours degree is an exciting programme for mature students (aged 23 or over) wishing to pursue the academic study of religion.
The BA in Theology and Religious Studies offers the opportunity to reflect on the significance of religion in a complex world. In this programme you'll explore the origins and development of the world's major religions, along with the beliefs and practices that are central to these traditions. You will also have the opportunity to study the Bible and other sacred texts, explore the importance of ethics in our personal, social and political lives, and reflect on the place of ecumenical and interreligious dialogue in the contemporary world. 
The programme is intended for people from a broad range of backgrounds who wish to study theology and religion for personal enrichment as well as those who would like to study theology with a view to being more active in their local community. This programme suits mature students interested in areas like community work, parish ministry and liturgy, youth and young adult ministry, social justice engagement, ecumenical projects, dialogue with other faith communities, and education and school boards. This degree also serves as a qualification for those wishing to pursue postgraduate study or research. To qualify, you must be aged 23 or over on the 1st January in the year of application.
"Through the lectures and wide range of modules I learned how to think, research, analyse, critically reflect, write, structure an argument, communicate effectively and develop and use personal and interpersonal skills for the service of community development, all of which are fundamental skills and essential to all walks of life."
With close attention to particular religious traditions, ethical issues, and interreligious dialogue, students will engage with the sources, beliefs, and practices that have shaped the societies and cultures in which we live.
Throughout the course you will take modules on systematic theology, church history, scripture, ethics, world religions, as well as optional ancient languages (Hebrew, Greek, Arabic). In your final year of study you will have the opportunity for individual guided research, working on a topic of your choice with a supervisor on an extended research paper.
You will be expected to complete the programme in 4-5 years. Each module carries 7.5 ECTS credits. You may exit the programme with a Certificate (after successfully completing 8 modules), a Diploma (after successfully completing 16 modules), or the BA degree (after successfully completing 24 modules).
The programme follows a five-year cycle, with students entering the programme in any of the years of the cycle. Normally a student will study between five and six modules per year.
Wide range of modules taught by academic staff whose teaching is shaped by their research and engagement
Opportunity to develop your own research in religion, ethics, and related disciplines in a setting that is ecumenical and interdisciplinary
Introduction to key historical and contemporary texts, issues in ecumenism and interreligious dialogue, and dialogue between religious and secular perspectives
Guidance on engaging on with issues of global, social, and environmental justice
View the current course structure
Life on Campus
We have three academic campuses close to Dublin City centre - they are located in Glasnevin and Drumcondra, and can be reached by public transport (Dublin Bus).
Each campus has libraries, study spaces, restaurants, and on-campus residencies. Sports facilities are located on two of the academic campuses. We also have a dedicated sports campus in the form of St Claire's. 
Exceptional facilities
DCU students have access to exceptional teaching and learning facilities across our three academic campuses. 
These include modern learning theatres, research centres, new media and TV studio, radio/podcast studios, classrooms, computer suites and advanced labs in the areas of languages, engineering, physics, chemistry and biotechnology, as well as a sports performance centre and training hospital ward. In 2021, we opened our first virtual reality 'Leadership Lab', which is located in our Business School.
Construction on our FutureTech building on the Glasnevin campus will get underway in 2022. Once completed, this facility will advance DCU's international reputation for excellence in science and health, computing and engineering disciplines. It will have the capacity to accommodate an additional 3,000 STEM students on the university's Glasnevin campus.
Campus life
DCU student facilities boast a fully equipped sports complex with a 25-metre pool, three libraries and The Helix, our renowned performing arts centre.
Our purpose built, state-of-the-art new student centre known as 'The U' serves the needs of a rapidly growing student body of 18,500. It is home to the Student Leadership and Lifeskills Centre, performing arts and cultural spaces for students and the wider community, and the Entrepreneurship and Innovation Hub.
DCU Students' Union and the Office of Student Life are also based in the U.  The centre is a space for students where they can meet, with lots of charging points and isolation booths. Clubs and Socs avail of meeting rooms here and it's also home to DCUfm. NuBar, Londis and the Venue are also located here.
There are more than 140 clubs and societies for students in DCU, with 'Clubs & Socs' days taking place on both the Glasnevin and Drumcondra campuses at the start of the academic year.
Student Supports
We have a number of academic, professional and social supports for students.
Student Advice Centre: Offers a wide range of supports and services to students and advice 
The Writing Centre - drop-in writing workshops for students through the academic year 
Maths Learning Centre - provides maths support for students of all ability levels with maths modules 
Student Learning: facilitate the transition from passive to active learning for students at DCU, by teaching study skills, nurturing critical thinking and building student confidence. 
Careers work with students to help them on their professional journey into graduate employment.
Our student support team offers a comprehensive support programme, helping students make that all important transition into university life and focusing on building confidence and skills which are key to success at third level.
Caroline Eaton, BA in Theology and Lifelong Education
"Through the lectures and wide range of modules I learned how to think, research, analyse, critically reflect, write, structure an argument, communicate effectively and develop and use personal and interpersonal skills for the service of community development, all of which are fundamental skills and essential to all walks of life."
Career Areas
Development Work
European and International Religious agencies
Research
Social Justice and Human Rights Bodies
Voluntary and Community Organisations
This course is a good match for you if you want to begin or continue studying theology for personal enrichment or with a view to being more active in the community.
You may be looking to further a career in:
Teaching

Adult Education

Diocesan Youth Work

Pastoral Work

Church Ministry

Chaplaincy
The degree also serves those wishing to pursue Postgraduate Study or research in Theology or a professional Teaching qualification.
Requirements
General Entry Requirements
Application to this programme is based upon maturity of years.  In order to be eligible for this course applicants must be aged 23 or over on the 1st January in the year of application.  As part of the application process, the relevant life/work experience of the applicants and previous studies undertaken will be reviewed to determine eligibility for the course.  Applicants must include with their application a short personal statement indicating why they are applying for this programme.
 
Leaving Cert
See under General Entry Requirements
GCE A Level
See under General Entry Requirements
Qualification
BA in Theology and Religious Studies
International Applications
 Where such candidates are non-native speakers of the English language they must satisfy the university of their competency in the English language. For further information on international applications click here.
Fees
Full time
EU Status Fee
€275 per 5 credit module €412 per 7.5 credit module
Non EU Fee
€550 per 5 credit module €824 per 7.5 credit module