Faculty of Engineering and Computing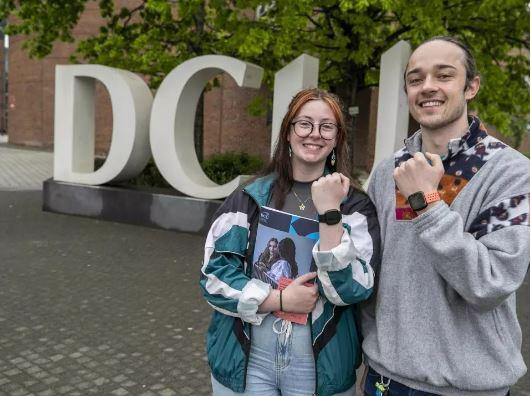 DCU's FLOURISH micro-credential now open to all students
The programme delivers scientific and practical tips in the areas that impact everyday wellness and happiness, including sleep, nutrition and exercise.
The optional module will be available on Loop, with students gaining digital certification following its completion.
FLOURISH - which was developed by the SFI Insight Centre at DCU with industry support - will also encourage participating students to record some of their own activities such as nutrition and sleep and to use their own data to learn about themselves. 
The resulting data allows students to see  how they can use their own data to learn about aspects of their lives where they might want to make changes. This process has been approved by the university's Data Protection Office, and participating students do not have to record this segment should they choose not to do so. 
The module was open to Year 2 students only last year - with 169 students taking part in the course.
The key findings of last year's course were: 
86.7% said taking the module improved their overall wellness
70.5% said it improved aspects of their sleep
70.5% said it improved aspects of their nutrition
93.4% said it changed their understanding of their personal data so that they can now make informed decisions about their overall wellness
98% would recommend FLOURISH
Computing student Conn Byrne talks about his experience with FLOURISH here 
FLOURISH covers 10 topics looking at sleep, nutrition, work habits, procrastination, relationships, physical activity, positive psychology, critical thinking and others. 
President of DCU Students' Union, Thomas O'Dowd said:
With the pressures that students face on a daily basis it is fantastic to see this module being rolled out to all students as it highlights the importance of wellbeing. I really look forward to seeing the impacts that FLOURISH has on students' wellbeing this year.
Professor Alan Smeaton, Founding Director of the Insight Centre for Data Analytics, heads up the implementation of the module with help from about 20 of DCU's experts in various aspects of health and wellness.
Dr Hilary Murray, Research Strategy, Insight SFI Research Centre for Data Analytics, said:
Insight is delighted to be once again supporting the Flourish programme at DCU. As data scientists we recognise the beneficial role of data in the overall happiness of students today. Our aspiration with Flourish is that students use the programme to remain cognisant of their own wellbeing whilst negotiating the excitement and challenges that college affords.
Registration for the module will open on Monday, 12 September. 
You can find out more about DCU's FLOURISH module at their dedicated information and registration page