School of History and Geography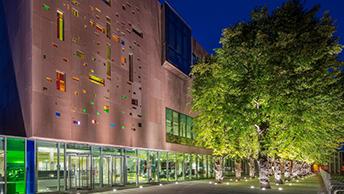 PhD Scholarship Opportunities
PhD Studentships in History and Geography
Dublin City University - School of History and Geography
Qualification type:

PhD

Location:

Dublin

Funding for:

Irish Students; UK Students, EU Students, International Students

Funding amount:

€16,500 (c.£14,600 converted salary*) plus fee waiver (Total value €22000- €26,000)
 

Hours:

Full Time
Placed on:

29 January 2021

Closes:

31 March 2021

 
 

 
The School of History and Geography at Dublin City University, ranked as one of the top 100 universities under 50 as per Times Higher Education, is a research active school in the Faculty of Humanities and Social Science.
Research and innovation are key features of the School's activities.  The School has a strong research track record in Irish and European history, the historical geography of Ireland, urban, social, and regional and physical geography and geopolitics.
We are currently offering two full-time doctoral scholarships, and invite applicants who wish to undertake PhD research in the following areas:
History
Irish History (political, social, revolution and revolutionary movements; sport and leisure, science and medicine; religion, crime and punishment etc.);

Gender and women's history

Environmental History;

The history of childhood and youth;

Modern European History (particularly the history of Eastern Europe in the nineteenth and twentieth centuries, political thought).
Geography
Irish Urban and Rural Historical Geography;

Social Geography;

Irish Water Resources;

Climate change and environmental sustainability.

Geopolitics, in particular of the Middle East and North Africa.
Outstanding candidates will be offered scholarships which cover all tuition fees (EU or non-EU), and provide an annual stipend for living expenses of €16,500 pa for up to 4 years subject to satisfactory annual progression.
In advance of an application, prospective applicants are advised make informal contact with the member of staff whose research area covers their proposed doctoral work. For faculty research interests, see:  https://www.dcu.ie/historygeography/people
Following informal consultation with the relevant staff member, applicants should complete the application form which can be downloaded below.
Completed applications, accompanied by a CV, should be emailed to carol.davis@dcu.ie  Applications should be received by the closing date of 5pm on 31 March 2021.  Only applications submitted using this form will be accepted.
Successful candidates will be required to apply formally to be admitted as PhD students by the University. They may also need to show proficiency in the English language. Successful candidates will begin their studies in late September 2021 and are normally expected to reside in Ireland for the duration of the programme.