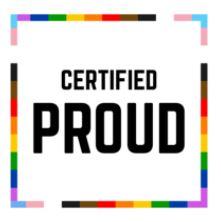 LGBTQ+ Allyship Workshop
to
Venue
Online Zoom Session
Is registration required?
Yes
Free of charge or ticket price
No Charge
For more information contact
edi@dcu.ie
Course Code: DCU178
---
Training will be delivered by Certified Proud and will cover:
● What is an Ally
● Privilege checker
● Why are allies needed?
● Allies as disruptors
● Passive Vs Active allies
● Allyship in the workplace
● How to embed active allyship into our daily lives
---
About Certified Proud
Founded in 2020, Certified Proud is a membership and accreditation body for
organisations which are LGBTQ+ inclusive and accepting. Our aim is to create a
network of safe spaces for the LGBTQ+ community to buy, work and live in. We work
with organisations of all sizes to foster LGBTQ+ inclusion. In doing so, we also raise
money to support LGBTQ+ charities and non-profit organisations
---
 HOW TO REGISTER FOR THIS COURSE
1. Log in to your Core HR portal 
2. Click the Learning and Development tab 
3. Type DCU178 into the Keywords search field and click Search.