National Observatory for Digital Education
Events Archive | National Institute for Digital Learning
Events Archive
The following events and professional development opportunities in digital, blended and online learning were hosted or supported by staff from the National Institute for Digital Learning (NIDL).
2017 Events
January 2017
• Retirement Function for Seamus Fox - 26th January, 2017
Please join us to wish Seamus Fox all the best for his retirement. This is an opportunity to acknowledge Seamus' long service to DCU over 30+ years and his significant contribution as Head of the Open Education Unit to expanding access to Higher Educaton through new models of online/distance education. Seamus will formally retire from DCU at the end of January. The event will be relatively informal, with just a few brief speeches followed by the opportunity to pass on your best wishes to Seamus, and mingle and reminisce with colleagues over light refreshments. We hope to see many of you at this event. Please register here for catering purposes.
Time: 15:00 to 16:30
Venue: 1838 Club, Retired Staff Common Room, Albert College, Glasnevin Campus
If you would like any further information about this event, please contact Sandra Forster [sandra.forster@dcu.ie]
• Hot Topic - The Future of the Exam: Long Live the Pen!
Ths month's Hot Topic will explore the future of the examination in today's digiutal age when arguably writing for three hours is becoming a dying art. Abstract to come.
Registration: Space is strictly limited and you must register in advance to participate in this event.
February 2017
• Hot Topic - The Last Boy Scout: A Critique of Digital Badges
Ths month's Hot Topic will debate the growth of digital badges in education drawing on critical literature in the field. Are badges just the latest icon of a neo-liberal free market education system? Abstract to come.
Registration: Space is strictly limited and you must register in advance to participate in this event.
March 2017
• Hot Topic - Lecture Capture: To Video or Not to Video?
Ths month's Hot Topic will debate the use of lecture capture technology drawing on contemporary research literature in the area. If we video lectures why would students bother attending class? Abstract to come.
Registration: Space is strictly limited and you must register in advance to participate in this event.
April 2017
• Hot Topic - Teaching Online: Less Work, Yeah Right!
Ths month's Hot Topic will debate whether teaching online or in a blended format involves more work, especially during a period when academic staff have come under increasing worksload pressure.
Registration: Space is strictly limited and you must register in advance to participate in this event.
2016 Events
14th December 2016 - Visiting Scholar Series
Dr Yoram Kalman from the Open University of Israel (OUI) gave a visiting scholar presentation on innovation in higher eductaion.
Title: Innovation in Higher Education: Cutting Through the Hype
Abstract:
What is innovation, and how can it be promoted in higher education? In his talk, Dr. Yoram Kalman will present several key concepts related to organizational innovation management, and will use them to make sense of the ongoing debate on (lack of) innovation in higher education. He will present a model to evaluate the innovative potential of new educational technologies, and use the model to analyze the MOOC phenomenon, and to discuss other innovations with the audience.
Biography
Dr. Yoram Kalman is a senior faculty member at the Department of Management and Economics, The Open University of Israel. Yoram researches the impact of digital technologies on individuals, organizations and society. He has over 20 years experience as an executive and entrepreneur in the international educational services sector. His academic home page is www.kalmans.com.
2nd November 2016 - Workshop on Learning Design for MOOCs and Open Education
This half-day SCORE2020 workshop at Dublin City University (DCU) explored some of the challenges of learning design in the era of MOOCs and Open Education. As part of the SCORE2020 project the workshop introduces participants to a number of design tools and techniques for purposeful planning and course design following the principles of open education. More specificially, the workshop sought to anchor the creative and iterative design process around the 7C Framework for learning design. The workshop had three majors objectives:
• to help participants better understand the complexity of learning design in an open world
• to help participants more seamlessly integrate activities and resources for open education
• to help participants plan, design and develop their own courses using more contemporary open education models of learning design
Facilitiator: The Workshop was facilitated by Dr Grainne Conole, a leading expert in learning design and open education. It invovled a number of hands-on practical activities, working in groups and using resources and outputs developed and collated by the SCORE2020 project and the 7Cs Learning Design framewok. SCORE 2020 is a project funded by European Commission under Erasmus+. It aims to Support Centres for Open education and MOOCS in different Regions of Europe 2020. SCORE2020 builds on a consortium of regional players in the field of open, online and flexible education. The partnership is dedicated to building regional expertise centres for the development and use of MOOCs and open education: http://score2020.eadtu.eu/

2nd November 2016 - The Next Generation: Doctoral Workshop on Research in Digital Learning
This workshop was primarily designed for prospective doctoral students who are thinking about embarking on either an EdD or PhD in the general area of Digital Learning. It was also suitable for current doctoral students who are still developing their research proposals, wishing to seek advice on their study, wanting to meet and network with other Irish doctoral candidates, or people considering transferring from another institution. More specifically, the purpose of the workshop is:
• To answer many common questions prospective students have about doctoral study
• To identify and discuss potential research topics in the general area of digital learning
• To help prospective and current doctoral students learn how to prepare their research proposals
In the course of the workshop 30+ participants had an opportunity to discuss how do you select the right institution, the right supervisors, the right topic and the most appropriate doctoral study option for their own circumstances. A number of experienced researchers and potential doctoral supervisors were available to share their thoughts on potential research topics. In addition, participants had a chance to hear lessons and experiences from recently completed doctoral students and to network with other prospective candidates. The workshop was jointly hosted by the National Institute for Digital Learning (NIDL) and the new Institute of Education at Dublin City University (DCU).
1st November 2016 - The Next Generation: Digital Learning Research Symposium
This free full-day research symposium in The Helix at Dublin City University (DCU) attracted around 200 participants. With a strong focus on research in the area of Digital Learning this event was a three-way collaboration between the National Institute for Digital Learning (NIDL), the Education Studies Association of Ireland (ESAI) and the Iirsh Learning Technologies Association (ILTA). The event involved three keynote speakers (Professor Sian Bayne, Professor Grainne Conole, and Professor Paul Conway) and a mix of concise papers, and rapid fire presentations, roundtables and poster sessions. The Research Symposium particularly targeted current and prospective postgraduate students, including doctoral candidates, and new and emerging researchers working in the area. More information about this event is available on the Research Symposium website:
12th October 2016 - Visting Scholar Series
Teaching in Blended Learning Environments: Creating and Sustaining Communities of Inquiry - Prof Norm Vaughan
This month Professor Norm Vaughan presented a visiting scholar presentation on the topic of blended learning.
Abstract
Blended learning has become an educational epidemic in higher education and this session will provide participants with an opportunity to share and discuss strategies for designing, facilitating, and leading blended learning courses and programs. According to a survey conducted over ten years ago, more than 80% of higher education institutions in the United States offer courses in a blended format (Arabasz, Boggs & Baker, 2003). In the words of Gladwell (2000), we have gone over the "tipping point"; blended learning has become an educational epidemic. The three societal forces that have converged (the perfect wave) to drive this epidemic are technology, financial constraints, and quality concerns. The blended approaches to learning that have arisen to address these forces have lead to three major non-contradictory affordances – effectiveness, efficiency, and convenience. The result is an era of engagement and sustainable communities of inquiry. This session will provide participants with an opportunity to share and discuss strategies for designing, facilitating, and leading blended learning courses and programs. More specifically, the talk will provide participants with the opportunity to share and discuss strategies for: (i) designing and organizing a blended course, (ii) facilitating and moderating a blended course, and (iii) directing and leading a blended course.
Biography
Professor Vaughan is an educator and researcher with interests in blended learning, faculty development and K to 12 schooling, Dr. Norm Vaughan is a Professor in the Faculty of Teaching and Learning at Mount Royal University in Calgary, Alberta. Norm has co-authored the books Teaching in Blended Learning Environments: Creating and Sustaining Communities of Inquiry (2013) and Blended Learning in Higher Education (2008) and he has published a series of articles on blended learning and faculty development. He is also the Co-founder of the Blended Online Design Network (BOLD), a member of the Community of Inquiry Research Group, the Associate Editor of the International Journal of Mobile and Blended Learning and he is on the Editorial Boards of the International Journal of Excellence in e-Learning, Canadian Journal of Learning and Technology, the International Journal of E-Learning & Distance Education, the Journal on Centres for Teaching & Learning, the Learning Communities Journal. and the Journal of Information Fluency .
10th October 2016 - Visting Scholar Series
Backgrond to the Online Learning Consortium - Dr Jill Buban
This month Dr Jill Buban from the Online Learning Consortium (OLC) in the United States gave a visiting scholar talk on the topic of supporting research networks in the area of online, blended and digital learning. Jill shared some of the work of the OLC and lessons for building professional communities of research and practice in supporting the use effective use of new digital technologies in higher education.
Biography
Dr Buban has responsibility for research in the Online Learning Consortium. Previously she was the Assistant Provost for Research & Innovation at Post University. In this role, Dr Buban instituted university-wide initiatives with a forward thinking, student-centered focus. These initiatives included, but were not limited to, the university's transition to digital course materials, the creation of an online academy for high school students, competency-based learning initiatives, professional developing credentialing, articulation agreements, enrollment management, oversight of all academic publications, as well as a variety of teaching and learning initiatives.
3rd October 2016 - Special Event
Microsoft CEO Satya Nadella on the Future of Learning
At the beginning of October Satya Nadella, Microsoft's CEO gave a talk on DCU's St Patrick's Campus on the future of learning. Prior to hearing from the CEO the audience of over 500 guests heard Mark Pollock share his personal story about challenging conventional thinking.
30th September 2016 - Visting Scholar Series
New Designs for New Times: 21st Century Learning Spaces - Prof Mike Keppell
Abstract
This presentation explores distributed and personal learning environments across the increasingly seamless spectrum of physical, blended and virtual learning spaces. It suggests that higher education in the 21st Century is no longer defined by tangible boundaries of a 'physical campus' but by the entire student experience, whether that involves the physical corridors of the campus, attending face-to-face classes, or participating in fully or partially online courses. In addition, the student experience may also involve connecting to virtual environments from home, a local cafe, on the bus or participating in professional practice away from the physical campus. This talk attempts to account for the diverse range of spaces that are enriching the learning and teaching experience for both academics and students and suggests the need to recognise and purposefully design for the changing nature of learning spaces in higher education.
Biography
Professor Keppell is the Pro Vice-Chancellor Learning Transformations at Swinburne University in Australia. He was previously Executive Director of the Australian Digital Futures Institute at the University of Southern Queensland. See the following Linkedin profile for further information.
29th August 2016
- Visiting Scholar Series
Motivation in Digital Learning Environments - Dr Maggie Hartnett
Abstract
With the rapid growth of the internet and related technologies, the way we interact with each other and the world around us is changing. This is particularly true for education where formal and informal online learning opportunities are shifting and changing what it means to learn. Technology enabled learning offers many benefits including the flexibility to fit learning and study around other life commitments. But alongside the freedom to decide when, where and how to learn there are also challenges. Research shows there are a range of considerations that are crucial to online learner success. Primary among them is motivation. Digital technologies are often viewed as inherently motivating because they provide a number of qualities that foster motivation such as curiosity and novelty. But the picture is more complex than this as poor motivation has been shown to be a decisive factor in contributing to high dropout and non-completion rates from online courses and MOOCs and is an important impetus for the introduction of game-like elements such as digital badging into courses.In this talk, Dr. Maggie Hartnett will dispel some of the common misconceptions about motivation and discuss how our understanding of motivational concepts have changed over the years, what the research tells us about motivation to learn and why it is a crucial consideration in contemporary digital learning environments.
Biography
Dr Maggie Hartnett is a Senior Lecturer at the Institute of Education at Massey University in New Zealand where she teaches in the areas of e-learning and digital technologies. She is programme coordinator for the postgraduate e-learning programmes and is Associate Editor of the New Zealand based Journal of Open, Flexible and Distance Learning. Her research interests include motivation and engagement in digital environments, teaching and learning with digital technologies, learner support, and spaces for e-learning. Dr Hartnett's presentation expanded on her recent Springer book entitled Motivation in Online Education.
25th April 2016 - Visiting Scholar Series
Pairing Digital Portfolios with Badges to make informal Learning Visible
Abstract
In this visting scholar presentation G. Alex Ambrose discussed why digital portfolios need badges and why digital badges need portfolios. "ePortfolios with Evidenced-Based Badges" (E2B2) at Notre Dame, which won a 2015 Campus Technology Innovator Award, is this first true integration of ePortfolios and digital badges that offer evidence of competencies gained from co-curricular learning experiences on a collegiate campus. To date, 22 different badges have been created and issued to over 350 students. Using a few use cases, Alex with share his experience of starting this initiative on campus and his research on digital badge design, perceptions, and impact.
Speaker Biography
G. Alex Ambrose serves as Professor of the Practice and Associate Director of ePortfolio Assessment in the Kaneb Center for Teaching and Learning at the University of Notre Dame. He holds the rank of Associate Special Professional Faculty with a concurrent appointment in the Education, Schooling, and Society Department, and he is a fellow of the Institute for Educational Initiatives. As a Digital Learning Research Scientist, his research focuses on next-generation assessment, including ePortfolios, digital badges, and learning analytics. Alex's work has been published in a range of academic and technology-based journals and has earned him the 2015 Campus Technology Innovator Award as well as recognition by Google, IBM, USAID, and the Bill and Melinda Gates and National Science Foundations. He comes with over a decade of teaching experience ranging from diverse suburban and inner-city Blue Ribbon elementary schools to higher education institutions in private, state, and community colleges—face-to-face, fully online, and hybrid. For more information, see his ePortfolio at: www.gAlexAmbrose.com
29th
February
2016
Hot Topic - Is Turnitin Becoming a Turnoff?
Ths month's research Hot Topic explored some of the issues around Academic Interity and more specifically the use and role of Turnitin. The Hot Topic was faciliated by Colum Foley, Postgraduate Programme Chair, Open Education Unit.
Abstract
The internet has opened up a vast treasure trove of information instantly to students from increasingly smaller, swifter and smarter sources. It has also opened up greater possibilities to short circuit the process of scholarly research enabling the gaming of the system by cut and paste. Increasingly, universities are seeking to address this with text comparison software like Turnitin.

This type of software can be viewed as a formative learning tool to engage students in pedagogically-led discussion about their understanding, analysis and criticism of the relevant literature, or as a deterrent, designed to help detect cases of plagiarism that require some level of formal intervention/sanction.Engaging and training students in good academic practice rather than focussing on sanction and punishment is generally seen as best practice (Smythe, 2012).

This Digital Learning Hot Topic poses the question: Are Turnitin and its ilk an appropriate response to address this issue?

The University of Glasgow has doubts for example and has reportedly turned away from the company (which largely holds a monopoly in this space). They cited " operational difficulties with Turnitin over the last few years" (Glasgow Guardian, 2015) as being behind their decision to look at alternatives. It has also been suggested that educators time "would be better spent creating assignments that require original, thoughtful research" (Brabazon, 2015) rather than grappling with systems such as Turnitin and obsessing over detection of plagiarism.

This Hot Topic session invites you to share your experience with the detection and prevention of plagiarism. Everyone is welcome to what promises to be a lively discussion from the curious and constructive to the furious and frustrated.


Useful Readings
Brabazon, T. (July 2015), Turnitin, Turnitoff?: The Deskilling of Information Literacy, Turkish Online Journal of Distance Education-TOJDE ISSN 1302-6488 Volume: 16 Number: 3 Article 2 http://tojde.anadolu.edu.tr/yonetim/icerik/makaleler/1170-published.pdf
Hunter G., (2012), Text comparison software for students': an educational development tool or quick 'text checker' – examining student use and perceptions of value, The Open University, UK. http://www.plagiarismadvice.org/research-papers/item/text-comparison-software-for-students-presentation
Smythe, J. (2012), CHANGING THE CULTURE: DEVELOPING AND IMPLEMENTING A UNIVERSITY-WIDE POLICY ON PLAGIARISM, The Open University, UK http://citeseerx.ist.psu.edu/viewdoc/versions?doi=10.1.1.259.8003
Glasgow Guardian (2015) University Turns Away from Turnitin http://glasgowguardian.co.uk/2015/11/04/university-turns-away-from-turnitin/
24th February 2016
Learning Analytics Masterclass
A full-day Masterclass was offered in partnership with the European Consortium for Innovative Universities.
2015 Events
18th December 2015
Who Owns My Lectures? An Exploration of Academic Ownership in the Digital Age - Dr Tom Farrelly, IT Tralee
This Hot Topic session discussied the ownership of academic intellectual property in a digital age. The argument has been advanced that the artefacts and ancillaries of education should be openly accessible such as to best realise positive externalities. This opening up of education movement has aspects that range from the provision and sharing of open data, open access publishing, and open educational resources (OERs). These OERs may come in the form of lecture notes, PowerPoint slides, books, audio and videocasts, websites, software or other artefacts that lecturers spend time developing for their students. In many cases teachers are often happy to share such resources in the spirit of collegiality. However, in some cases these educational resources may become valuable; such as a YouTube video with several hundred thousand hits, a popular book, or a course on the MOOC platform Udemy with several thousand paying students. While teachers may be happy to share such resources to colleagues (within and outside their institutions); if someone is making money out of their endeavours it becomes a different matter. Participants were invited to respond to the following questions:
• Whose intellectual property are the teaching resources that lecturers create?
• Should lecturers be allowed to commercialise their teaching (or universities commercialise that teaching)?
• If so, what impact will this have on the commitment to OER
Useful Reading:
Carnevale, D. (2000). 'Colo. Delays Vote on Who Owns Online Courses', Chronicle Of Higher Education, 46, 36, p. A50. Available from: http://search.ebscohost.com.dcu.idm.oclc.org/login.aspx?direct=true&db=ehh&AN=3076071&site=ehost-live
Frischmann, B.M. (2005). An economic theory of infrastructure and commons management. Minnesota Law Review, 89, 917-1030.
Faine, P. (2012). Freelance Professors. Inside Higher Ed. Available from https://www.insidehighered.com/news/2012/12/14/two-companies-give-faculty-more-control-online-courses
Leibowitz, W.R. (2000). 'Law Professors Told to Expect Competition From Virtual Learning', Chronicle Of Higher Education, 46, 20, p. A45. Available from: http://search.ebscohost.com.dcu.idm.oclc.org/login.aspx?direct=true&db=ehh&AN=2697997&site=ehost-live
12th December 2015 - Visiting Scholar Series
Learning Intersects: Reflections on Online and Blended Learning - Professor Meg Benke
Higher education is in a period of transformation with many new approaches and questions to consider: How do we improve student learning? How do we support our students and provide them access to a quality education? What role does technology-enhanced learning play in modern higher education? How do we develop new opportunities and overcome our limited resources? This Visiting Scholar presentation will explore trends in online, flipped and blended approaches to learning that may impact our work with learners. It will explore emergent work in the United States related to competency-based approaches, adaptive learning, and open education approaches around the world. There is also intersecting work with the recognition of prior learning.
Meg Benke is a Professor at State University of New York, Empire State College's School of Graduate Studies, and coordinator of the Master of Arts in Adult Learning and Master of Arts in Learning and Emerging Technologies. Professor Benke has also had a distinguished administrative career at Empire State College, serving as Dean, Vice Provost, Provost and Acting President. Professor Benke was inducted into the International Adult and Continuing Education Hall of Fame and was recognised in 2007 for the Most Outstanding Achievement in Online Learning by an Individual, by Sloan-C, the leading association in the United States for blended and online learning.
Professor Benke shared definitions, approaches and insights from the research on blended and online learning, flipped classrooms and teaching and learning considerations. But most importantly, she engaged with the DCU community on our shared experiences and questions about the future of teaching and learning.
23rd November - Visiting Scholar Series
Post-digital: Why Ubiquitous Digital is Changing the Nature of Scholarship - Dr David White
Most of us live Post-digitally, we default to digital tools and places with the analogue playing a secondary role. When we assess new ways of working and learning we are going beyond analogue contexts and comparing digital to digital. This talk explored the tensions between the Post-digital era and our institutions which still largely operate on paper-based paradigms, as if the digital were simply an extension of what has always been rather than a fundamental shift. The talk discussed the way in which the Post-digital moves us from taxonomy to relevance and how it changes what it means to be a credible student and scholar. A video recording of this event will be available shortly.
Dr David White is Head of Technology-enhanced Learning, University of Arts London.
13th November - Visiting Hot Topic Series
21st Century Skills: Can we bridge skills gaps for jobs that don't yet exist? - Dr Greg Foley
The 20th century was the century of change par excellence. No century before was comparable. Change was constant. Old jobs became obsolete with mechanization and new jobs emerged alongside new technologies. Think about the 'black and white' world of 1975 and compare it with the internet world of 1995! If ever there was a century in which the "jobs of the future don't even exist yet", it was the 20th century. So what is the big deal about the 21st century? This NIDL Research Hot Topic explored the following questions with the aim of interrogating this issue:
• Will some rise in automation, robots and software destroy employment?
• Is there a need to 'teach' all sorts of 'new' 21st century skills like critical thinking, problem solving, teamwork etc.?
• Are we falling under a millennium type of mania and could acquiring discipline-specific knowledge remains at the heart of education?
Useful Reading
All Aboard (2015). Towards a National digital skills framework for Irish higher education: Review and comparison of existing frameworks and models.
Deloitte (2015). From Brawns to Brain: The impact of technology on jobs in the UK. London, UK.
OECD (2015). Students, Computers and Learning Making the Connection. Pisa OECD Publishing.
16th October - Visiting Scholar Series
Live Online Learning: Capturing and Sharing Professional Practice - Dr Michael Hallissy
In recent years there has been a proliferation of live online learning technologies (such as Blackboard Collaborate and Adobe Connect) that are allowing higher education institutions to connect with their students in 'real time'. Many people are claiming that arrival of these technologies, allied to faster broadband speeds, will allow institutions to recreate the face-to-face classroom online. But do we really know what is going on in these spaces? How are students and lecturers connecting in these spaces? Are they engaging in discussion and collaborate learning activities or are these sessions dominated by teacher-directed practices? In this talk I will share my findings from a case-study I conducted within Hibernia College's Masters of Arts in Teaching and Learning (MATL) programme where I captured analysed a set of tutor interactions during a number of live online tutorials. I will share how I gathered and used this information to inform an in-house professional development programme that aimed at increasing the quality of tutor-student interaction. There is currently a lack of research on the use of live online learning technologies in higher education and this talk will share the professional practice of one group of tutors and how these findings have impacted on enhancing the overall quality of student learning in the MATL programme. However, there is a need for more institutions and faculty to stand back and to reflect on what takes place in these spaces so we develop a better understanding of what works in these spaces. Live online learning technologies do provide enormous opportunities for higher education institutions and this talk will highlight a number of practical steps faculty can take to capture and share their professional practice so that we can enhance our knowledge of what works well using these new tools.
16th October - Monthly Hot Topic
Open Educational Resources: Unknown, Unused, Unloved - Clare Gormley
Once heralded as a cure for many educational ills, the current evidence of OER adoption in higher education raises a number of puzzling questions. For starters, do most faculty even know what OERs are, let alone how to find and use them appropriately? According to a report by Allen and Seaman (2014), the term 'OER' has not entered mainstream conversation in academia, and is often confused with the concept of open source software. Furthermore, of those educators who are actively using OERs (such as images, videos and open textbooks), what kind of evidence is there to show that usage positively impacts on teaching and learning? The OER Research Hub carries out international research in this area and their latest report on educators (OERHub, 2015) found that over 64% of respondents to a survey strongly agreed or agreed that use of OERs led them to use a broader range of teaching and learning methods. Over 78% said that they referred to OERs primarily to 'get new ideas and inspiration' for their teaching. In another paper based on data gathered by the same organisation, over 55% of learners in formal education who responded to a survey said that using OERs improved student satisfaction (Farrow et. al. 2015). But if this is the case, then why aren't more of us in Ireland using OERs? It seems that faculty here are overwhelmingly inclined to create their own resources rather than go through the process of finding and reusing existing ones. A recent report on OERs in Ireland found the main inhibitors related to perceived quality/reliability issues, lack of time to research and source suitable resources, undersupply of relevant material in the required subject area, and copyright/licensing concerns.
This Hot Topic session invites you to open up on OERs and explore questions around whether the practice of re-use is occurring and if it needs to be advanced. Everyone is welcome, from the mildly curious to the ideologically opposed, to what promises to be a lively and hopefully insightful discussion.
Useful Reading
Allen, I. E., & Seaman, J. (2014). Opening the Curriculum: Open Educational Resources in U.S. Higher Education, 2014. Sloan Consortium. Available from: http://www.onlinelearningsurvey.com/oer.html
Farrow, R., Pitt, R., Arcos, B., Perryman, L. A., Weller, M., & McAndrew, P. (2015). Impact of OER use on teaching and learning: Data from OER Research Hub (2013–2014). British Journal of Educational Technology, 46(5), 972-976.
OERRHub (2015): OERRH Survey Data 2013-2015 xlsx. figshare. Available from: http://dx.doi.org/10.6084/m9.figshare.1546584
Risquez, A., Farr, F., O'Keeffe, A., Bruen, C., McAvinia, C., Desmond, Y, Rooney, P., Flynn, S., Moloney, D, Ryan, A & Marcus-Quinn, A. (2015) Learning resources and open access in higher education institutions in Ireland. Focused Research Report No. 1. National Forum for the Enhancement of Teaching and Learning in Higher Education. Available from http://www.teachingandlearning.ie/wp-content/uploads/2015/07/Project-1-…;
28th May - Formal Launch of Horizon Report
Formal Launch of All Ireland Horizon Report for Higher Education
The Horizon Report for Irish Higher Education was officially launched at the Irish Learning Technology Association Conference at the University of Limerick.
27
th May - Monthly Hot Topic
Challenging Pedagogies and Changing Practice: What Part can Staff Play in Transforming Education?
The second Hot Topic for the month explored how to teach critical thinking skills. Anecdotal evidence from a range of different disciplines suggests that students exit first and second level education in Ireland more fixated on 'gaining points' than on understanding the broader purposes of education. How can this situation best be addressed by practicing teachers? Visiting Professor Rachel Riedner, who has a lengthy background in critiquing neo-liberalism from a feminist perspective, led a hot topic discussion on the possibilities for achieving change in educational systems, working from the individual perspective. Professor Riedner was joined by Dr. John McKenna of the DCU School of Computing who outlined some of the challenges faced within Irish higher education. Elaine Walsh discussed solutions put in place to embed critical thinking and writing skills into assessment of online modules delivered by the Open Education Unit.
Background Reading
Haggis, T. (2006). Pedagogies for diversity: retaining critical challenge amidst fears of 'dumbing down', Studies in Higher Education, 31:5, 521-535.
Rautins, C., & Ibrahim, A. (2011). Wide-Awakeness: Toward a critical pedagogy of imagination, humanism, agency, and becoming. International Journal of Critical Pedagogy, 3 (3) pp 24-36.
Huntzinger, Dhutchins, M., Gierke, J., & Sutherland, J. (2007). Enabling sustainable thinking in undergraduate engineering education. International journal Engineering Education, 23, no. 2, pp. 218-230.
18th May - Pre-launch of Horizon Report
2015 Horizon Report for Irish Higher Education
A special preview and pre-launch event was held at Dublin City University (DCU) for The 2015 NMC Technology Outlook for Higher Education in Ireland. DCU's President, Professor Brian MacCraith introduced the report before Dr. Larry Johnson, Chief Executive Officer (CEO), New Media Consortium (NMC), shared the major findings of Ireland's first Horizon Report for Higher Education. The official launch of the Horizon Report took place at the Ed Tech 2015 Conference later in May.
The Horizon Report adopts a Delphi-based method using local experts and thought leaders to identify the impact of emerging technologies on teaching, learning, or creative inquiry in Irish Higher Education over the next five years. The report was produced in the backdrop of several major European policy initiatives, and recent National efforts to build greater digital capacity for teaching and learning, to explore trends, challenges, and important developments in technology and forecast their potential impact expressly in an Irish context. The same Delphi methodology underlies the well-known NMC Horizon Report, which for more than a decade has been used to identify and describe emerging technologies and pedagogies likely to have a large impact on Education around the globe. See for example the NMC Horizon Report: 2015 Higher Education Edition.
A carefully selected panel of local experts and diverse thought leaders was asked from January through March 2015 to consider hundreds of relevant articles, news, blog posts, research, and project examples as part of the preparation that ultimately pinpointed the most notable emerging developments in technology, trends, and challenges for Irish higher education over the next one, three and five years. This pre-launch event revealed what the Expert Panel identified as the top ten key trends, the top ten significant challenges, and 12 important developments in educational technology.
When considered alongside other major initiatives in the area, the Horizon Report is intended to help inform the choices that institutions, campus leaders and policy advisors are making about technology to improve, support, or extend teaching, learning, and creative inquiry in Irish Higher Education. Educators and administrators worldwide look to the NMC Horizon Project and both its global and regional reports as key strategic technology planning references.
The Horizon Report reflects a collaborative research effort between the NMC, National Institute for Digital Learning (NIDL) at DCU, and Irish Learning Technology Association (ILTA) to inform key institutional leaders and decision-makers about significant developments in technologies supporting and impacting teaching, learning, and creative inquiry in higher education across the country. In this respect Dr. Johnson says:
"Ireland's role in Europe and in the world as a critical hub for technological development and innovation continues to grow in importance and influence. I think it is an extremely timely moment for a report that looks at the ways Irish universities and institutes of technology are responding in their own uses of technology and where they are heading. I hope this new report will be a significant catalyst for strategic planning and high-level discussions that will spur even more innovation throughout Irish higher education".
11-13th May - MoodleMoot
UK/Ireland MoodleMoot
The annual UK/Ireland MoodleMoot was hosted by the NIDL at Dublin City University in May. This year's MoodleMoot attracted over 328 delegates from 26 countries and major keynote and invited speakers explored themes related to learning analytics, feedback and personalised learning.More information about the event is available on the conference website and a summary of MoodleMoot has been posted on the NIDL blog - Bits and Bytes.
7th May - Monthly Hot Topic
A Digital Roadmap or a Digital Mase?
This month's Hot Topic reviewed Teaching and Learning in Higher Education: A Roadmap for Enhancement in a Digital World 2015-2017 which was recently published by the National Forum for the Enhancement of Teaching and Learning for Higher Education in Ireland. Building on the preliminary roadmap, published by the National Forum in May 2014, this new roadmap states that "One of the major challenges facing 21st century higher education is finding a way to harness ever-increasing digital capacity to enhance student learning" (NFET&LI, 2015, vii). The document goes on to say that the aim of the digital roadmap is to help "guide [Higher Education] institutions and organisations in the development of local and national digital strategies and to ensure alignment, coherence and a sense of common endeavour at a sectoral level" (NFET&LI 2015, vii). The Roadmap makes four detailed recommendations aimed at achieving these goals. In the spirit of the Hot Topic sessions, Seamus Fox, Head of Open Education, facilitated critical and lively discussion exploring the following questions:
• Are the goals set in the roadmap the appropriate ones?
• Will the recommendations in the Roadmap (if adopted) lead to the harnessing by Irish HE of the "ever-increasing digital capacity to enhance student learning"?
• Does the roadmap take sufficient account of the current state of HE in Ireland?
• What has the roadmap to say about the recommendation of the National Strategy for Higher Education to 2030 [Hunt Report] that "Public investment in higher education must be aligned with national policy priorities, including widening of access, enhanced performance outcomes, and greater flexibility in provision" (Department of Education and Skills 2011, 122)?
Background Reading
Department of Education and Skills (2011) National Strategy for Higher Education to 2030: Report of the Strategy Group. Available at:http://www.hea.ie/sites/default/files/national_strategy_for_higher_education_2030.pdf

Devine, Jim (2015) Strategic and Leadership Perspectives on Digital Capacity in Higher Education NFET&LI Available at: http://www.teachingandlearning.ie/wp-content/uploads/2014/03/Senior-Management-FINAL.pdf

High Level Group on the Modernisation of Higher Education (2014) Report to the European Commission on New Modes of Learning and Teaching in Higher Education Available at:http://ec.europa.eu/education/library/reports/modernisation-universities_en.pdf

National Forum for the Enhancement of Teaching and Learning in Ireland (2014) Principals and First Insights from the Sectoral Consultation on Building Digital Capacity in Irish Higher Education: Digital Roadmap – Phase 1 Available at: http://www.teachingandlearning.ie/wp-content/uploads/2014/05/Digital-Roadmap-PHASE1MAY282014.pdf

National Forum for the Enhancement of Teaching and Learning in Ireland (2015) Teaching and Learning in Higher Education: A Roadmap for Enhancement in a Digital World 2015-2017Available at: http://www.teachingandlearning.ie/wp-content/uploads/2015/03/Digital-Roadmap-web.pdf
6th May - Visiting Scholar Series
Online Learning for All: Meeting the Needs of All Learners - Professor Rhona Sharpe
This month's visiting scholar was Professor Rhona Sharpe from Oxford Brooks University. Rhona spoke about the importance of the learner experience in the context of a significant gap in the research literature and the development of 21st Century models of teaching and learning that recognise the needs of all students. Her presentation was part of the annual President's Teaching Awards. A video of this presentation will be available very shortly.
1st May - Opening Up Education: National MOOC Symposium
The National MOOC Symposium sought to explore some of the claims, counter-claims and unresolved debates surrounding the rapid growth of Massive Open Online Courses (MOOCs) in Education. This event was particularly timely as there are a number of new MOOC initiatives in Ireland and some commentators still believe they reflect a metaphorical avalanche which is going to fundamentally transform the education system. The Symposium offered an opportunity for Irish educators to come together to share experiences, perspectives and lessons from the emerging research literature on the MOOC movement. Participants had a chance to engage with two international keynote speakers who have considerable expertise in the area and gained insights from several local initiatives.This event was supported through two European funded projects: HOME and SCORE2020.
Download the final Symposium Programme.
Videos of the keynote presentations by Professor Mike Sharples and Dr Darco Jensen will be available shortly along with many of the presentation slies. The Twitter hashtag for the event was: #moocposium2015
• Perspectives on Mass Pedagogy
• Insights from the FutureLearn Experience - TCD
• MOOCs and the European Experience
• The MOOC Debate
• MOOCs in the Irish Media: Messages Behind the Story
• Why Adopt MOOCs? Defining Institutional Drivers
• Low Cost MOOC Development - Slides
• Low Cost MOOC Development - Audio
30th March - Monthly Hot Topic
The VLE is Dead: Life in Post-Apocalyptic Learning Environments
This month's Hot Topic was led by Dr. Enda Donlon of the Mater Dei Institute of Education. It has been eight years since Martin Weller pronounced the death of the Virtual Learning Environment (VLE) or Learning Management System (LMS). He posited that it would be superseded by more loosely coupled learning architectures. More student-centric formulations (such as the Personal Learning Environment and the Personal Learning Network) have been proposed as alternative and preferable to the VLE. This was also partly an attempt to move away from the language of managerialism of the LMS. Essentially the debate boils down to whether the institutional VLE offers the best solution to facilitate learning and teaching in a digital and distributed age. Is the VLE an enabler or an inhibitor? More specifically, the hot topic was designed to address the following questions:
● Is the VLE dead?
● If so, what are the alternatives?
● What are the implications for Loop in DCU?
A recording of the Hot Topic session will be available shortly.
Background reading:
Groom, J. & Lamb, B. (2014). Reclaiming Innovation. EDUCAUSE Review, May/June 2014, vol. 49, no. 3.available at http://www.educause.edu/visuals/shared/er/extras/2014/ReclaimingInnovation/default.html
Kroop, S., Mikroyannidis, A., & Wolpers, M. (2015). Responsive Open Learning Environments: Outcomes of Research from the ROLE Project. Available at http://link.springer.com/book/10.1007%2F978-3-319-02399-1
Weller, M. (2007). The VLE/LMS is Dead. Available at http://nogoodreason.typepad.co.uk/no_good_reason/2007/11/the-vlelms-is-d.html
19th & 20th March - Ireland Google Education Summit
In March we were pleased to host and support Ireland's first Google in Education Summit. This event attracted almost 100 delegates from across Education sectors and involved a range of presentations on a variety of topics. Due to the success of this year's event we expect to host another Google Education Summit in 2016.
12th March - Visiting Scholar Series
The Battle for Open - Professor Martin Weller
As part of International Open Education Week our March Visiting Scholar presentation featured Professor Martin Weller from the UK Open University. Martin holds a UNESCO Chair in Open Education and is Director of the Open Educational Resource Research Hub. Professor Weller is author of a seminal open access book on the Digital Scholar and is well known for his EdTechie blog which is one of the most widely read in the field. Martin is a member of the NIDL's International Advisory Board and talked about his most recent book on the Battle for Open: How Openness Won and Why It Doesn't Feel Like Victory. Abstract: Open approaches in education have started to move into the mainstream, with the success of open access, MOOCs, and open scholarship approaches. After this initial success comes the period when the real direction of openness is determined. Open is now a term with commercial interest. This talk looks at some of the successes of openness in education, and explore some of the issues it now faces.
2nd March - Digital Learning Research: A Writing Retreat
This full-day writing retreat was designed for new and emerging researchers and scholar practitioners completing doctoral theses and/or wishing to publish in the area of digital learning. The retreat was facilitated by Lynn Nygaard of PRIO Institute, Oslo, Norway and was aimed at researchers of digital learning to provide an opportunity to complete a piece of writing, article or conference paper that is in the development stage.
The NIDL was a sponsor of the 2015 Digital Media Awards and more specifically the award under the e-Learning category.
11th February - Monthly Hot Topic
Time to think harder about "thinking" thinking?
"Computational thinking", it has been argued, is a powerful problem solving toolset. However, it remains almost completely unrepresented in the primary and second level educational curricula in Ireland. The new short course in coding that has been proposed for second level seems a belated and inadequate response in light of plans to introduce computational thinking to five year olds in UK. Where the State has failed co-curricular, grassroots movements, such as coder dojo have, have emerged to fill some of the gap. However it is also worth pausing in this debate to consider what it is we mean by computational thinking anyway. Moreover how does this relate to other forms of thinking such as such as "critical thinking", "systems thinking", "creative thinking", "lateral thinking" etc. This hot topic is designed to answer the following questions:
• What is computational thinking?
• Where should be the place of computational thinking at primary and second level? Are co-curricular volunteer movements such as Coder Dojo the answer
• What do we mean by thinking anyway?
Background reading:
Wing, J. M. (2006). Computational thinking. Communications of the ACM,49(3), 33-35. Available from https://www.cs.cmu.edu/~15110-s13/Wing06-ct.pdf
Irish Times (2015) Ireland needs to switch on or be left behind in computer science. Available from http://www.irishtimes.com/news/education/ireland-needs-to-switch-on-or-be-left-behind-in-computer-science-1.2067421
28th January - Monthly Hot Topic
This month's Hot Topic session, entitled Turning Teaching Upside Down, explored the concept of the flipped classroom. Flipped Classroom teaching is being promoted as a new concept. It involves deviating from a traditional approach to lectures and taught classes where the lecturer 'delivers' and the students hopefully learn, to one where the content is delivered outside class in some way, and the class time is then spent in analysing and extending the students' understanding of the concepts being covered. But some have argued that this idea has been around 'forever', at least since Socrates' time. There are also expressed concerns about the time involved in preparation, and the adequacy of some of the 'out of class' resources. This hot topic session was an opportunity to look at the arguments for and against, and to consider whether we want to use this type of teaching in our own contexts.
Please click here for the recording
2014 Events
17th December • Visiting Scholar Series
Students Driving Change: Learning and Innovating in the Digital Age - Associate Professor Steve Wheeler
In this presentation, Associate Professor Steve Wheeler talks about how the world of higher education is changing. Against a backdrop of societal and cultural changes and an adverse economic climates, change is expedient. Change has come from the introduction of new technologies and many of these changes can be positive. The presentation traces some of the history of learning technology as 'innovation', focusing particularly on the development of what we now refer to as 'social media'. Steve offers examples and case studies of student use of social media in higher education, and shows how education is being transformed and learners inspired, through the creative affordances of these tools and services. He showcases the student voice, showing some of the ways students are driving change, using their own devices to learn in new and innovative ways in the classroom. Steve highlights some of the new approaches they adopt, as they develop new and transferable skills for lifelong learning in a future that will be predominantly digital.
5th December • Visiting Scholar Series
Understanding (in)formal Learning and Social Interactions: The role of Learning Analytics - Dr Bart Rienties
In this presentation, Bart Rienties from the UK Open University gave a highly engaging and informative talk about learning analytics. The presentation explofed the increased availability of large datasets, powerful analytics engines, and skilfully designed visualisations of analytics results, institutions may be able to use the experience of the past to create supportive, insightful models of primary (and perhaps real-time) learning processes. While the opportunities and drawbacks of "Big Data" in the media might have been a bit over exaggerated, current research indicates several interesting but complex challenges. Building on current research findings, this talk sought out to address the following issues:
• If 80% of students learn more from people outside their "classroom", how can we encourage (in)formal learning? And how would we capture informal learning in learning analytics?

• Is data from Virtual Learning Environment systems (e.g., Blackboard, Moodle) useful for learning (analytics)? What else should we focus on to improve our understandings of social interaction?

• How can we make learning more personalised, adaptive and meaningful, and what are the implications for higher education?
5th December - Monthly Hot Topic
This month's Hot Topic lead by Muireann O'Keeffe debated the good, bag and ugly of social media use in higher education. More specifically it explored the question: 'Social media: A surface or deep approach for professional learning? You can listen to an audio recoridng of this session below:
13th November - Monthy Hot Topic
This month's Hot Topic session debated the potential and pitfalls of education analytics in the context of third level education. The discussion ws led by Dr Mairéad Nic Giolla Mhichíl who challenged our understnding of the field and raised a number of ehtical issues associted with the collection of student data. You can listen to a recording of the session at the link below:
16th October - Visiting Scholar Series
Why Digital Learning Matters: Global Trends, Local Opportunities - Professor Grainne Conole
In this presentation, Gráinne discussed why digital learning should be a matter of priority for teachers and institutions in today's open world. She explored some of the major global trends facing higher education and considered with reference to the Irish context many of the opportunities available to enhance traditional pedagogy. The goal was to encourage participants to critically reflect on their own context and think more deeply about the impact of new digital technologies on teaching and learning—for better and worse. A panel provided a brief response to the presentation and the event finished with light refreshments.
17th October - Monthly Hot Topic
This month's Hot Topic debated the role and future of MOOCs in higher education with a particular focus on the emerging research evidence. There have been numerous claims about the promises and perils of Massive Open Online Courses (MOOCs). On the one hand, MOOCs are claimed to challenge the privileged nature of knowledge in traditional universities and address the problem of meeting increasing demand for higher education. On the other hand, critical commentators point to low completion rates and argue that the growth of MOOCs is nothing more than a clever marketing ploy by elite universities. Set against these claims this "hot topic" jointly led by Dr Eamon Costello and Professor Mark Brown was designed to discuss the following questions:
• What does the research literature tell us about MOOCs?
• What insights does the research give us about the future of the MOOC movement?
• To what extent are universities missing out if they fail to embrace the opportunities MOOCs provide?
7th August 2014 - Launch of DCU Connected
This event was open to all DCU staff and people throughout the sector to discuss the Call for Proposals to the Teaching and Learning Enhancement Fund for Building Digital Capacity in Irish Higher Education.
A week long e-Learning Summer School hosted by Dublin Institute of Technology
An invitation only workshop was facilitated by Professor Grainne Conole on the theme of the 7Cs of learning design. The limitation on the number of participants attending this workshop was restricted by the nature of the activity.
A workshop as part of the National Seminar Series exploring the concept of the flipped classroom as a means of facilitating the transition to blended learning. Professor Mark Brown and Profesor Grainne Conole contributed to this event.
26th May 2014 - Lessons for Designing Online Courses
A presentation by a visiting delegation from Arizona State University on the challenges, opportunities and major lessons learnt from developing fully online courses.
A workshop facilitated by Professor Mark Brown exploring transition pedagogy for first-time online and distance learners as part of the National Seminar Series managed by the National Forum for the Enhancement of Teaching and Learning.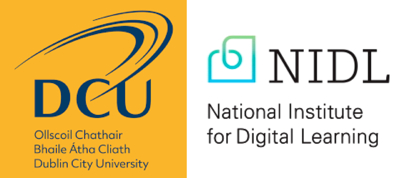 Leading at the Edge of Innovation