Dr
Aparajita
Dey-Plissonneau
Primary Department
School of Applied Language & Intercultural Studies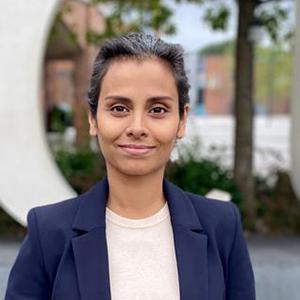 Phone number: 01 700

8465
Email Address
aparajita.dey-plissonneau@dcu.ie
Academic biography
Aparajita Dey-Plissonneau is Assistant Professor in French and a researcher in School of Applied Language and Intercultural Studies (SALIS) in Dublin City University. Her research interests are in the domain of computer-assisted language learning (CALL) and second language learning and teaching through Virtual Exchange and Telecollaboration. Her PhD research explored designed and emerging affordances in tutor-learner multimodal interactions via videoconferencing for second language learning and teaching. She was awarded the Irish Research Council (IRC) national scholarship for her doctoral project.
She has conceived a pedagogical tool called L2L in partnership with researchers from the Insight Centre of Data Analytics DCU, to help students visualise their conversation metrics following videoconference interactions with native speakers and engage in reflections and metacognitive strategies to develop their linguistic skills and intercultural and metacognitive understanding. She is working on various telecollaborative pedagogical projects with different European tertiary level establishments and TUD Dublin. She is investigating what the inherent challenges are in this learning ecosystem and how to address them. She is also interested in virtual exchange pedagogies that intertwine language learning, intercultural understanding and digital literacies with social justice and global citizenship.
She has more than fourteen years teaching experience as a foreign language teacher in the secondary and tertiary levels in France and Ireland respectively. She has mentored newly recruited teachers in France and has worked on the same lines with tutors learning to teach a foreign language online in DCU. She has successfully designed, obtained the funding and coordinated a multilateral ERASMUS project involving seven different countries while teaching in France.