Mentorship Programme for Second Year Students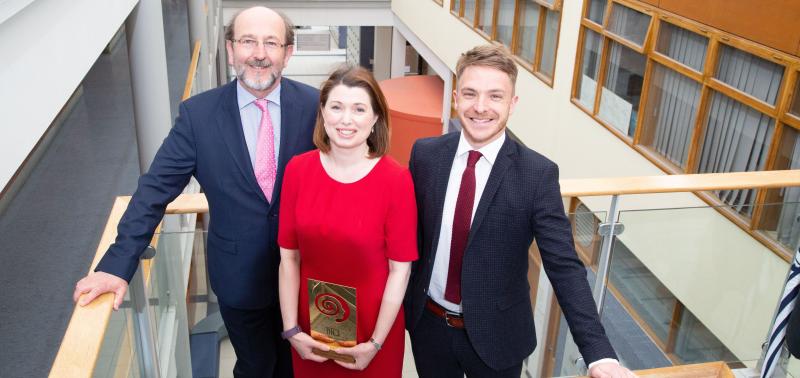 Would you like to find out more about careers that interest you?
Would you like to talk to someone from that profession about your career ideas?
Would you like help with your job applications and interviews?
If you answered yes to any of these questions, then consider DCU's Award-winning Mentorship Programme
What is the Mentorship Programme
The Mentoring Programme assists students in your professional and career development. It involves a mentor mentoring a mentee. In this case, the mentors are DCU graduates and/or employers. The mentees are current second year DCU students. The mentor shares their expertise and experience to assist the mentee (student) to motivate, empower and help you with your career ideas and professional development.
Benefits to Students
Gives you time to reflect, 'stand back' and review where you are now, where you want to get to, and how best to get there
Explore/Discover your strengths and skills
Receive personalized support, feedback and recognition
Boost your confidence with your career direction
Gain key employability skills such as communication
Expand your social and professional network
Assist you to achieve changes and goals
Great addition to your CV
About the Mentees
The mentees are second year students.
Who is eligible to apply
Second year undergradaute students who will be entering second year in Sept 2019.
What type of things do mentees discuss with mentors
Discussing career areas of interest
Researching and exploring particular job roles and sectors
Deciding on what to do after university
Review a CV/LinkedIn profile
Practice job interviews and networking
What makes a good mentee
Students who are motivated to improving their employability and professional development skills.
Students open to ideas and feedback
Students committed to participating for the full duration of the scheme
Students who are prepared to commit to your future through this programme.
What makes a successful mentoring relationship


A student that is willing to drive the process; organising meetings, articulating what you would like to gain, what areas you are interested in finding experience in and asking questions etc. Remember the mentor is volunteering their time.
That you are committed to achieving what you set out to do, for example, helping to increase your self-confidence, insights into roles and sectors etc
Who are the Mentors
The mentors are a mix of DCU graduates and/or employers. They have worked for a number of years and have been identified as role models. The mentor often shares his/her career experiences, advises and informs the mentee.
What is involved in the Mentorship Programme
One to one meetings with your mentor, activites and events.
Activites to be undertaken by the mentee (student)
Organising and meeting with your Mentor once a month to discuss career ideas/goals, to gain insights into the world of work.
Participating in two employability skills sessions organised by the Careers Service
Attending a training session on Loop Reflect.
Completing an Initial learning agreement with your mentor. (Careers will give you a copy of this)
Completing a mentoring meeting record of each meeting with the mentor and upload onto your Portfolio (Careers Service will explain this at the training and induction session)
Report (500 words) demonstrating reflective learning arising from participating in the Mentoring Scheme and how it has developed you.
In addition, mentees must also complete two from the following list:

Work Shadow Day
CV
Interview Skills
Careers Action Plan
What is the time commitment
About 20 hours over 6 months between October and April (excluding the work shadow day)
What is the schedule
September
Mon 16th Sept:	

 

Email to second years about the Mentorship Programme 
Tues 24th Sept:	

 

Information Session on Mentorship for Students
 

12pm - 12.45pm in room Q121, Business School GLA 
 

1pm - 1.45pm in room C104, Henry Grattan GLA (repeat)
			

 
 

Application Form opens - Students must attend an information session in order to be eligible to apply. 

October:
Tues 1st Oct:

 

Information Session on Mentorship for Students 
 

12pm - 12.45pm in room E403 SPC
 

1pm - 1.45pm in room E403 SPC

Thurs 3rd Oct:	Information Session on Mentorship for Students 
 

12pm-12.45pm in room HG07, School of Nursing GLA
 

1pm - 1.45pm in room XG15, GLA

Mon 7th Oct:	Closing date for Applications 
                        NB: Students must attend an information session in order to be eligible to apply. 

Mon 21st Oct: 

 

Introductory emails by mentors
Thurs 24th Oct:	Opening Ceremony
			Mentoring Month 1

November:	Mentoring Month 2

December:	Mentoring Month 3

January:		Mentoring Month 4

February:	Mentoring Month 5

March:		Mentoring Month 6
			Submission of Reflect Portfolios on Friday 27th March

April:
Mon 6th April:	Closing Ceremony of the Mentorship Programme & Awarding of Certificates
Wed 8th April:	Survey to Mentees on the Mentorship experience 
Will I receive a Certificate of Participation
On completion of the programme, mentees will receive a Certificate of Participation
Can the Mentoring Programme count towards my Engage Award
Yes, it can be counted towards your Engage Awards
How to Apply
What is the Application Procedure and closing date
You must attend an Information Session in order to be eligible to apply for the Mentorship Programme
After the session, you will be emailed a link to the Application Form.


Tips for Application Form
Take the time to think about your profile before submitting the form. This is important for matching you with the most suitable Mentor.
Think about how you intend to use the experience of mentoring to move your career ideas forward. Mentoring involves reflecting on your experiences, listening to your mentor and then putting the advice into practice.
Be specific about the areas you are keen to have a mentor from and try to focus on job areas.
Provide as much information as possible to make it clear what you hope to achieve and to enable the matching process.
Before Submitting
Does it read well?
Have you tailored your answers to the questions?
Have you thought about the graduate/employer who will be reading your profile?
Check grammar and spelling to ensure you are creating the most positive impression.
Also keep a copy of your form so you have this for reference if you are successfully matched on the scheme.
Mentor Case Studies
"The DCU Structured Mentorship programme was a firm highlight of my time in university. It's a fantastic opportunity to meet a professional in your area of study and learn valuable career insights, enhance employability skills, access a broad network of professionals and improve your CV."
"This programme was definitely a first step insight of a professional career and how it is to work in the public sector. Hearing from my mentor's experiences, the challenges and opportunities along the way, inspired me to work even more towards a future career and be better prepared in the sense of expectations. Also, it is a good chance to start developing those networking skills! I would definitely recommend this programme."
"A really worthwhile programme which allowed me to gather invaluable information on my career area. I would highly recommend this to every student!"
"I thoroughly enjoyed my time on the DCU Mentorship Programme. I found it extremely beneficial as it helped to build my self-confidence which was especially important before I began the process of securing my third year Intra Placement. Although I was paired with a mentor who was based overseas, we Skyped regularly and still keeping contact over a year later."
"Very good programme and helps with employability as it shows you have taken time out of your schedule to find out more about your career. Very good on the CV and was a talking point in all interviews. Helps you find out if you really want to go down that career path from someone who is in that field."
Careers Clinics Online
Do you have a quick career related question?
During the closure period, book to attend a Careers Clinic via Google Hangouts Meet!
Full details available on our Events Page.
Careers Quick Query and CV Clinics take place each week during semester. These clinics are open to all current undergraduate and postgraduate students.
Please ensure that you have a good draft copy of your CV or other documentation (eg. Applications, Personal Statements etc.) available for review.