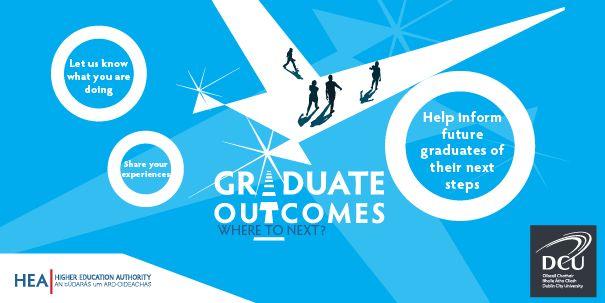 Graduate Outcome Survey: Data Protection Notice
The Graduate Outcomes Survey is being conducted by the Careers Service as part of Student Support & Development and Institution Analysis in DCU on behalf of DCU and the Higher Education Authority (HEA). DCU share the survey data that we collect from you with the Higher Education Authority (HEA) so they can perform their statutory functions under the Higher Education Authority Act, 1971.
The HEA uses this data for fact-based statistical analysis to help understand the real needs that higher education should meet, to promote equality of opportunity in higher education and to assist the government in developing future higher education policies and investment.  The HEA does this by linking information from the Graduate Outcomes Survey through student ID number and/or PPSN for more accurate statistical analysis to help improve education services and policies.  The HEA use student records to produce anonymised aggregate data in annual statistical publications.
 
The following Graduate Outcomes Survey data will be given to the HEA:
Data on graduate qualifications and employment both within Ireland and overseas
Data on relevance of employment to area of study
Data on graduate further study
Data on graduate unemployment and unavailability for work
Longitudinal data to track career progression of graduates
Graduate perceptions of the quality and relevance of their higher education experience
 
DCU also use the survey results for statistical purposes to help improve students' programme experience and enhance teaching and learning to improve outcomes for graduates.
Please note that completing the survey is optional but there are some mandatory questions in order to submit the survey.
Your Data Rights
Under the General Data Protection Regulation, you have a right to access the data that DCU/HEA holds about you, to have incorrect information about you corrected, and to object to the processing of data that violates your human rights.
If you have any questions in relation to your personal data, or how to exercise these rights, you may contact the DCU Data Protection Officer, Mr Martin Ward, email data.protection@dcu.ie. DCU's data privacy notice can be accessed at: https://www.dcu.ie/info/regulations/privacy.shtml
Or
The Higher Education Authority, email: dataprotection@hea.ie.  The HEA Data Protection and Student Notice is available at Information on https://hea.ie/statistics/information-for-institutions/graduate-outcomes-survey/
To ensure your privacy and to protect the integrity of your data, the HEA will require you verify your identity with a photographic ID before releasing or correcting your information.
If you believe your right to privacy or the protection of your personal data have been infringed, you have the right to bring a complaint to the Data Protection Commissioner (DPC). You can find more information about your rights, and contact the DPC, at: https://www.dataprotection.ie/
Your information will be processed using Qualtrics platform, for the purposes described above and will be deleted in September 2021.