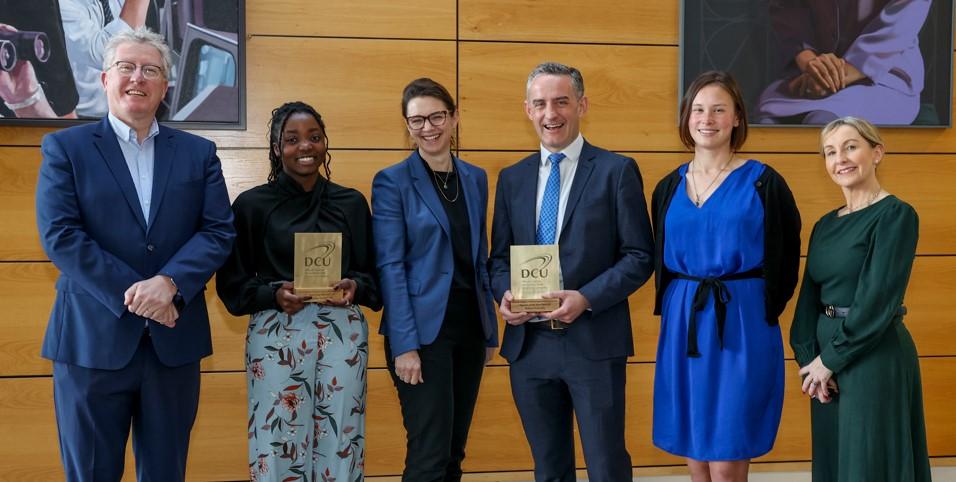 Mentorship Awards 2022/2023
DCU Careers Service and the Alumni Office recently celebrated the 2022- 2023 Graduate to Student Mentorship Programme and Awards' for their award winning Mentorship Programme. The programme runs over the academic year and allows graduates (DCU Alumni) to mentor a current DCU student assisting them in their career development by offering professional support to help develop the student's career ideas, clarifying goals and improving their employability. 
This year, over 120 second year students participated from 34 programmes of study with Alumni mentors volunteering their time and expertise to mentor a DCU Student.  Congratulations to Nicolette Simuzingili (Business Studies, International) who won Mentee of the Year and Robert Costello (PWC Ireland) who won Mentor of the Year.
During the speeches, DCU President Professor Dáire Keogh highlighted the benefits of the programme and how having a mentor enhances the overall student experience while gaining practical real world insights in a professional environment.  He spoke about the realisation later down the line of having a mentor and the added value it brings overall. 
Prof Keogh said: "The opportunities offered by the structured mentorship programme are a great example of the 'transformative student experience' we offer at DCU. The programme gives students an introduction to life at the coalface of their chosen careers and builds important networks that will help them to advance in their professional lives."
Yvonne McLoughlin, Head of Careers Service explains "DCU is number 1 for employment and our Mentorship Programme is a key element in building excellent students to head out into the workforce well prepared and ahead of the game after graduation.  Our engagement with the DCU Alumni Office and DCU Placement means we are constantly striving to build strong relationships with key stakeholders in the workforce and the Mentorship Programme gives the student and mentor time to reflect, stand back and review where they want to go and the best way to get there.  Each one of us involved are proud to be part of building this journey."  
More information on the Mentorship Programme can be found here
If you are a past DCU graduate and would like to participate in the programme by mentoring a student, we would love to hear from you.
For more information contact:  careers@dcu.ie and alumni@dcu.ie