Digital Business and Innovation (subject to final accreditation)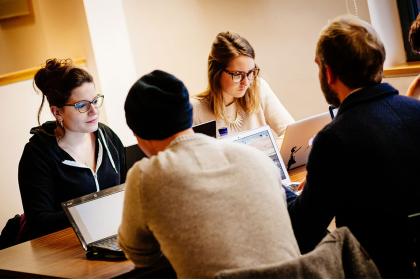 Course Type:
Undergraduate

+353 (0) 1
+353 1 700 5265

business.dcu@dcu.ie
The BSc in Digital Business and Innovation is a new four-year programme designed to prepare graduates with the competences and skills to leverage digitalisation to innovate and transform businesses and succeed in a future world of work permeated by digital technologies. This programme, designed in conjunction with industry, will help future proof you with an innovation mind set and industry-relevant knowledge and skills in emerging technologies including: Cloud computing; Social media; Big data analytics; Mobile technologies; The Internet of Things; Smart contracts and blockchain; and Augmented and virtual reality.
In addition to a foundation in business and management, by the end of your four years you'll have gained:
·         a deep understanding of how key enabling technologies work, as well as their business, economic, and social impacts
·         practical knowledge and experience in applying digital technologies in a range of contexts to achieve business objectives
·         an innovation mind set and insights into how to ideate and create new products, services, and markets that leverage digital technologies
·         the ability to acquire the knowledge and skills needed to support digitalisation and digital transformation initiatives
Unlike more conventional undergraduate programmes, the BSc in Digital Business and Innovation will give you the opportunity to learn about and through technology. It will provide you with regular opportunities to gain experience applying your digital knowledge and skills in projects with real world clients including a full-year immersion experience through INTRA work placement in Year 3. The programme will equip graduates with the two highly in-demand skills of innovation and digital agility to exploit the ever-increasing opportunities in digital businesses.   The programme will prepare you for an exciting and rewarding career in a dynamic and growing field developing smart, connected products, experiences and services. 
The BSc in Digital Business and Innovation will prepare you for key roles in digital business and to succeed in a dynamic, uncertain and global marketplace. We will provide you with the knowledge and skills to leverage emerging digital technologies to develop new products and service, re-imagine existing ones, and transform business processes.
Requirements
Leaving Cert
In addition to the general entry requirements for admission to the university the following entry requirements apply: Minimum of O4 or H6 in Mathematics.
GCE A Level
In addition to the general entry requirements for admission to the university the following entry requirements apply: GCE A Level D or GCE AS Level C or GCSE C Mathematics.
FET Level 5
For details of QQI requirements and relevant codes please click here. Simply enter the DC code for the programme you are interested in or if you are not sure of the code enter DC in the Select by Institution option, then click on Go. 
EU Transfer Applications
While transfer applications are welcomed from holders of qualifications in Business Studies, Marketing or related subjects for admission to first year of this course, there is no advanced entry path into second year.
International Applications
International candidates are expected to have educational qualifications of a standard equivalent to those outlined above. In addition, where such candidates are non-native speakers of the English language they must satisfy the university of their competency in the English language. For further information on international applications click here.