Digital Business and Innovation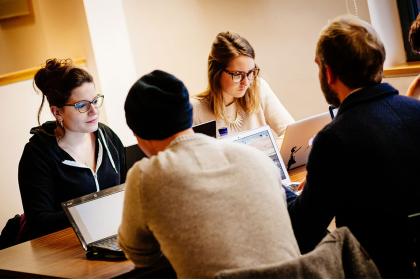 Course Type:
Undergraduate

+353 (0) 1
+353 1 700 5265

business.dcu@dcu.ie
The BSc in Digital Business and Innovation is a new four-year programme designed to prepare you for the future world of work, one infused with digital technologies. The programme will give you the competencies and skills to make the most of digitalisation to innovate and transform businesses. 
This programme, designed in conjunction with industry, will help future proof you, giving you an innovation mind-set and industry-relevant knowledge and skills in emerging technologies such as cloud computing, big data, virtual reality and much more.
Along with a foundation in business and management, you'll also gain:
an understanding of key enabling technologies and their business, economic, and social impacts
practical knowledge and experience in applying digital technologies in a range of contexts to achieve business objectives and address societal challenges
an innovation mind set providing insights into how to create value  through leveraging digital technologies
the ability to acquire the knowledge and skills needed to support digitalisation and digital transformation initiatives
a capacity to explore, understand, develop and enhance the basis of personal achievement.
Unlike more conventional undergraduate programmes, the BSc in Digital Business and Innovation will give you the opportunity to learn about and through technology. You'll have regular opportunities to apply your digital knowledge and skills in projects with real-world clients, including a full-year immersion experience through INTRA work placement in Year 3.
The programme will equip you with the highly in-demand skills of innovation and digital agility so you'll graduate able to exploit the ever-increasing opportunities in digital businesses.    You'll be incredibly well prepared for an exciting, dynamic and rewarding career developing smart and connected products, experiences and services.
We have a unique and vibrant culture on our modern campus close to Dublin city centre. We provide state-of-the-art study facilities for all our courses and everything else you need for a healthy, fun and active student life.
Exceptional Facilities
DCU students enjoy exceptional teaching and learning facilities across our 3 academic campuses. These include modern learning theatres, research centres, television and sound studios, classrooms, computer suites and advanced laboratories in the areas of languages, engineering, physics, chemistry and biotechnology, as well as a sports performance centre and a virtual hospital ward.
A Vibrant, Dynamic Social Environment
Student facilities include a superb sports complex with a 25 metre pool, two libraries and The Helix, our renowned performing arts centre. In 2016 we announced plans to invest over €230m in developing new, world-class facilities across our three academic campuses. Already building has begun on an exciting, new €14m Student Centre that will be home to the more than one hundred and twenty student clubs and societies. This commitment to student facilities means that our world-class learning experiences are complemented by a vibrant, dynamic social environment.
The BSc in Digital Business and Innovation will prepare you for key roles in digital business and to succeed in a dynamic, uncertain and global marketplace.  You'll gain the knowledge and skills to use emerging digital technologies to develop or re-imagine products and services and transform business processes.