School of Chemical Sciences
Analytical Science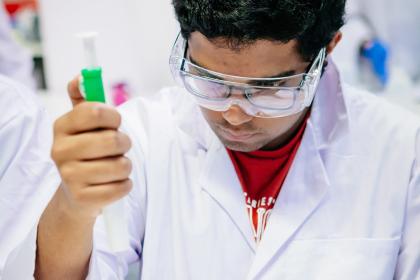 Course Type:
Undergraduate

+353 (0) 1
700 6816

apryll.stalcup@dcu.ie
Our information-oriented society values the detection and measurement of analytical science now more than ever. We see, use and benefit from it every day, from the tests performed to check the purity of medicines, to the daily monitoring of industrial wastes, to analysis in the forensic laboratory.
The BSc in Analytical Science employs an interdisciplinary approach, educating you in both theoretical and practical aspects of chemical, biochemical and microbiological analysis. The ever-increasing demand for more detailed and accurate data from within these disciplines means your services, as a trained analytical scientist, will be in constant demand.
Year One will provide you with the essential background knowledge of mathematics, chemistry, physics and biology. These are of vital importance in later years. Thought-provoking laboratory work is an integral part of the course in all years of the course.
The major emphasis in Years Two and Three is on analytical science, with chemical and biological aspects being developed in parallel. In Year Three, you can choose between a chemistry stream or a biology stream. Both streams cover the major, modern state-of-the-art analytical techniques, and you'll enjoy plenty of hands-on experience in our exceptionally well-equipped facilities.
Your period of industrial placement (INTRA) before your final year ensures that you gain valuable work experience in a real-life setting, putting the many things you have learned on the course to the test.
Year Four covers more specialised methods and applications of analytical science, which, when integrated with the basic analytical techniques you've already learned, present you with the opportunity to develop your own analytical approach to solving complex problems. Chemistry and biology specialist options are maintained, ensuring that you still gain the multidisciplinary education that modern employers demand. The final part of your course is the full-time project taken in the last semester.
View the current course structure
For more information on every aspect of studying at DCU visit our CAO Hub where you can listen to taster lectures, hear from our student ambassadors and find answers to frequently asked questions.
We have a unique and vibrant culture on our modern campus close to Dublin city centre. We provide state-of-the-art study facilities for all our courses and everything else you need for a healthy, fun and active student life.
Exceptional Facilities
DCU students enjoy exceptional teaching and learning facilities across our 3 academic campuses. These include modern learning theatres, research centres, television and sound studios, classrooms, computer suites and advanced laboratories in the areas of languages, engineering, physics, chemistry and biotechnology, as well as a sports performance centre and a virtual hospital ward.
A Vibrant, Dynamic Social Environment
Student facilities include a superb sports complex with a 25 metre pool, two libraries and The Helix, our renowned performing arts centre. In 2016 we announced plans to invest over €230m in developing new, world-class facilities across our three academic campuses. Already building has begun on an exciting, new €14m Student Centre that will be home to the more than one hundred and twenty student clubs and societies. This commitment to student facilities means that our world-class learning experiences are complemented by a vibrant, dynamic social environment.
Even as a teenager…I had an interest in forensic science…But without a dedicated course in Ireland at the time, I began to doubt this career option. However, I then discovered that the BSc in Analytical Science in DCU covered so many aspects needed for forensics. I decided that this would be the best choice for me to kickstart my career into forensics. During the four-year degree course, the emphasis was always on helping us to develop as scientists, to be problem solvers and to be competent in a wide range of laboratory techniques…the knowledge and experience DCU has provided…has been an important enabler to fulfilling a life-long ambition.

Paula Clarke, Drugs Section of the Forensic Science Laboratory at Garda Headquarters
Career Areas
Biopharmaceutical
Education
Food and Beverage
Government Agencies
Pharmaceuticals
You will be highly sought after by many of Ireland's leading companies and public service providers. Past graduates have gained a variety of positions within Ireland's growing pharmaceutical and biopharmaceutical industry – in areas such as quality control, product research and development and testing. Other opportunities include manufacturing industries looking for graduates with strong analytical skills, such as in brewing, agricultural fertiliser production and fine chemicals production. Graduates have also obtained positions within government agencies involved with environmental monitoring or food quality testing and research. In addition to these, a large number of graduates also choose to undertake postgraduate research.
This course is also suitable for those who ultimately wish to pursue a career in teaching (see www.teachingcouncil.ie for further details).
Requirements
Leaving Cert
In addition to the general entry requirements for admission to the university the following entry requirements apply
Minimum of O3 or H6 in Mathematics and minimum of O3 or H5 in one of Physics, Chemistry, Biology, Physics with Chemistry, Agricultural Science or Computer Science.
GCE A Level
In addition to the general entry requirements for admission to the university the following entry requirements apply
GCE A Level D or GCE AS Level C or GCSE B Mathematics and GCE A Level D or GCE AS Level C or GCSE B in one of Physics, Chemistry , Biology or Agricultural Science
GCE A Level general entry requirements can be found here: http://www.dcu.ie/registry/entry.shtml. Please note these may vary slightly for some programmes
FET Level 5
For details of QQI requirements and relevant codes please click here. Simply enter the DC code for the programme you are interested in or if you are not sure of the code enter DC in the Select by Institution option, then click on Go. 
EU Transfer Applications
Holders of Higher Certificate/National Certificates or Bachelor (Ordinary) Degree/National Diplomas with Merit or Distinction may be admitted into second year if the relevant Programme Boards are satisfied that the candidate has achieved an appropriate standard in the major subjects covered in Year One. Direct entry into third year is possible for well-motivated students holding a distinction at Diploma level in a related discipline. Please apply directly to DCU using the R10 form. Closing date for applications 1st July.
International Applications
International candidates are expected to have educational qualifications of a standard equivalent to those outlined above. In addition, where such candidates are non-native speakers of the English language they must satisfy the university of their competency in the English language. For further information on international applications click here.
Fees
Full time
Student Contribution
€3,043