School of Physical Sciences
Physics with Data Analytics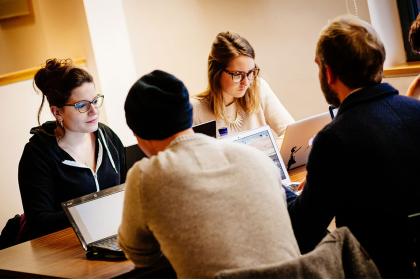 Course Type:
Undergraduate

+353 (0) 1
700 5038

karsten.fleischer@dcu.ie
If you would like to do to this course, apply via DC175 Physics General Entry. You can then choose to study for the BSc in Physics with Data Analytics upon successful completion of year one.
The BSc in Physics with Data Analytics is run by the DCU School of Physical Sciences with partners across DCU and industry.
In this ground-breaking degree, you will combine the skills and knowledge of a Physics degree with the advanced data analytics tools you need to solve real-world problems in new and exciting ways. It is particularly suitable for those who wish to pursue a career as a physicist in industry, finance, tech or other demanding corporate sectors.
Why is it exciting?
Physics is the most fundamental science. It explains the mysteries of the universe and has fuelled many of the scientific and technological developments that we take for granted. Physicists pioneered modern technologies as diverse as the Internet, digital cameras, and MRI scanners. 
Today, physicists continue to generate new knowledge about our world and lead innovation in cutting-edge realms such as:
quantum information and communications technology

nano-systems design

ultrafast molecular switching 

terahertz medical imaging

spearheading research on sustainable energy production and other global challenges.
Our technology-infused world also generates massive amounts of data and physicists are among those working to interpret that data and revolutionise how technologies are harnessed. The methods to process data are not only used in physics but applied across disciplines and sectors, including the semiconductor industry, pharmaceutical industry, finance, and software development, giving you an exciting range of options. 
If you would like to do to this course, apply via DC175 Physics General Entry. You can then choose to study for the BSc in Physics with Data Analytics upon successful completion of year one.
What will I study? 
You will begin studying a variety of physics topics in Years 1 and 2. This degree combines lectures, tutorials, stimulating laboratory work, and projects combining fundamental physics concepts with exciting, real-life technological skills and applications.
The basic foundations of physics, maths, and programming will be laid in Years 1 and 2, while in Years 3 and 4, more specialist topics on machine learning, artificial intelligence and quantum computing are introduced.
In third year you will have the opportunity to work in industry as part of our industrial training programme or optionally spend your placement working in one of the research groups in the School of Physical Sciences or DCU affiliated research centres, where you'll assist with cutting-edge research projects.
Your 4th, final year includes choices on nanotechnology, plasma physics and physics of medical diagnostics. Throughout the 4 years of your degree, you will also explore mathematics, statistics, programming, cloud-, and high-performance computing. You will then learn how to apply these computational tools to industry-relevant physical and societal scenarios using real-world data from industry partners and learn to communicate the results.
You'll conduct your Year Four project in DCU's world-class laboratories and research centres, experiencing the excitement and personal achievement associated with scientific research. In a second part of the final year project, you will team up in interdisciplinary groups and collaboratively tackle industry-led real-life problems.
For more information on every aspect of studying at DCU visit our CAO Hub where you can listen to taster lectures, hear from our student ambassadors and find answers to frequently asked questions.
We have a unique and vibrant culture on our modern campus close to Dublin city centre. We provide state-of-the-art study facilities for all our courses and everything else you need for a healthy, fun and active student life.
We have three academic campuses close to Dublin City centre - they are located in Glasnevin and Drumcondra, and can be reached by public transport (Dublin Bus).
Each campus has libraries, study spaces, restaurants, and on-campus residencies. Sports facilities are located on two of the academic campuses. We also have a dedicated sports campus in the form of St Claire's. 
Exceptional facilities
DCU students have access to exceptional teaching and learning facilities across our three academic campuses. 
These include modern learning theatres, research centres, new media and TV studio, radio/podcast studios, classrooms, computer suites and advanced labs in the areas of languages, engineering, physics, chemistry and biotechnology, as well as a sports performance centre and training hospital ward. In 2021, we opened our first virtual reality 'Leadership Lab', which is located in our Business School.
Construction on our FutureTech building on the Glasnevin campus will get underway in 2022. Once completed, this facility will advance DCU's international reputation for excellence in science and health, computing and engineering disciplines. It will have the capacity to accommodate an additional 3,000 STEM students on the university's Glasnevin campus.
Campus life
DCU student facilities boast a fully equipped sports complex with a 25-metre pool, three libraries and The Helix, our renowned performing arts centre.
Our purpose built, state-of-the-art new student centre known as 'The U' serves the needs of a rapidly growing student body of 18,500. It is home to the Student Leadership and Lifeskills Centre, performing arts and cultural spaces for students and the wider community, and the Entrepreneurship and Innovation Hub.
DCU Students' Union and the Office of Student Life are also based in the U. The centre is a space for students where they can meet, with lots of charging points and isolation booths. Clubs and socs avail of meeting rooms here and it's also home to DCUFM. NuBar, Londis and the Venue are also located here.
There are more than 140 clubs and societies for students in DCU, with 'Clubs & Socs' days taking place on both the Glasnevin and Drumcondra campuses at the start of the academic year.
Student Supports
We have a number of academic, professional and social supports for students.
Student Advice Centre: Offers a wide range of supports and services to students and advice 
The Writing Centre - drop-in writing workshops for students through the academic year 
Maths Learning Centre - provides maths support for students of all ability levels with maths modules 
Student Learning: facilitate the transition from passive to active learning for students at DCU, by teaching study skills, nurturing critical thinking and building student confidence. 
Careers work with students to help them on their professional journey into graduate employment.
Our student support team offers a comprehensive support programme, helping students make that all important transition into university life and focusing on building confidence and skills which are key to success at third level.
Physics in itself is a gateway to a wide range of careers. Armed with highly marketable skills, you will be a powerful and versatile addition to any workforce. Graduates from the BSc in Physics with Data Analytics will be much sought after as analysts and project managers by technology start-ups, semiconductor industries, banks, insurers, gaming companies, software firms, global tech firms and multinational professional services organisations. A future in middle or higher management will be a concrete option for those interested in it.
Further useful materials and resources on the many interesting and diverse career opportunities available to physics graduates are available on the Institute of Physics website.
Career Areas
Manufacturing Industries

Medical Physics/Pharmaceutical

Financial Services

Software Engineering

Education

Technical Consultancy
Requirements
Fees
Full time
Student Contribution
€3,043 per annum
EU Status Fee
€6,679 per annum
Non EU Fee
€15,000 per annum