Psychology and Mathematics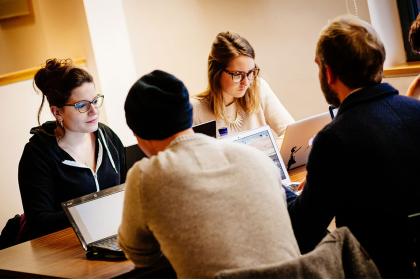 Course Type:
Undergraduate
NFQ Level:
8 - Please see
www.qqi.ie
for further information

+353 (0) 1
700 8540

louise.hopper@dcu.ie
Develop numeracy, analytic and problem-solving skills to further the scientific study of the human mind and behaviour.
The BSc in Psychology and Mathematics is the first course in Ireland to integrate these subjects for students interested in a career that combines the interpretation of human behaviour with high-level numeracy, analytical and problem-solving skills.
DCU is uniquely positioned to offer this course, building on core strengths in both disciplines. 'Psychology' is concerned with all aspects of behaviour, including the thoughts, feelings and motivations underlying such behaviour.
While psychologists differ in their interests within the field of psychology and in the type of work that they do, they all approach the study of psychology in a scientific way. 'Mathematics' is key to understanding the modern world and mathematical training develops both specific numeracy skills and broad analytical expertise, which are valued in many professions.
The course provides the opportunity to gain an in-depth knowledge and understanding of each discipline alongside a broad critical perspective on key areas of contemporary society. It is designed to develop a diverse set of transferable skills including an understanding of human behaviour, critical thinking, problem-solving, research methods, communication, and the ability to disseminate findings to varied audiences; skills increasingly demanded by national and international employers.
This course is for you if you have an interest in human behaviour and an aptitude for high-level mathematics and scientific inquiry. You should possess very good verbal, written and interpersonal skills, be flexible, hard-working, creative, with an enquiring mind and the ability to think critically.
The four-year BSc in Psychology and Mathematics course is structured to cover introductory to advanced levels of Psychology across the five pillars of undergraduate training: development and lifespan psychology; biological psychology and neuropsychology; social psychology; cognitive psychology and the psychology of individual difference; in combination with introductory to advanced levels of Mathematics including calculus, probability, computing, statistics and data analysis.
Research literacy is a core focus of the course and it is supported by a combination of practical and online laboratory activities. The course covers an existing range of applied subjects (e.g. Psychological Assessment and Measurement, Social Psychology and Contemporary Issues, Coding and Cryptography and Deep Learning) and offers cutting-edge options specifically designed for this course.
Thanks to our extensive networks with industry, business, partner hospital/ clinics, schools and researchers, we are the first to have established integrated credited undergraduate Psychology and Mathematics internships. Our Year 3 (INTRA) work placements can be in various fields including clinical, behavioural and cognitive neuroscience; financial and health-related industries, organisational and corporate psychology; and applied behaviour analysis.
In Year 4 the course offers the exciting opportunity to conduct an independent final-year research project combining psychological and mathematical tools and techniques to address a contemporary real-world psychological question.
Click here to view details of the proposed course structure
For more information on every aspect of studying at DCU visit our CAO Hub where you can listen to taster lectures, hear from our student ambassadors and find answers to frequently asked questions.
We have a unique and vibrant culture on our modern campus close to Dublin city centre. We provide state-of-the-art study facilities for all our courses and everything else you need for a healthy, fun and active student life.
We have three academic campuses close to Dublin City centre - they are located in Glasnevin and Drumcondra, and can be reached by public transport (Dublin Bus).
Each campus has libraries, study spaces, restaurants, and on-campus residencies. Sports facilities are located on two of the academic campuses. We also have a dedicated sports campus in the form of St Claire's. 
Exceptional facilities
DCU students have access to exceptional teaching and learning facilities across our three academic campuses. 
These include modern learning theatres, research centres, new media and TV studio, radio/podcast studios, classrooms, computer suites and advanced labs in the areas of languages, engineering, physics, chemistry and biotechnology, as well as a sports performance centre and training hospital ward. In 2021, we opened our first virtual reality 'Leadership Lab', which is located in our Business School.
Construction on our FutureTech building on the Glasnevin campus will get underway in 2022. Once completed, this facility will advance DCU's international reputation for excellence in science and health, computing and engineering disciplines. It will have the capacity to accommodate an additional 3,000 STEM students on the university's Glasnevin campus.
Campus life
DCU student facilities boast a fully equipped sports complex with a 25-metre pool, three libraries and The Helix, our renowned performing arts centre.
Our purpose built, state-of-the-art new student centre known as 'The U' serves the needs of a rapidly growing student body of 18,500. It is home to the Student Leadership and Lifeskills Centre, performing arts and cultural spaces for students and the wider community, and the Entrepreneurship and Innovation Hub.
DCU Students' Union and the Office of Student Life are also based in the U. The centre is a space for students where they can meet, with lots of charging points and isolation booths. Clubs and socs avail of meeting rooms here and it's also home to DCUFM. NuBar, Londis and the Venue are also located here.
There are more than 140 clubs and societies for students in DCU, with 'Clubs & Socs' days taking place on both the Glasnevin and Drumcondra campuses at the start of the academic year.
Student Supports
We have a number of academic, professional and social supports for students.
Student Advice Centre: Offers a wide range of supports and services to students and advice 
The Writing Centre - drop-in writing workshops for students through the academic year 
Maths Learning Centre - provides maths support for students of all ability levels with maths modules 
Student Learning: facilitate the transition from passive to active learning for students at DCU, by teaching study skills, nurturing critical thinking and building student confidence. 
Careers work with students to help them on their professional journey into graduate employment.
Our student support team offers a comprehensive support programme, helping students make that all important transition into university life and focusing on building confidence and skills which are key to success at third level.
The BSc in Psychology and Mathematics course has been developed in line with pre-professional Psychological Society of Ireland accreditation principles and is currently pending confirmation of PSI accreditation.
Graduates of this course will be well placed to undertake further studies and research in Psychology and Mathematics. The course also provides a pathway to a postgraduate qualification in teaching.
Future careers include:
Market/Sales Analyst
Financial Analyst
Information Technology
Human Resource Officer
Business Consultancy
Research
Statistical Analysis 
Requirements
General Entry Requirements
In addition to the general entry requirements for admission to the university the following entry requirements apply
Minimum of H3 in Mathematics
Leaving Cert
In addition to the general entry requirements for admission to the university the following entry requirements apply
Minimum of H3 in Mathematics
GCE A Level
In addition to the general entry requirements for admission to the university the following entry requirements apply
GCE A Level B Mathematics
International Applications
International candidates are expected to have educational qualifications of a standard equivalent to those outlined above. In addition, where such candidates are non-native speakers of the English language they must satisfy the university of their competency in the English language. For further information on international applications click here.
Fees
Full time
Student Contribution
€3,043 per annum
EU Status Fee
€7,295 per annum
Non EU Fee
€15,000 per annum