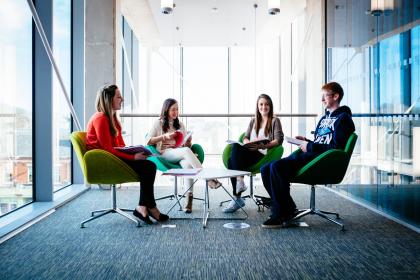 Course Type:
Undergraduate

+353 (0) 1
700 7421

stella.vlachou@dcu.ie
Psychology is concerned with all aspects of behaviour and the thoughts, feelings and motivations underlying such behaviour. While psychologists differ in their interests within the field of psychology and in the type of work they do, they all scientifically approach the study of behaviour. DCU's BSc in Psychology, offered through the School of Psychology, is accredited by the Psychological Society of Ireland (PSI). This ensures that the course meets the highest standards for undergraduate pre-professional training in psychology. 
DCU's BSc in Psychology 4-year programme is structured to cover introductory to advanced levels of psychology across the five core pillars of undergraduate training: developmental and lifespan psychology; biological psychology and neuropsychology; social psychology; cognitive psychology and the psychology of individual difference. A core focus running throughout the programme is research literacy supported by a combination of practical and online laboratory activities. 
The Psychology degree's core subjects include research design, quantitative and qualitative methods, cognitive psychology, developmental and lifespan psychology, biological bases of behaviour, social psychology, personality and individual differences, educational psychology, sports psychology, health psychology and organisational psychology. In addition to the core subjects, you can also choose from a range of optional modules from a variety of discipline areas.
This degree places particular emphasis on the application of psychology. For example, you'll participate in experimental, practical, survey and observational work. This will allow the development of expertise in practical-based psychological methods while deepening your understanding of the theoretical knowledge you are acquiring. You'll undertake an independent research project in Year Four, which will allow you to use these valuable skills.
Given our extensive networks with partner hospitals/clinics, schools, industry and researchers, we are the first to lead out in credited undergraduate psychology internships - our Year 3 INTRA programme - in various fields including clinical and behavioural neuroscience; organisational and corporate psychology; applied behaviour analysis etc. Our programme covers an exciting range of applied subjects (e.g. health psychology, educational psychology, organizational psychology, clinical neuropsychology and sports psychology) and offers cutting edge options (e.g. Disability and Illness, Law and Neuroscience, Crime and Psychology, Applied Behaviour Analysis and Psychopharmacology).
View the current course structure
For more information on every aspect of studying at DCU visit our CAO Hub where you can listen to taster lectures, hear from our student ambassadors and find answers to frequently asked questions.
We have a unique and vibrant culture on our modern campus close to Dublin city centre. We provide state-of-the-art study facilities for all our courses and everything else you need for a healthy, fun and active student life.
Exceptional Facilities
DCU students enjoy exceptional teaching and learning facilities across our 3 academic campuses. These include modern learning theatres, research centres, television and sound studios, classrooms, computer suites and advanced laboratories in the areas of languages, engineering, physics, chemistry and biotechnology, as well as a sports performance centre and a virtual hospital ward.
A Vibrant, Dynamic Social Environment
Student facilities include a superb sports complex with a 25 metre pool, two libraries and The Helix, our renowned performing arts centre. In 2016 we announced plans to invest over €230m in developing new, world-class facilities across our three academic campuses and a new U Building, a Student Centre that is home to the more than one hundred and twenty student clubs and societies. This commitment to student facilities means that our world-class learning experiences are complemented by a vibrant, dynamic social environment.
I can't speak highly enough of the DCU BSc in Psychology. It was a truly engaging, rewarding and enjoyable experience. The highlight of the course for me was the oportunity to take part in a work placement period in the third year. I would recommend that anyone thinking of studying psychology in Ireland makes it their first choice.

Clare Bohan, BSc in Psychology
Career Areas
Business
Community
Education
Healthcare
Most students study psychology because they aim to pursue a career as a psychologist. However, others choose to study psychology because it offers a broad training in a behavioural science, it develops a wide range of valued transferable skills and it can be used as a stepping stone into several other careers. Studying with us at the School of Psychology opens up a wide range of postgraduate training and career opportunities. With further professional education and training, one can work as a psychologist in professional settings such as clinical, counselling, organisational, health, educational, sport, forensic or academic settings.
Job options for graduates include:
Assistant psychologist positions
Marketing
Management
Research
Data analysis
Human resources
Health promotion
Community development 
Requirements
Leaving Cert
In addition to the general entry requirements for admission to the university the following entry requirements apply
Minimum of O4 or H6 in Mathematics
GCE A Level
In addition to the general entry requirements for admission to the university the following entry requirements apply
GCE A Level D or GCE AS Level C or GCSE C Mathematics
International Applications
International candidates are expected to have educational qualifications of a standard equivalent to those outlined above. In addition, where such candidates are non-native speakers of the English language they must satisfy the university of their competency in the English language. For further information on international applications click here.
Fees
Full time
Student Contribution
€3,043 per annum
EU Status Fee
€7,295 per annum
Non EU Fee
€15,000 per annum