Women on Walls at DCU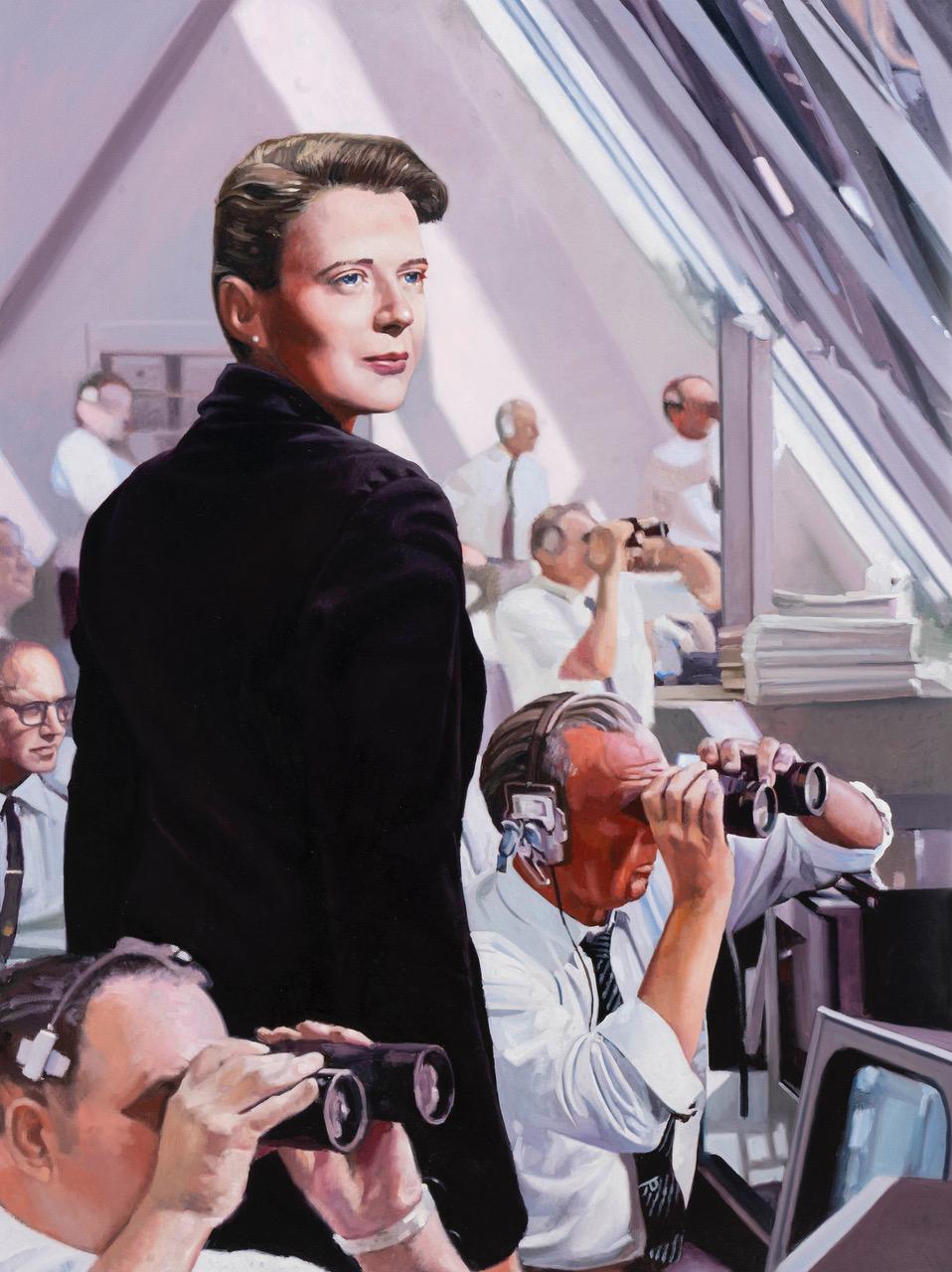 In 2020, five award-winning and internationally-acclaimed artists were selected for Accenture's Women on Walls at DCU initiative, which celebrates the lives of female pioneers in STEM (Science, Technology, Engineering and Maths) through a series of commissioned portraits. The commissioned artists were Bríd Higgins Ní Chinnéide, Jackie Hudson Lalor, Una Sealy, Jim Fitzpatrick and Blaise Smith. The five female pioneers in STEM honoured in these portraits are Beatrice Alice Hicks, Katherine Johnson, Dame Kathleen Lonsdale, Marie Maynard Daly and Kathleen (Kay) McNulty.
All five women made significant contributions in their specific discipline, through outstanding research work, scientific breakthroughs and lasting cultural and social change for future generations. 
This is the third chapter of Accenture's Women on Walls series, which commenced in 2016 with the Royal Irish Academy and was repeated in 2019 with RCSI. 
DCU's Women on Walls portraits were unveiled in a virtual ceremony in March 2021. The paintings can be viewed in person in the Stokes Building on the DCU Glasnevin campus.
You can view the portraits in the slideshow below. Please click to Full Screen icon to view the artwork.
ABOUT THE SUBJECTS
Beatrice Alice Hicks:(1919-1979) Leading Engineer. First President of the Society of Women Engineers, developed a gas density switch used in the USA's Space Programme, including Apollo 11's moon landing mission. 
Katherine Johnson:(1918-2020) Leading Mathematician, specialising in orbital mechanics. One of the first African American women to work as a NASA scientist. Awarded the Presidential Medal of Freedom, America's highest civilian honour, 2017.
Dr Marie Maynard Daly: (1921-2003) First African American woman in the U.S. to earn a Ph.D. in chemistry. Disclosed the relationship between high cholesterol and clogged arteries. Committed to developing programs to increase the enrolment of minority students in medical school and graduate science programs. 
Dame Kathleen Lonsdale:(1903-1971) Leading X-ray Crystallographer. First female Professor of University College London (UCL). Elected as one of the first women Fellows of the Royal Society (FRS), 1945. First woman President of the British Association for the Advancement of Science. 
Kathleen (Kay) McNulty: (1921-2006) Leading Mathematician and Computer Programmer. One of the world's first computer programmers. One of only three female mathematics graduates in a class of 92 when she graduated in 1942. Responsible for inventing the subroutine. Inducted into the Women in Technology International Hall of Fame in 1997.
ABOUT THE ARTISTS 
Bríd Higgins Ní Chinnéide (commissioned subject Dr Marie Maynard Daly) is a Dublin based figurative painter who works primarily with oil paint, drawing most of her inspiration from people, their faces and their bodies. Bríd studied painting at the St Petersburg Academy of Arts, Russia in the late 1990's and early 2000's, where the emphasis of her studies was on academic portraiture and the human form. For the next decade she worked in the field of radio journalism, while living in the UK and US. Since 2016, Bríd has worked full-time as a practising artist, during which time she exhibited her work in both solo and group shows across Ireland and the UK.
Jackie Hudson Lalor (commissioned subject Katherine Johnson) is a Louth based professional visual artist with three distinctive strands to her practice: painting in oils, drawing and printmaking. Jackie worked as a graphic artist in Dublin, creating artwork for the flexographic print industry and later worked for Smurfit Display, producing artwork for point of sale display products. In 2018, Jackie collaborated with rock icon Suzi Quatro to produce two portraits of her in linocut print and she is currently collaborating with Del Palmer and author Nicola Pierce to paint their portraits in oils. For the last seven years, she has concentrated fully on her visual arts practice, exhibiting nationally and internationally.
Una Sealy (commissioned subject Dame Kathleen Lonsdale) is a Dublin-based figurative painter and member of the RHA (Royal Hibernian Academy). A graduate of IADT, she has had 11 solo exhibitions, including at the Molesworth Gallery, RHA Ashford Gallery, and a major mid-career review exhibition at Draíocht Arts Centre. Una was awarded the Irish Arts Review/Ireland-US Council Award for Outstanding Portraiture in 2011 and was one of twelve finalists exhibited at the National Gallery of Ireland in the inaugural Hennessy Portrait Prize in 2014. In 2015, she was the winner of the Adam's Award at the RHA Annual Exhibition. In 2019, Una was invited to exhibit and lecture in China to celebrate 40 years of diplomatic relations between the two countries.
Jim Fitzpatrick (commissioned subject Kathleen (Kay) McNulty) is a Dublin-born and based, internationally-acclaimed artist known for his illustration, poster artwork and photography. Jim is renowned for his elaborately detailed work inspired by the Irish Celtic artistic tradition and best known for his iconic portrait of Che Guevara created in 1968. In 2011, Martin Kemp, Emeritus Professor of the History of Art at Oxford University, listed Jim's Che Guevara image among the 11 greatest iconic images of all time. Jim's work has been exhibited extensively both nationally and internationally.
Blaise Smith (commissioned subject Beatrice Alice Hicks) is a Co. Kilkenny-based figurative painter and member of the RHA (Royal Hibernian Academy). A graduate of NCAD, Blaise is adept at landscapes, portraits and still-lives. He has exhibited widely, with his work being held in many public and private Collections. In 2019, twenty of his portrait drawings of children were exhibited in Dublin Castle as part of the Ark's Put Yourself in the Picture exhibition and, later the same year, his portrait entitled 'My Parents' was runner up in the National Gallery's Zurich Portrait Prize. In 2018, he won the Irish Arts Review Portrait Prize with his much-celebrated group portrait entitled '8 Scientists', a portrait of leading Irish female Scientists commissioned as part of the first iteration of Women on Walls at the RIA.