Primary Department
School of History and Geography
Work Area/Key Responsibilities
History & Geography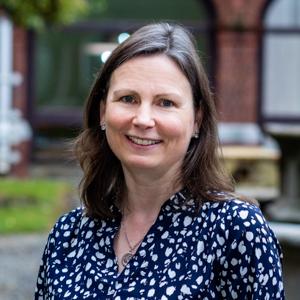 Phone number:
Email Address
Ruth.McManus@dcu.ie
Campus
St Patrick's Campus
Academic biography
Dr Ruth McManus is Associate Professor in Geography and Associate Dean for Teaching & Learning in the Faculty of Humanities and Social Sciences. Before the formation of DCU's School of History & Geography she was Head of the Geography Department in St Patrick's College, Drumcondra. She is the author of Dublin 1910-1940: shaping the city and suburbs (2002, new edition 2021) and Crampton Built (2008), co-author of Building Healthy Homes: Dublin Corporation's first housing schemes 1880-1925 (2021) and co-editor of Leaders of the City (2013). Her work includes articles on various aspects of urban geography, suburban history, population, heritage, tourism and geography education. She is particularly interested in the nature of the urban and suburban landscape and much of her work focuses on the physical and social development of everyday spaces. She has many media appearances, including TV, radio and newspaper articles.
Current projects include a book on the construction of twentieth-century Dublin, the Drumcondra fascicle for the RIA Irish Historic Towns Atlas new Dublin Suburbs series, research on lodgers, and explorations into housing in provincial towns. She is a member of the multidisciplinary international network on Urban Agency: The Historical Fabrication of the City as an object of study, co-ordinated by the Urban Studies Institute (Antwerp), as part of which she is co-editor of a forthcoming book. She is an editor of the Irish Historic Towns Atlas and a member of the International Commission on the History of Towns. She is the current President of the Geographical Society of Ireland.

PhD enquiries are encouraged in the areas of suburbanisation, the development of Dublin, heritage and landscape change.
Research interests
Research Interests and Membership of Professional Bodies Urban geography; housing and town planning; suburbanisation; twentieth-century urban history; demography; tourism; heritage issues Expert Researcher College Fellow, 2015-16 Fellow of the Higher Education Academy Member of the international multidisciplinary network on Urban Agency: The Historical Fabrication of the City as an object of study, co-ordinated by Urban Studies Institute, AntwerpMember: Geographical Society of Ireland, Association of Geography Teachers of Ireland, Association of American Geographers, Urban History Group, International Planning History Society Member of An Foras Feasa: The Institute for Research in Irish Historical and Cultural Traditions.