Student Recruitment Office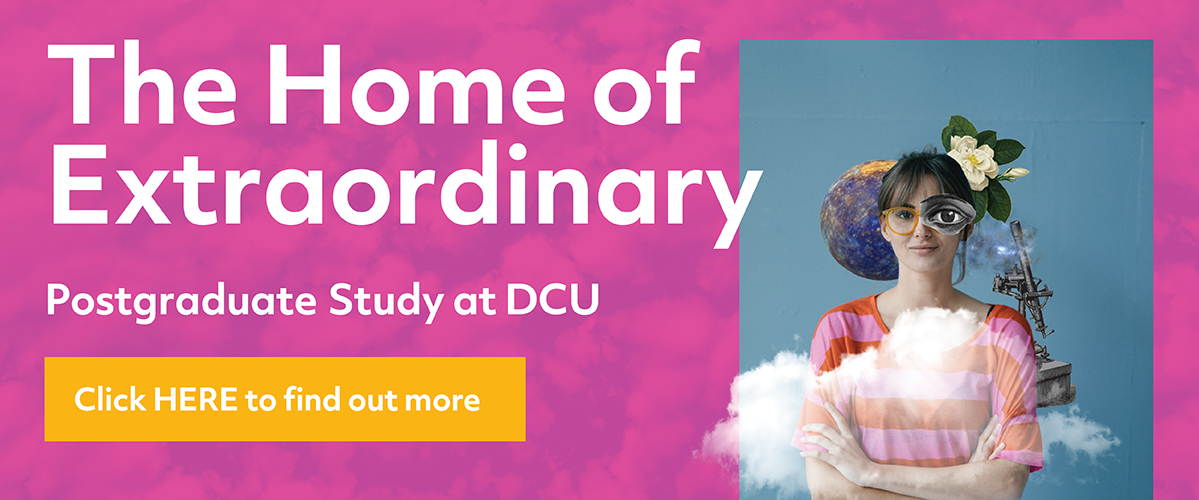 Recorded Postgraduate Information Sessions
There's still time to apply to a DCU postgraduate course at DCU
2020 has been a challenging year with lots of moving parts to consider when approaching postgraduate study. With that in mind, we've decided to extend our postgraduate closing date to September 30
th
for most postgraduate programmes commencing in the 2020/2021 academic year.
Whether you've just finished college, or you're a professional looking to upskill, pivot or maybe even start your second career, DCU has something for you.
With most of our programmes available either fully online or by hybrid delivery, combining face to face and online study, September 2020 could be your time to start one of our microcredentials, diplomas or Masters programmes.
You'll also be able to access recorded content on specific courses, reduced fees for alumni and the application process below.
Recorded Information Sessions
- Highlights from our DCU Postgraduate Information sessions
- Applying for a Postgraduate Programme in DCU: A Step by Step Guide
Faculty of Engineering and Computing
- Faculty of Engineering and Computing - Overview
- Graduate Diploma in Web Technologies
- Graduate Diploma in Sustainable Energy Systems
- MA in Data Protection and Privacy Law
DCU Business School
- DCU Business School – Overview
- MSc Organisational Psychology / Business – Webinar June 2020
- MSc Organisational Psychology / Business – Webinar April 2019
- MSc in Talent, Leadership & HR Strategies – Webinar May 2020
- MSc in Talent, Leadership & HR Strategies – Webinar April 2019
- MSc E-Commerce – Webinar 28 May 2020
- MSc E-Commerce – Webinar 7 May 2020
- MSc in Management (Aviation Leadership)
- MSc Investment Treasury & Banking
- MBA
- MSc International Accounting & Business
DCU Connected - Online Education
Faculty of Science and Health
- MSc in Diagnostics and Precision Medicine
Faculty of Humanities and Social Sciences
- Faculty of Humanities and Social Sciences - Overview
Further information
Contact us at studenthelp@dcu.ie
Visit the DCU Postgraduate Hub