International Alumni Chapters | Alumni
Alumni International Chapters
Abu Dhabi
Executive Dean of DCU Institute of Education, Dr. Anne Looney facilitated an Alumni reception for the Abu Dhabi International Chapter on 2nd May 2019.
The event was hosted by the Embassy of Ireland Abu Dhabi Ambassador, Aidan Cronin. It connected with the many Alumni living and working in the region.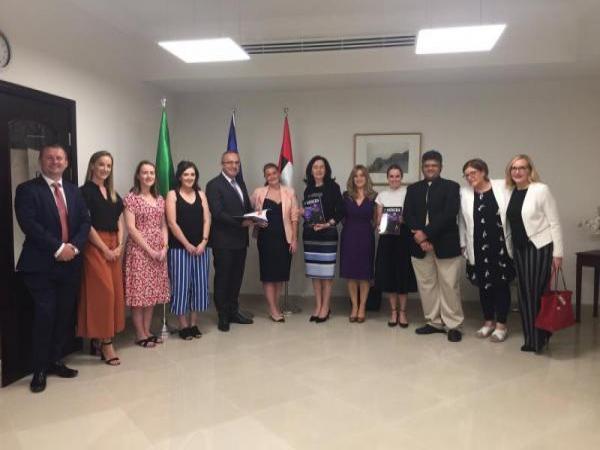 Berlin
The Alumni Office hosted a gathering of DCU Alumni at the Embassy of Ireland on 27th September, 2018.
Following the reception, the DCU Brexit Institute held a special event in cooperation with, the Irish Embassy in Berlin. The event, which was opened by Mr. Michael Collins, Ambassador of Ireland to Germany, focused on "Brexit and the Future of European Foreign Policy".
It featured the Keynote Address by Norbert Rottgen, the Chairman of the Bundestag Foreign Affairs Committee. This was followed by a panel discussion featuring Katharina Gnath, from the Bertelsmann Stiftung; Jana Puglierin, from the German Council on Foreign Relations; and professor Federico Fabbrini, Director of the DCU Brexit Institute.
The discussion was moderated by Jochen Bittner, from the newspaper Die Zeit.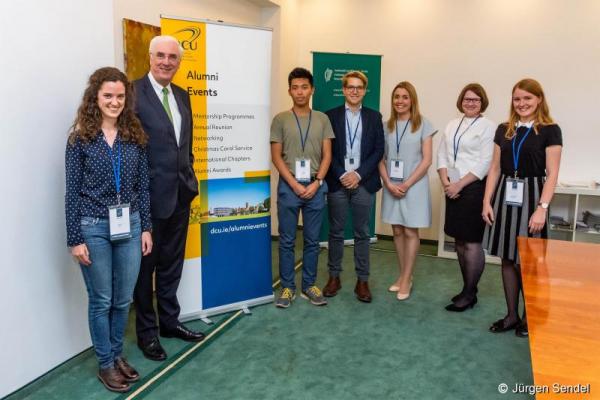 Photo Credits: Jürgen Sendel
New York
The New York Chapter hosted a reception on 15th March 2019, inviting DCU graduates to enjoy a relaxed networking opportunity in Manhattan. DCU Music students, led by Dr Róisín Blunnie and Dr Seán Doherty also performed a selection of traditional Irish songs and dance.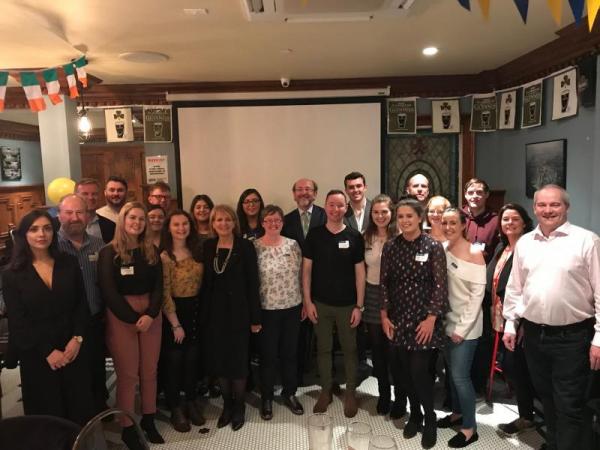 Paris
On 17th March 2019, the Paris International Chapter marched in the Irish in France St. Patrick's Day parade, alongside Director of Alumni Relations, Ross Munnelly and the Alumni France Chapter Ambassador.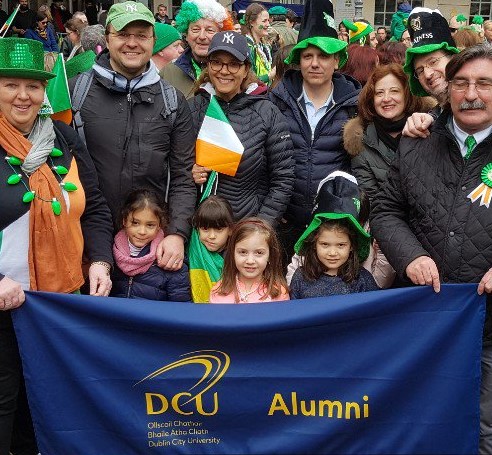 Saudi Arabia
The DCU and PNU International Chapter hosted an Alumni reception on 17th April in Riyadh, Saudi Arabia. The event was attended by DCU Deputy President, Professor Daire Keogh and Executive Dean of DCU Business School, Professor Anne Sinnott.
Attendees were updated on the news and events of Dublin City University.
San Francisco
The San Francisco International Chapter hosted a reception on 11th March 2019, held in the Consulate of Ireland. DCU President Professor Brian McCraith was also in attendance at this event. Both the Consul, Robert O'Driscoll and Vice Consul, Michael Treacy are DCU graduates.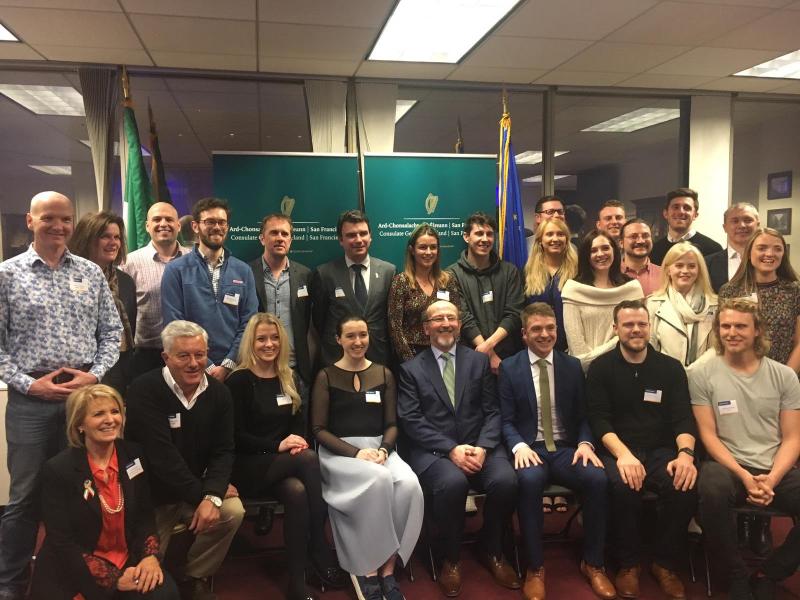 In November of 2019, DCU President Professor Brian MacCraith hosted a fireside chat with DCU alumna, Lorraine Twohill, Chief Marketing Officer at Google, in DCU's first Tech Talk in Silicon!
Lorraine recalled the passion of DCU lecturers as a strong memory from her student days, where she graduated with a BA in International Marketing and Languages (1992).
In 2018, Lorraine became the second ever female recipient of the Cannes Lions Creative Marketer of the Year, an award which recognises a brand that has demonstrated a belief and investment in creativity over the years.
Lorraine was recognised by DCU in June of 2019 with an Outstanding Alumni Achievement Award for Equality, Diversity and Inclusion. Whilst Lorraine was unable to collect the award in person, our attendees enjoyed a video message from Lorraine accepting the award.
This event in Silicon Valley gave Professor Brian MacCraith an opportunity to present this award to Lorraine in person on behalf of DCU, in front of an audience of alumni and friends of the university.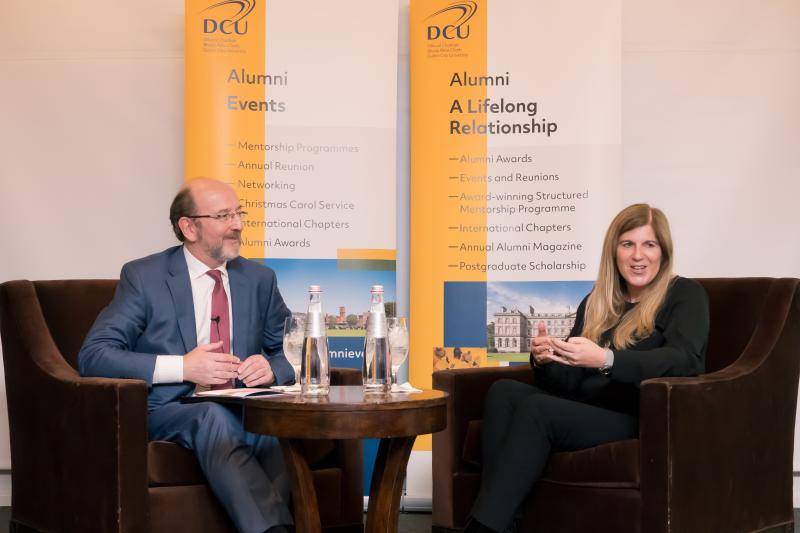 Photo Credits: jGuerzonPictorials
Singapore
The inaugral Singapore International Chapter was launched in May 2020 through virtual means via Zoom. The event was hosted by Ambassador of Ireland and DCU Alumnus, Pat Bourne, who gave us a fantastic insight into connections between Singapore and Ireland during Covid-19, as well as his own fond memories of his time studying the MA in International Relations. In attendance was DCU Deputy President, Professor Dáire Keogh, along with over twenty graduates and staff from the university. We look forward to the future of our newest International Chapter!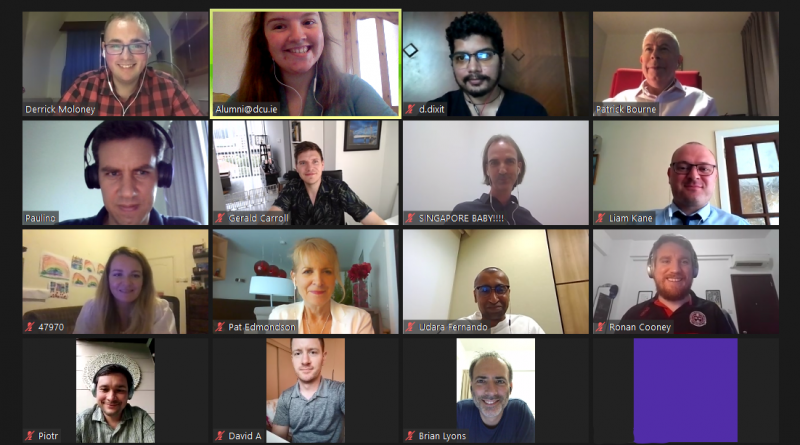 Washington D.C.
On the 14th March 2019, the Washington D.C. Chapter held an Alumni Breakfast in the Northwest area. It was attended by DCU Deputy President, Professor Daire Keogh.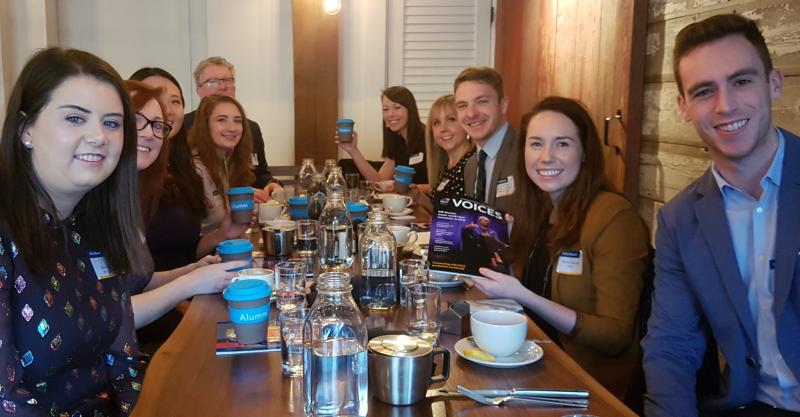 The inaugural DCU Alumni Washington D.C. chapter event welcomed eight attendees for Happy Hour on December 9th, 2019. The event was held at O'Sullivans bar in Arlington, Virginia - just outside DC - the perfect spot for a cozy, festive celebration with new friends.
The Chapter caught up with attendees of all different backgrounds, ages, and professions - a testament to the reach of a DCU education. It was great to be reminded of the atmosphere on campus and the American alumni shared details of the warm welcome (and wet weather) that greeted them when studying in Ireland.
We look forward to hosting more fun gatherings in the future.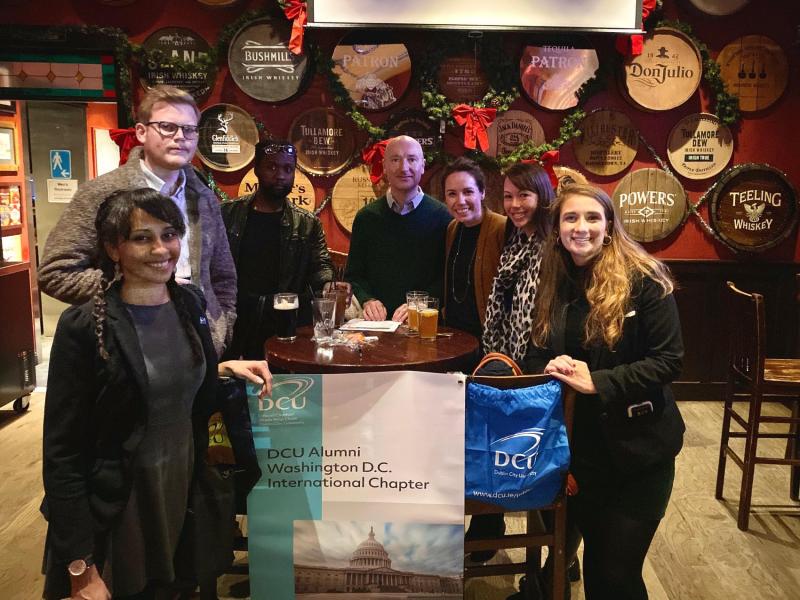 New Chapters - Get Involved!
If you are interested in getting involved or would like to set up a new International Chapter, email alumni@dcu.ie for more information!