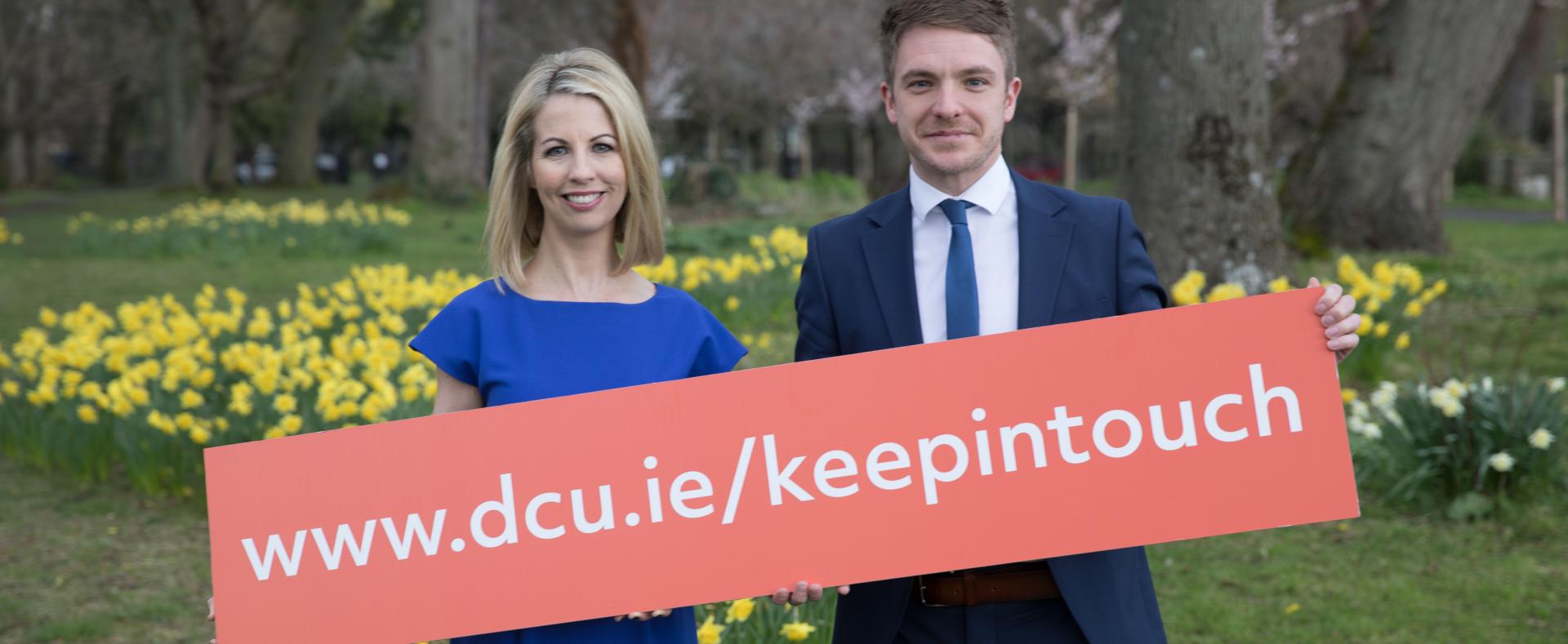 Keep In Touch
Let's Keep in Touch!
At DCU, we are proud that our graduates are creative, analytical, enterprising and socially responsible citizens who have gone on to enjoy great success in their lives and careers.
Our alumni will always be an important part of the DCU community and so we encourage you to update your contact details to ensure you receive all the latest news from DCU and information on opportunities for alumni. From reunions, e-zines, mentoring opportunities, alumni awards and exclusive event invitations – we have a lot to offer our graduates. There are also many ways that alumni can give back to DCU whether that is offering their time, funds or expertise.
In the pieces below, our alumni share what DCU means to them and the reasons why they believe it is important for graduates to keep in touch. We invite you to explore their stories and to update your contact preferences today. You can also find out more about how DCU uses your information by viewing our Privacy Policies (DCU / DCU Educational Trust).
MA in International Relations, 2006
CEO, Festival of Curiosity

"I'm proud to be a DCU graduate as it's a unique university that's open and welcoming for new students and gives them the tools to succeed in their lives."

BA in Journalism, 2017
RTE News2Day presenter

"I feel as a graduate I left with more than a qualification, I left knowing I made friends, I helped make an impact and I learnt more than I could ever have from my surroundings."

BA in Journalism, 2002 / MA in International Relations, 2011
SixOne News Presenter, RTE

"When I moved to Washington DC for work I set up an alumni chapter there to connect with other DCU grads in the US. When you move somewhere and don't know anybody it's a good way of meeting new people that you had something in common with."

BA in History and English, St Patrick's College, Drumcondra, 1999 – 2002
Director, Alliance for Catholic Education, University of Notre Dame

"Our identity comes from our family, friends, experiences and education – it is important to keep that piece of your identity alive. Since incorporation, DCU are now guardians of the St Pat's tradition. Our time there made us who we are and that connection needs to continue now through DCU."

Graduate Diploma in Journalism, 1990 / PhD in Faculty of Humanities and Social Sciences, 2015
Consultant and Co-Director, YesEquality Campaign, 2015

"It's really energising to come back to DCU and to meet with undergraduate students. Their insights and world view are totally different and it's important to keep in touch with the ways in which they want to change the world."

Professional Diploma in Accounting, 2007 / MSc in Management (Business), 2008
Founder, PepTalk Wellbeing

"I've stayed in touch with DCU throughout the years, mainly through the sporting spectrum. I've followed the Gaelic football teams and the athletes that I would have been friends with in the past and watched their journey unfold over the years."

BSc in Multimedia, 2009
Business Unit Director, Pigsback.com

"I like to keep in touch with DCU to hear about new developments in my area. I also love to hear how the University is progressing and what other past students have gone on to do. DCU was a community for me for so long, I don't just want to cut my ties."

BA in Accounting and Finance, 2014 / MSc in Accounting, 2015
Senior Associate, PwC

"I keep in touch because of a sense of family and community that doesn't go away – you can't just leave your family and your community."