Primary Department
School of Theology, Philosophy, and Music
Role
Deputy Head of School
Work Area/Key Responsibilities
Theology and Philosophy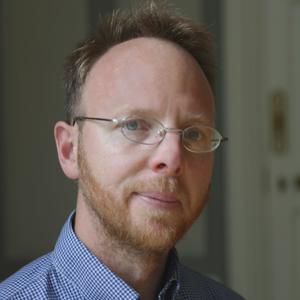 Phone number: 01 700

7486
Email Address
peter.admirand@dcu.ie
Academic biography
Dr Peter Admirand's most recently published book is: Destruction, Ethics, and Intergalactic Love: Exploring Y: The Last Man and Saga. It was published in 2023 by Routledge in their book series, Routledge Advances in Comics Studies. Seeking Common Ground: A Theist/Atheist Dialogue, co-written with philosopher Andrew Fiala, was published in 2021. Humbling Faith: Brokenness, Doubt, Dialogue—What Unites Atheists, Theists, and Nontheists, published in 2019, is also available as an audiobook. Amidst Mass Atrocity and the Rubble of Theology (2012) is his book on theodicy and witness testimony, and he is editor of Loss and Hope: Global, Interreligious, and Interdisciplinary Perspectives (2014; paperback 2015). He is a (tenured) Assistant Professor in Theology and the Director of the Centre for Interreligious Dialogue. He also serves as the School's Faculty Research Convenor and is the Christian Co-Chair of the Irish Council of Christians and Jews.

He has a Ph.D. from Trinity College Dublin; a M.A. in Theology (Ethics) from Boston College; a M.A. in British and American Literature from Georgetown University; and a B.A. in English from The Catholic University of America. Previously he served as an Interim Programme Coordinator for the M.Phil in Ecumenics Programme at the Irish School of Ecumenics and lectured in peace studies, ethics, and interfaith dialogue. He also was an adjunct lecturer in English Departments at Pratt Institute, Queen's College (CUNY), York College (CUNY), St John's University, and Lasell College. He was in the Jesuit Volunteer Corps in California in 1998-1999.

His publications and research interests are in the areas of interreligious dialogue (especially Jewish-Christian dialogue and atheist-theist dialogue); post-Shoah Christianity; religion and literature (including comic studies and science fiction); testimonies of mass atrocity; liberation theology; forgiveness, justice, and the unforgivable; theodicy; war and peace; and the representation of God and theological themes in literature.

Originally from New York, he moved to Ireland with his family in 2004. Aside from work and enjoying life with his wife and 5 kids, Dr Admirand likes playing soccer and basketball, travelling, jogging with his German Shorthaired pointers, Sally and Neo (while listening to audiobooks), and…it can't be denied, playing PS5 games and still reading the old comic book or two. He welcomes PhD inquiries and conference and media requests.
Research interests
Religion and literature; interreligious dialogue, especially Jewish-Christian dialogue; and theist-atheist dialogue; Theology and Comics Studies; testimonies of mass atrocity; liberation theology; forgiveness, justice and the unforgivable; theodicy; Catholic social teaching; Christology amidst the world religions.