School of Theology, Philosophy, and Music
Music
Music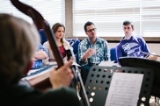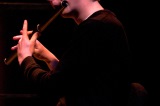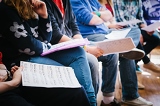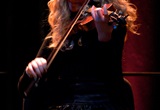 Music is a vibrant centre of academic and cultural life at the University. Music as a discipline in Humanities and Social Sciences combines deep scholarly inquiry with skillful artistic and creative endeavor to reveal critical insights into this aspect of our human meaning-making, expression and representation of ideas.
Music scholarship engages with music across diverse traditions; from early manifestations of Western Art Music to current post contemporary forms and practices, from Popular music and Film music across time and place, to Traditional Music, Jazz performance, and ethnomusicological studies. It engages with key questions on the role and function of music in society, drawing on complementary humanities and social science perspectives including psychology, sociology and cultural theory. A strong value of music in DCU is the cultural contribution made by staff within the national and international field of music, the translation of our research into wider societal benefit and the breadth of our representation of music within courses, programmes and research consistent with a 21st century approach to musicology. We have an extensive profile in composition, performance, teaching, research and contribution to the community.
Music forms a key part of the University's cultural fabric. Regular concerts and collaborative events feature students, staff, and professional performers, including our most recent artists-in-residence, the internationally renowned Fidelio Trio. Students have opportunities for rich musical engagement across genres, with college choirs and ensembles active in traditional, classical and popular styles.
Staff members are involved in composition, performance and published research and include three internationally recognised composers, including members of Aosdána and award winning choral conductors. Staff are engaged in a range of musicological areas and at the forefront of applied music research in Ireland, including two externally funded projects. Developing Diversity in Performance Music Education, funded by Music Generation through U2 and the Ireland Funds and Mapping Popular Music in Dublin funded by Fáilte Ireland. Music at DCU builds on a long tradition of organising and presenting national and international conferences and seminars, and hosts the Society for Musicology in Ireland International conference in 2016.
Students who take music courses will develop skills in writing and orchestrating music including becoming familiar with the technology which supports this. They will participate in choirs and ensembles with their peers and further develop their own music practice on voice or instrument in any genre. They will directly engage with and study a wide range of music and come to know the styles, process, contexts and cultural implications of this type of human meaning making as well as investigating the role of music in human engagement and culture. A strong value within our courses is the breadth of music represented. Engagement with classical, popular, film, Irish traditional music and Irish Art Music as well as ethnomusicology is central to undergraduate and postgraduate programmes.
Music is part of the Bachelor of Arts (Joint Honours) programme where it is possible to combine with English, Human Development, Gaeilge, Geography or Theology. In the four-year Bachelor of Religious Education and Music degree, students qualify as second-level teachers in a course that includes a thorough training in Music as part of initial teacher education. A BA in Jazz and Contemporary Music Performance is also delivered in the School, a four year course that offers intensive jazz and contemporary music education. International music students are valued contributors to the school, which frequently hosts students from the Czech Republic, Hungary, Austria, Germany, Colorado and Toronto, among other places. Research degrees are supervised by staff at masters and PhD level in a range of areas including Composition, Musicology and applied musicological areas. Information for intending research students can be found here. Before applying you should first approach a member of staff as a potential supervisor and to discuss your research proposal.