Succession is only an outcome, family businesses should strive for continuity was the key message of renowned family business expert, Prof. Justin Craig (Kellogg School of Management, Northwestern University) who spoke at the first leg of the CFB Sucesssion Roadshow series this week.
Prof. Craig referred to the three circle model of family buiness that consists of family, management and ownership subsystems. "It's trust within, between and among these three systems that will increase the success of continuity" according to Prof. Justin Craig. He also said that within continuity planning involves familly, strategic and estate planning.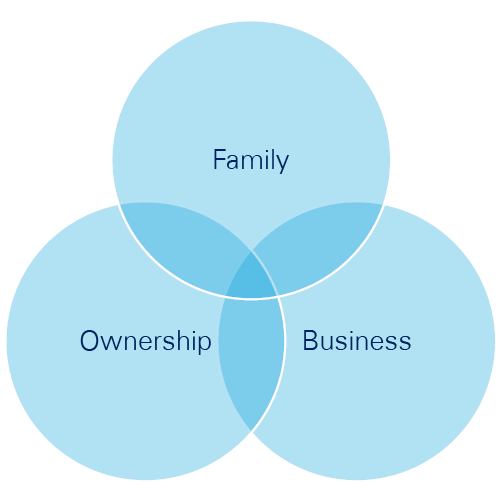 Three Circle Family Business Model.
The keynote family business of the event was Glennon Brothers, a timber processing and exporting company with €125 million turnover. The family business is managed by Co-Ceos and brothers, Pat and Mike Glennon, the second of whom presented at the event.
"We're a typical family business with a flat structure and the customer at the heart of what we do" said Mr. Glennon. He highlighted the value of voluntary next generation involvement and strong communication. "Entering a family business should be presented as an opportunity and not a burden." He recommended a top level non-family manager to act as an independent member at meetings between next and now gens.
Director at AIB Corporate Finance, John McCarthy spoke at the event about building trust between the bank and the next generation of managers, succession planning and selling of the business.
The attendees witnessed live action role play of sensitive family business scenarios by Ciaran Bermingham and an associate from Real learning.
This event took place in PwC offices, One Spencer Dock, Dublin and was proudly sponsored by PwC, AIB and William Fry.