Last week, April 18 – 19, this year's Dublin Tech Summit took place at the Convention Centre Dublin (CCD). Over the two days, thousands of attendees filled the halls and chairs, listened for insight, raised questions and engaged with new tech gadgets and ideas. The Centre for Family Business, DCU, also made the trip to absorb all things new and strange, innovative and tech. At the end of this article we've put together some insights for family businesses in Ireland from day one of the Summit.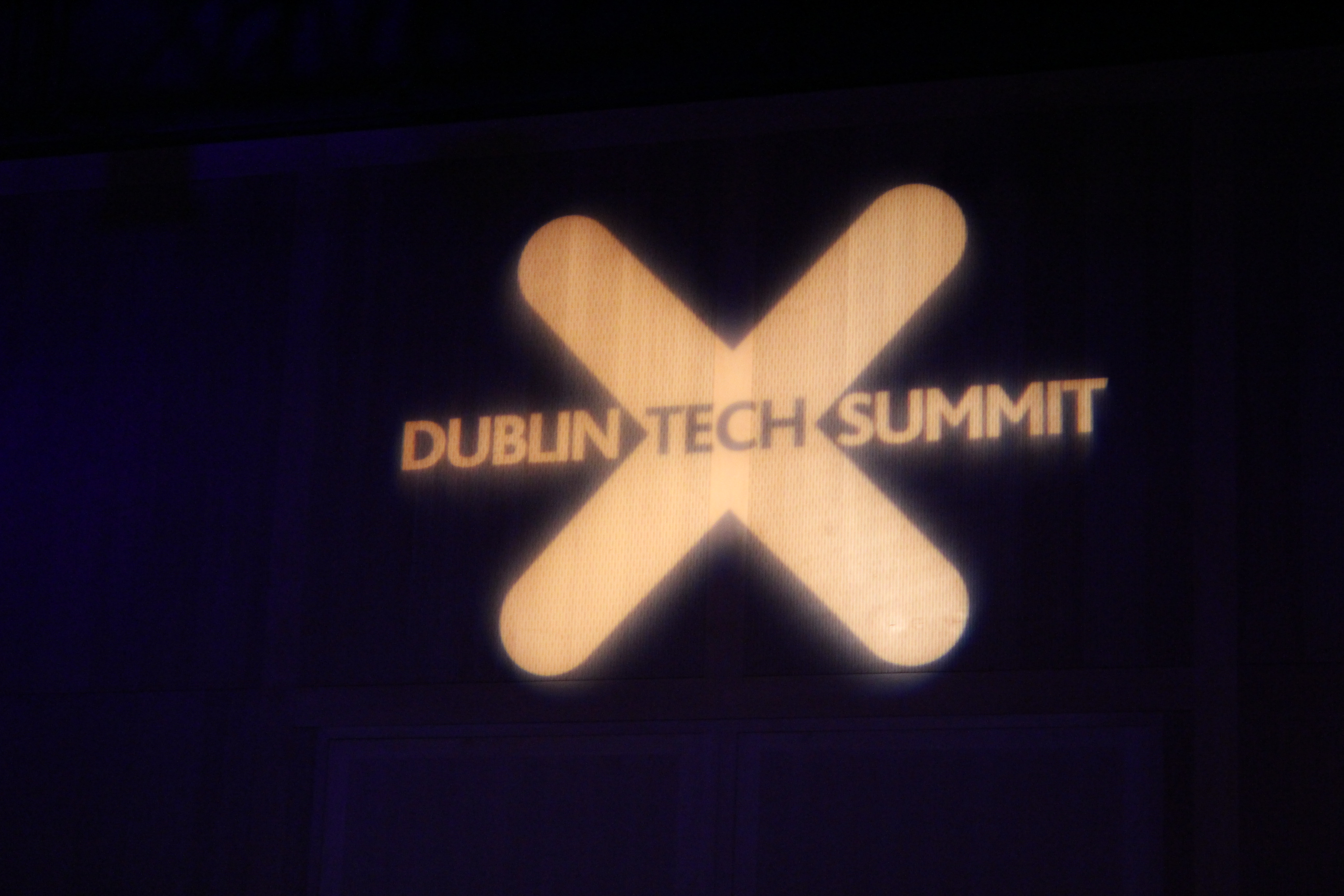 Overall, three key themes from the Dublin Tech Summit 2018:
1. With the advancement of automation, soft social skills may become ever more important in the workplace than hard tech skills.
2. Our music technology experiences look set to become more collective than individual.
3. Innovation is potentially becoming more about innovating the relationship between people, technology and business.
Those three points listed above were some of the things that stood out as common themes across speakers' presentations. There was an emphasis on the potential increasing importance of soft social skills in the workplace over hard tech skills – relating to language and emotional competence as more desirable traits of an employee. At the Music X Tech stage there were several discussions which touched on the social future of our music technology experiences, where augmented reality brings everyone and the music into a shared digital space. On the Innovation X Tech stage some speakers described their experiences with efforts to innovate within their business. In the end they found success through innovating their company culture and their relationship to their employees with the use of creative technological solutions.
There was a lot going over these two days. Over two hundred speakers covered everything from the Mars missions, self-service music studios, e-books in education, social media, the science of 'cool', gender and technology, to political fandom, cryptocurrency, the perfect pitch and how we can harness the social good from innovation. And I've definitely missed a few things. All of this over the space of roughly fifteen hours.
While we couldn't go to everything, we have selected some of the best bits from the Dublin Tech Summit 2018, day one.
Wednesday April 18
"What is the future of content?" – The Publishing Revolution
The answer we received: it's already here. At the Future X Tech stage, 'The Publishing Revolution' brought together a panel of publishing innovators - Kinga Jentetics, CEO of Publish Drive; Darya Yegorina, CEO CleverBooks; Angel Araujo Herrera, strategic partner manager at OPG, Google; and Gillian Fitzpatrick, head of content, Maximum Media.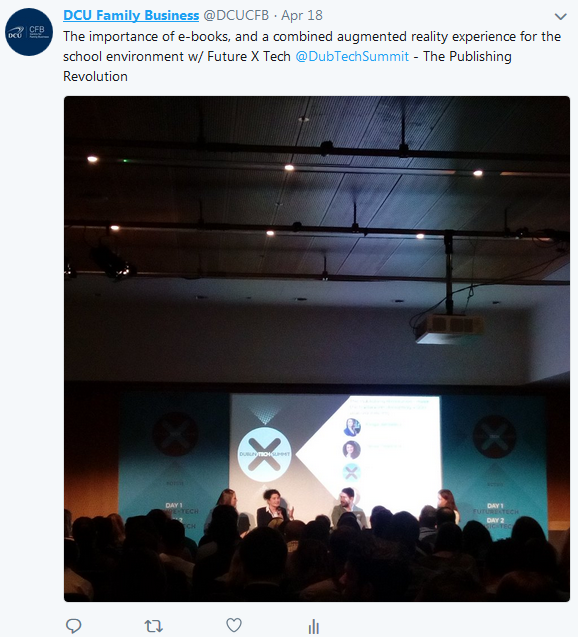 Imagining the future of publishing means to reimagine the user experience and to explore new ways of publishing books. Kinga spoke about the potential for translation to open up new markets, and in order to tap into this it would be worthwhile looking into new business models. Specifically, within the school environment, Darya asked us to think about how it would feel to have the real, physical book experience in our hands with augmented reality (AR) seamlessly integrated into this experience. As a way to being students closer to the book and enhance their relationship to the story. The capabilities within data to stimulate a publishing revolution was brought up by Gillian, and she pointed to data companies as possible allies within this user experience transformation.
"Music has a real value" –The Future of Music Revenue
'The Future of Music Revenue' became a discussion about 'the digital revolution' with speakers Sinead Troy, CEO of Yangaroo Music; Stephen O'Reilly, head of marketing at IE Music; Simon Wheeler, director of strategy at Beggars Group; Goran Andersson, founder and consultant at GA & SF Ltd; and moderator Oisin Lunny, OpenMarket chief evangelist.
"Artists need to make the time" – Sinead Troy, Yangaroo Music.
There are plenty of tools at the disposal of artists that have the potential to support their career development and musical evolution in a positive way. But it's not magic, and Sinead emphasised that in order for software to be effective, artists need to give their time and energy into this process. Which can be a difficult thing for emerging artists who are at the beginning of their journey to do.
"Digital has been a great enabler" – Stephen O'Reilly, IE Music.
Stephen highlighted the positive effects of the digital wave that became the most popular way for people to engage with music over the past number of years. As a driver of growth in the music industry for artists, this change led to the potential for long term relationship building. Of course, there are the very real negative effects that were felt by artists when digital became the norm. But the feeling of this discussion was more about the 'digital revolution' rather than a 'digital invasion'.
"The streaming revolution started much sooner in Sweden" – Goran Andersson, GA & SF Ltd.
These changes were not even across the globe. Goran described how things were different in Sweden, and that this revolution of mass streaming and a transformation of the music-people relationship began at an earlier stage. This was making reference to Swedish company Spotify - the head honcho of the music streaming world – a platform which quickly became the go-to space for legal music sharing. Though not without its fair share of controversy and conflict.
"The narrative of the music industry is one of fifteen plus years decline''… "But people just didn't pay us" – Simon Wheeler, Beggars Group.
Simon spoke about the significance of non-traditional music revenues. He also pointed out that the framing of the decline of the music industry over the last few years was underscored by the fact that they weren't seeing global growth. But it was a failure within the industry to adapt to the digitalisation of music experiences with monetisation. Nobody lost interest in music – it was a matter of keeping up with the demands of a rapid increase in listenership and their consumption.
"To relentlessly innovate" –The Innovation Process
Kevin Mako, CEO of Mako Design, described his own experiences at the Innovation X Tech stage, and his "relentless, aggressive pursuit of innovation". Within in his own company and team he changed how things happened. He changed the back end processes, overturning the way products were developed, and expanding beyond Canada into the US.
Kevin made a point about highlighting the importance of the entire experience of designers to the innovation process - he helped his designers lead the way with the best tools and the best working environment for their creativity in the form of an open plan office. And he wants that innovation mind set to be instilled into the professional practice of businesses.
"Innovation needs policy" – Kevin Mako, Mako Design.
As a closing statement, Kevin challenged everyone to dedicate two percent of their day to innovation and to see what can be achieved with one small commitment.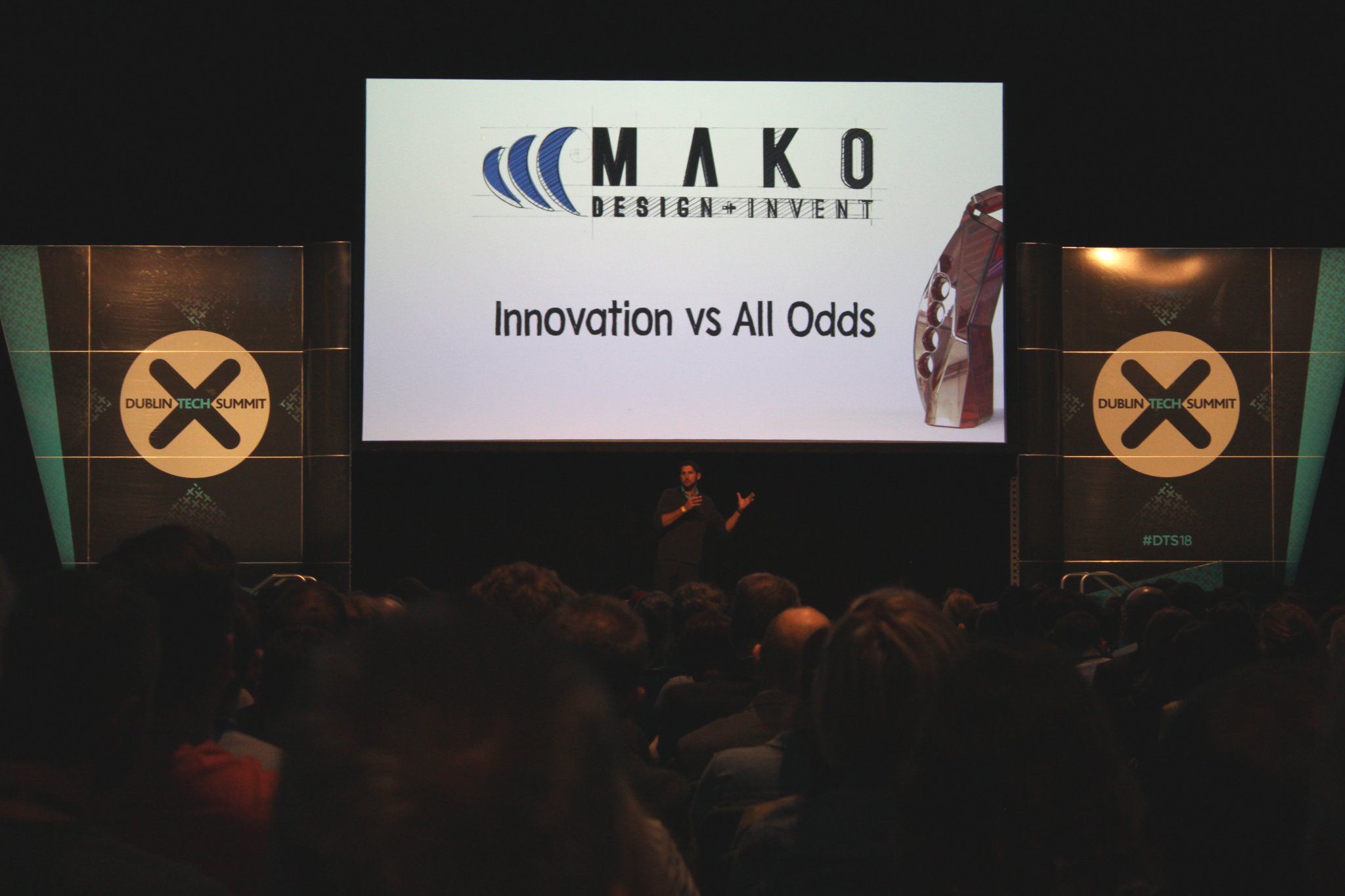 "The search for life" – Lessons from Mars and Beyond
At the intersection of innovation, human curiosity and space exploration. Otherwise known as the Innovation X Tech stage, with Jordan Evans, deputy director of engineering and science at NASA JPL.
Jordan lead a discussion about the Mars missions, past and future. The point of these missions such as the Mars 2020 Rover is to traverse the landscape, using technology to better see the planet. And the next step is to bring back samples of Mars to Earth.
"We develop these machines in the name of science exploration" – Jordan Evans, NASA JPL.
He spoke about how innovation takes places in this particular form of space exploration. It was interesting and also mildly comforting to be told how the technology and innovations that already exist on our planet are inspiring these interplanetary missions. "We are not obsolete" was the thought process in my mind when he showed us photographs of familiar technology being used in unfamiliar contexts. It's about leveraging the lived experiences on Earth and in industries to be used for designing the technology for missions.

Source: Dublin Tech Summit Twitter.
We also gained a bit of insight into the kinds of employees NASA looks for (possible box ticking exercise for NASA hopefuls): To be intellectually curious; be able to engage in two-way communications; the ability to make system connections; be able to see the bigger picture and details; and to be willing to release ownership of ideas in a team.
Digital ideas bringing people together – New Platforms: AR and VR
In conversation at the Music X Tech stage with Niamh Byrne, founder of Eleven Management and manager of Gorillaz; Davor Krvavac, creative director at B-Reel; Seth Jackson, CEO of Landmrk; and moderator Muki Kulhan, executive digital producer at Muki International LTD.
In this panel's discussion we heard a lot more about the social experiences of music technology, and the possibilities for the future of our relationship to these experiences.
Augmented reality (AR – think Pokemon Go) and virtual reality (VR) were hot topics at the Tech Summit, and Niamh described how the ideas in this digital landscape have the potential to bring people together. She related her insights to her work and creative processes with Gorillaz, a very AR band, and how their world could merge with our own.
"I love applying creativity to the limitations of tech" – Niamh Byrne, Eleven Management.
Davor spoke about shared experiences within the digital infrastructure, such as in an AR cloud – and then he asked the question "who owns the cloud?". Perhaps the idea of ownership over AR creations is something that would make a good discussion for the next Summit. He described how the context of our music experiences matters – the context of how we are listening to and seeing the music – and that this context can bring people together.
The topic of context came up with Seth as well, and he indicated the potential for an increased focus on personalisation in our music experiences. He said AR in this case was about creating human and digital interfaces and that it really doesn't take a huge time commitment to work with this technology.
This panel felt like someone rolling down the partition between real world and virtual world in order to bring out the social character of music and our experiences with music. The point was made that technology should be seamless, because "it only works when it's invisible" (Seth Jackson, Landmrk).
A working space for artists – A Fireside Chat with Will Nichols
Sitting down together at the Music X Tech stage was Will Nichols, head of content at Firepit, Warner Music, and Muki Kulhan, executive digital producer at Muki International LTD.
Will described how in 2016 the Firepit was created and launched by Warner Music as a creative hub for artists.
"We identified a hunger for content" – Will Nichols, Firepit.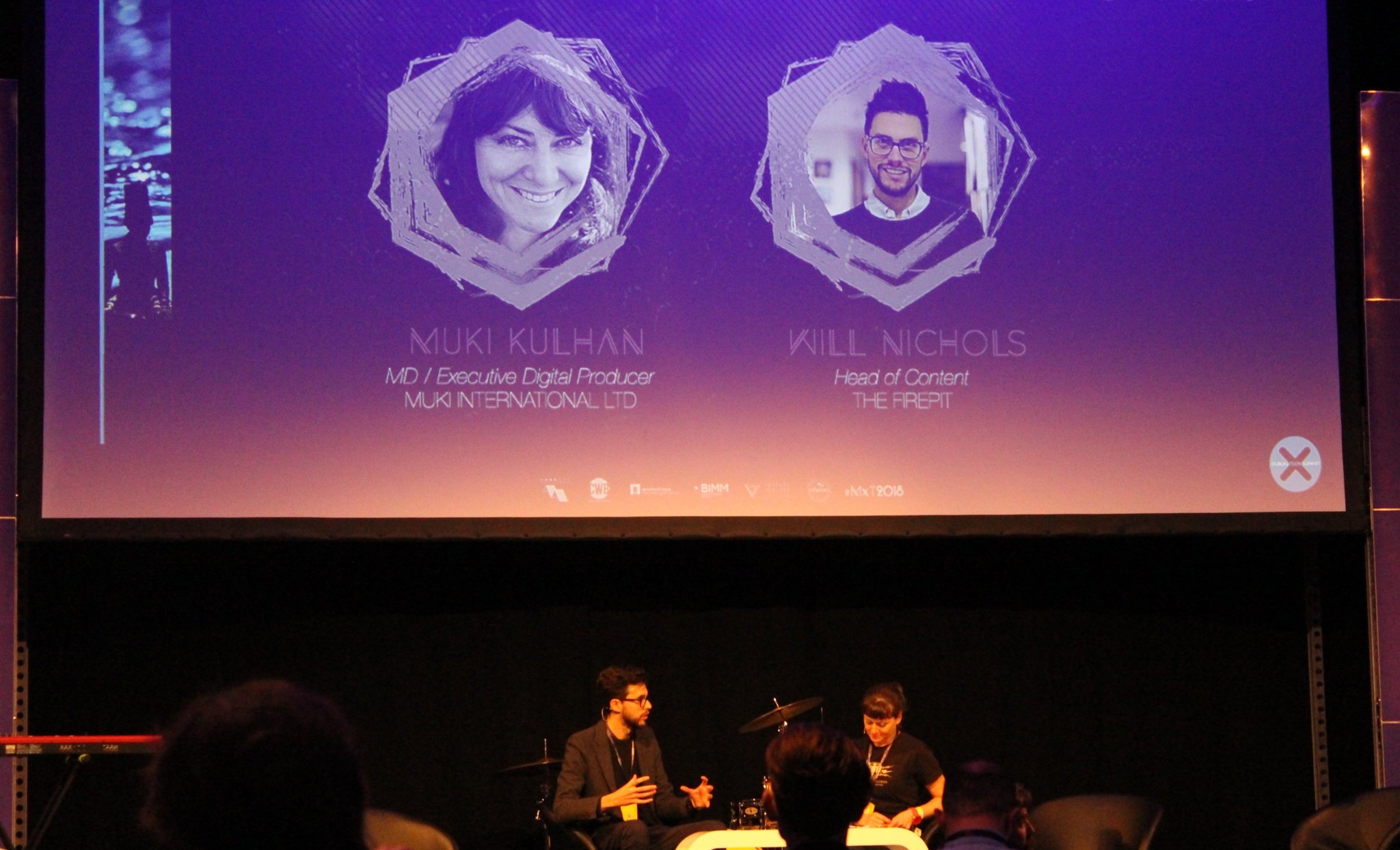 And Firepit was born. The purpose of this project is to create a space and working studio for artists that responds to their needs and interests, whatever their musical style or personality is. Will played us a few in studio videos that bands have been able to create in these spaces, and he also spoke the importance of having great ideas – "It's about the idea not the format".
With just a second or two to impress the scrolling user on social media, content needs to grab people, and Firepit helps artists to create this content and share it across the digital stratosphere.
What is the definition of 'live'? – Space Matters: Live Music Experiences
As the first day of the Tech Summit was nearly coming to a close, I sat down at the Music X Tech stage to hear from Jackie Wilgar, SVP marketing at Live Nation Entertainment.
This was also a discussion about space, in both the physical and digital world. Live Nation is an events promotor which has over 90 million fans globally. Speaking to the crowd, Jackie asked us to close our eyes and think about the last time we were at a music festival. To remember the feeling of going there, of being there, and what it felt like afterwards – the afterglow. Those before, during and after experiences are what Jackie and her team tapped into in their engagement with these fans.
In coming up with new ideas for fans, Jackie and her team asked themselves, "What is the definition of 'live'?
So they asked their fans. Their study found that today, consumers feel burnt out by digital, and that they desire a way to escape and regain some human connection. Using digital space with the real physical spaces at festivals, they were able to add value to the before, during and after moments – so as to be "not just another invasion" of digital.
They created an app with fan's interests at heart and through asking them what it was that that wanted, they were able to design a valuable tool. Things like weather notifications were put in, and a feature that could tell them afterwards the places they visited at the festival and the artists they had seen, and then create a playlist for them based on that. That was two years ago, and now the app has gathered over 170 million screen views.
Some insights for family businesses in Ireland
During the Mars mission talk with Jordan Evans, he spoke about the importance of being able to separate the idea from the individual. One problem that family businesses can face is conflict over ideas and changes in how the family manages the business over multiple generations. When you imagine ideas as being for the greater good, for the business, it allows you to see beyond that conflict. At the same time, the person who produces the idea also needs to see the bigger picture, and allow ownership of solutions to be shared among members of the family.
The social aspect of our relationship to technology is becoming more important. Those close personal ties that family businesses can create with local communities are going to remain invaluable into the future, and can potentially be combined with new technologies in a way that might produce unique benefits for family businesses.
Also, many of the speakers at the Innovation X Stage had some experience with taking risks in their pursuits of business success. And the pay out from uncertainty was, according to them, worth the risk.
Day two of the CFB experience at 2018 DublinTech Summit coming soon