The DCU Centre for Family Business held an Innovation in Family Firms themed seminar on Wednesday. Family business practitioners, scholars and supporters attended the keynote address from Professor Alfredo De Massis, a leading family business scholar and Director of the Centre for Family Business at Lancaster University Management School.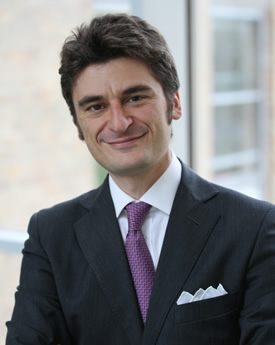 Professor Alfredo De Massis
Prof. De Massis spoke to family business practitioners about the significance of innovation and how its occurrence differs in a family firm context.
"One of the most important things for practitioners is to understand that innovation generally happens differently in family businesses", he stated. "It's very important to realise that you cannot apply the best practice to manage innovation in a family business with the traditional best practice that would work in non-family firms because, in many cases, this would create more problems than solutions."
Existing research on innovation has shown that it's positively linked to achieving a competitive advantage and strong firm performance, according to Prof. De Massis. "Innovation cannot be downplayed because even if you are a family business and you have a long tradition, you always need to think about how to renew your organisation", he said.
Professor De Massis noted the challenge of upholding tradition while enabling innovation in the family business. "Doing innovation means investing in risky long term activities that will pay off only in the very long term and so sometimes the family's goals are not aligned with this", he added.
Over 30 people with family business interests attended the seminar in DCU Innovation Campus. An interactive session took place where attendees participated in an open discussion about ways to resolve family tensions relating to business innovation. CFB partners AIB, PwC and William Fry turned out to support the event.
The CFB will host its next events in Dublin (19th May), Cork (21st May), Limerick (26th May) and Galway (28th May) as part of the Professionalising Your Family Business series. For more details on the CFB Family Business Roadshow and to register follow this link.