Biological Sciences General Entry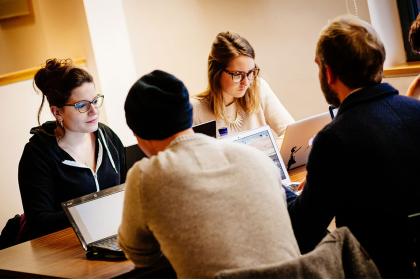 Course Type:
Undergraduate
NFQ Level:
8 - Please see
www.qqi.ie
for further information

+353 (0) 1
700 5395

greg.foley@dcu.ie
New Entry Route to Biological Sciences Programmes
If you have a natural curiosity about how living things function, then biological sciences will appeal to you. You will learn about how life works, at the molecular level, the cellular level and the level of the organism. From determining the molecular causes of medical conditions or producing effective treatments, to the development of environmental technologies for wastewater treatment, or optimising brewing processes, biological scientists have a key role to play in all areas of society.
Biology is an increasingly diverse area with a wide array of topics. Our understanding of molecules, cells and life is central to human society and progress. Within this option, you will have the opportunity to pursue the BSc in Biotechnology DC181, BSc in Genetics and Cell Biology DC168 or BSc in Bioprocessing from Year 2 onwards.
In your 1st year, you will develop your scientific skills and get a strong grounding in biochemistry, genetics, cell biology and microbiology. This will give you the opportunity to determine which areas of biological sciences appeal most to you, before choosing your preferred degree option at the end of Year 1, selecting from: 
All students successfully passing Year 1 are guaranteed a place on one of the 3 programmes, but as the number of places in Year 2 of each course is limited, entry into a specific course will be on merit, based on performance in Year 1.
 In light of this, we offer the following advice:
If you are certain that you want to pursue Genetics & Cell Biology, apply for the DC168 BSc in Genetics & Cell Biology course

If you are certain that you want to pursue Biotechnology, apply for the DC181 BSc in Biotechnology course

If you wish to keep your options open and/or pursue Bioprocessing, apply for DC180 Biological Sciences General Entry

If you wish to maximise your chances of accessing a biological sciences course, you should apply for both DC180 Biological Sciences General Entry and DC168 Genetics & Cell Biology / DC181 Biotechnology in the order that reflects your priorities
The BSc in Biotechnology focuses more on applying our knowledge of biology and bioprocess engineering to make molecules, such as pharmaceuticals, on an industrial scale. The second option, the BSc in Genetics and Cell Biology, will provide you with the knowledge and skills to investigate how life works at a molecular and cellular level. The BSc in Bioprocessing will develop your knowledge and appreciation of the conceptual and factual bases for bioprocess design and operation.
The sub-disciplines that you will study include immunology, cell and molecular biology, microbiology and biochemistry, and computational biology (bioinformatics) and bioprocessing.
Wherever your interests lie, a degree in either course equips you with the knowledge and expertise to work in an exciting and innovative area that can make a real difference to the world we live in.
This programme introduces you to the fascinating world of biological sciences, allowing you to experience a wide array of topics before specialising in either Biotechnology, Genetics & Cell Biology or Bioprocessing in your 2nd year.
In Year 1, you have the opportunity to study the other major sciences, providing an excellent foundation for the interdisciplinary nature of modern biology research and we have a strong emphasis on hands-on experience, with plenty of laboratory classes and tutorials to reinforce your theory understanding.  Part of Year 1 is taken in common with other science courses, so you will be studying biology, chemistry, physics and an introduction to bioprocessing. You can choose to do either mathematics or alternatively, biostatistics and bioinformatics. Prior knowledge of one science subject and mathematics is required.
Our highly regarded courses offer flexibility and allow you to choose between a research-focused stream or a more industrially-focused stream in your final year. We also plan to add additional exit streams in the coming years, giving you even more choice when you get to final year.
For more information and an overview of our courses here in the School of Biotechnology visit our undergraduate course presentation pages
View the current course structure
For more information on every aspect of studying at DCU visit our CAO Hub where you can listen to taster lectures, hear from our student ambassadors and find answers to frequently asked questions.
We have a unique and vibrant culture on our modern campus close to Dublin city centre. We provide state-of-the-art study facilities for all our courses and everything else you need for a healthy, fun and active student life.
We have three academic campuses close to Dublin City centre - they are located in Glasnevin and Drumcondra, and can be reached by public transport (Dublin Bus).
Each campus has libraries, study spaces, restaurants, and on-campus residencies. Sports facilities are located on two of the academic campuses. We also have a dedicated sports campus in the form of St Claire's. 
Exceptional facilities
DCU students have access to exceptional teaching and learning facilities across our three academic campuses. 
These include modern learning theatres, research centres, new media and TV studio, radio/podcast studios, classrooms, computer suites and advanced labs in the areas of languages, engineering, physics, chemistry and biotechnology, as well as a sports performance centre and training hospital ward. In 2021, we opened our first virtual reality 'Leadership Lab', which is located in our Business School.
Construction on our FutureTech building on the Glasnevin campus will get underway in 2022. Once completed, this facility will advance DCU's international reputation for excellence in science and health, computing and engineering disciplines. It will have the capacity to accommodate an additional 3,000 STEM students on the university's Glasnevin campus.
Campus life
DCU student facilities boast a fully equipped sports complex with a 25-metre pool, three libraries and The Helix, our renowned performing arts centre.
Our purpose built, state-of-the-art new student centre known as 'The U' serves the needs of a rapidly growing student body of 18,500. It is home to the Student Leadership and Lifeskills Centre, performing arts and cultural spaces for students and the wider community, and the Entrepreneurship and Innovation Hub.
DCU Students' Union and the Office of Student Life are also based in the U. The centre is a space for students where they can meet, with lots of charging points and isolation booths. Clubs and socs avail of meeting rooms here and it's also home to DCUFM. NuBar, Londis and the Venue are also located here.
There are more than 140 clubs and societies for students in DCU, with 'Clubs & Socs' days taking place on both the Glasnevin and Drumcondra campuses at the start of the academic year.
Student Supports
We have a number of academic, professional and social supports for students.
Student Advice Centre: Offers a wide range of supports and services to students and advice 
The Writing Centre - drop-in writing workshops for students through the academic year 
Maths Learning Centre - provides maths support for students of all ability levels with maths modules 
Student Learning: facilitate the transition from passive to active learning for students at DCU, by teaching study skills, nurturing critical thinking and building student confidence. 
Careers work with students to help them on their professional journey into graduate employment.
Our student support team offers a comprehensive support programme, helping students make that all important transition into university life and focusing on building confidence and skills which are key to success at third level.
Our graduates go on to a wide variety of rewarding careers, in areas such as:
Postgraduate Research (PhD) and Postdoctoral Research in the Biological Sciences
Laboratory work in the Bioprocessing and Biopharma Industries
Quality Management and Regulation in Biopharma Industries
Bioprocess Engineering: bioprocess plant design and commissioning 
Technical Sales and Support
Teaching
Technical Roles in Food and and Beverage Production
Brewing
 A degree in biological sciences can also be the platform for further postgraduate studies, either in research or in professional areas such as teaching and medicine.
Requirements
General Entry Requirements
In addition to the general entry requirements for admission to the university the following entry requirements apply
Minimum of O3 or H6 in Mathematics and minimum of O3 or H5 in one of Physics, Chemistry, Biology, Physics with Chemistry, Agricultural Science or Computer Science
Leaving Cert
In addition to the general entry requirements for admission to the university the following entry requirements apply
Minimum of O3 or H6 in Mathematics and minimum of O3 or H5 in one of Physics, Chemistry, Biology, Physics with Chemistry, Agricultural Science or Computer Science
GCE A Level
In addition to the general entry requirements for admission to the university the following entry requirements apply
GCE A Level D or GCE AS Level C or GCSE B Mathematics and GCE A Level D or GCE AS Level C or GCSE B in one of Physics, Chemistry, Biology, Physics with Chemistry or Agricultural Science
GCE A Level general entry requirements can be found here: http://www.dcu.ie/registry/entry.shtml. Please note these may vary slightly for some programmes
FET Level 5
For details of QQI requirements and relevant codes please click here. Simply enter the DC code for the programme you are interested in or if you are not sure of the code enter DC in the Select by Institution option, then click on Go. 
Qualification
Undergraduate
EU Transfer Applications
Holders of Higher Certificate/National Certificate or Bachelor (Ordinary) degree / National Diploma's with Merit or Distinction may be admitted into second year. Because of the special nature of the second year of the course, which has Process Engineering as a major component, candidates cannot be considered for direct entry into third year. Suitable candidates will be required to attend for interview. Applications are made via the CAO Advanced Entry route which will open on the 1st Feb to the 1st May 2022.
International Applications
International candidates are expected to have educational qualifications of a standard equivalent to those outlined above. In addition, where such candidates are non-native speakers of the English language they must satisfy the university of their competency in the English language. For further information on international applications click here.
Fees
Full time
Student Contribution
€3,043 per annum
EU Status Fee
€6,679 per annum
Non EU Fee
€15,000 per annum