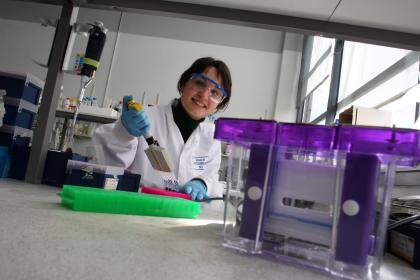 Course Type:
Undergraduate

+353 (0) 1
700 5910

paula.meleady@dcu.ie
By analysing the components of living cells, biotechnologists are learning how to control, fix and modify them to the benefit of global society.
As a budding biotechnologist, you'll focus on how the fundamental biochemistry underlying biological systems works with innovations in genetics, immunology and bioinformatics. To appreciate how solutions translate to commercial industrial scale, you'll also need a good understanding of how the core physical and chemical engineering principles pertain to living cells. 
DCU's Biotechnology degrees will furnish you with the science and engineering fundamentals to succeed in the emerging technology-driven biotech industry. The technologies in this industry have made a real impact on humanity, and include the creation and manufacture of products that help in the diagnosis and treatment of disease (e.g. the production of antibiotics, insulin, and safer recombinant vaccines), and the provision of services to areas like healthcare, food, agriculture, energy and the environment.
By studying a wide range of scientific and engineering subjects, you'll gain the necessary skills to succeed in the emerging, technology-driven biotech industry.
At the start of the Biotechnology course, you'll be introduced to the basic sciences, mathematics and computing. As you progress, you'll discover more comprehensive areas of biotechnology, ranging from genetics and process engineering to immunology and gene cloning.
In third year, specialist areas are introduced. In addition, in Year Three you will have the opportunity to work in industry as part of our paid industrial training programme (INTRA).
In fourth year there is a strong emphasis on choice, with students selecting from a wide range of subjects. You'll also undertake a significant research project in your final year.
Science courses at DCU provide an ideal opportunity to acquire hands-on experience, not only at the laboratory bench but also in meeting the challenges associated with ongoing creative research projects. Here you'll be able to explore your true potential through practical work—much of which count towards your final mark.
View the current course structure
For more information on every aspect of studying at DCU visit our CAO Hub where you can listen to taster lectures, hear from our student ambassadors and find answers to frequently asked questions.
We have a unique and vibrant culture on our modern campus close to Dublin city centre. We provide state-of-the-art study facilities for all our courses and everything else you need for a healthy, fun and active student life.
Exceptional Facilities
DCU students enjoy exceptional teaching and learning facilities across our 3 academic campuses. These include modern learning theatres, research centres, television and sound studios, classrooms, computer suites and advanced laboratories in the areas of languages, engineering, physics, chemistry and biotechnology, as well as a sports performance centre and a virtual hospital ward.
A Vibrant, Dynamic Social Environment
Student facilities include a superb sports complex with a 25 metre pool, two libraries and The Helix, our renowned performing arts centre. In 2016 we announced plans to invest over €230m in developing new, world-class facilities across our three academic campuses. Already building has begun on an exciting, new €14m Student Centre that will be home to the more than one hundred and twenty student clubs and societies. This commitment to student facilities means that our world-class learning experiences are complemented by a vibrant, dynamic social environment.
No one told me biotechnology was going to mean a great job and a fascinating journey around the world. To date I have worked on Alzheimer's disease and cancer (with Elan), diabetes and gastrointestinal diseases. Science will change the world.

Ena Prosser, Director, Enterprise Ireland, Biotechnology Directorate, Dublin
Career Prospects
Drug Development
Research and Development
Drug Manufacturing
Biopharmaceuticals
Quality Control
Medical Diagnostics
Brewing
Pharmaceuticals
Because of the multidisciplinary nature of this degree, you will have the qualifications and flexibility to work in a wide range of biotechnology-related areas, both at home and abroad. It is a fast-growing area and careers will present themselves in brewing, food processing, pharmaceuticals, fine chemical manufacture and waste treatment, to name a few. Within these diverse industries, you could find yourself in production, quality control, research and development or sales and marketing.
This course is also suitable for those who ultimately wish to pursue a career in teaching (see www.teachingcouncil.ie for further details).
Requirements
Leaving Cert
In addition to the general entry requirements for admission to the university the following entry requirements apply
Minimum of O3 or H6 in Mathematics and minimum of O3 or H5 in one of Physics, Chemistry, Biology, Physics with Chemistry, Agricultural Science or Computer Science
GCE A Level
In addition to the general entry requirements for admission to the university the following entry requirements apply
GCE A Level D or GCE AS Level C or GCSE B Mathematics and GCE A Level D or GCE AS Level C or GCSE B in one of Physics, Chemistry, Biology, Physics with Chemistry or Agricultural Science
GCE A Level general entry requirements can be found here: http://www.dcu.ie/registry/entry.shtml. Please note these may vary slightly for some programmes
FET Level 5
For details of QQI requirements and relevant codes please click here. Simply enter the DC code for the programme you are interested in or if you are not sure of the code enter DC in the Select by Institution option, then click on Go. 
EU Transfer Applications
Holders of Higher Certificate/National Certificate or Bachelor (Ordinary) degree / National Diploma's with Merit or Distinction may be admitted into second year. Because of the special nature of the second year of the course, which has Process Engineering as a major component, candidates cannot be considered for direct entry into third year. Suitable candidates will be required to attend for interview. Please apply directly to DCU using the R10 form. Closing date for applications 1st July.
International Applications
International candidates are expected to have educational qualifications of a standard equivalent to those outlined above. In addition, where such candidates are non-native speakers of the English language they must satisfy the university of their competency in the English language. For further information on international applications click here.
Fees
Full time
Student Contribution
€3,043 per annum
EU Status Fee
€6,679 per annum
Non EU Fee
€15,000 per annum