Promoting Equality of Access and Opportunities to Higher Education
for Learners with Disabilities
This operation is co-funded by the Irish Government, the European Social Fund as part of the ESF Programme for Employability, Inclusion and Learning 2014-2020
The DCU Disability and Learning Support Service was established with the key objective of promoting equality of access and opportunities in DCU for learners with disabilities, long term medical conditions and/or specific learning difficulties.
The work of the Service is governed by this objective and since its establishment, the university has seen a continuous growth in the number of learners with disabilities studying in DCU and successfully completing their programmes.
Our website aims to provide future students, current DCU students and staff with information and advice on disability related issues and to outline the relevant assistance and supports available.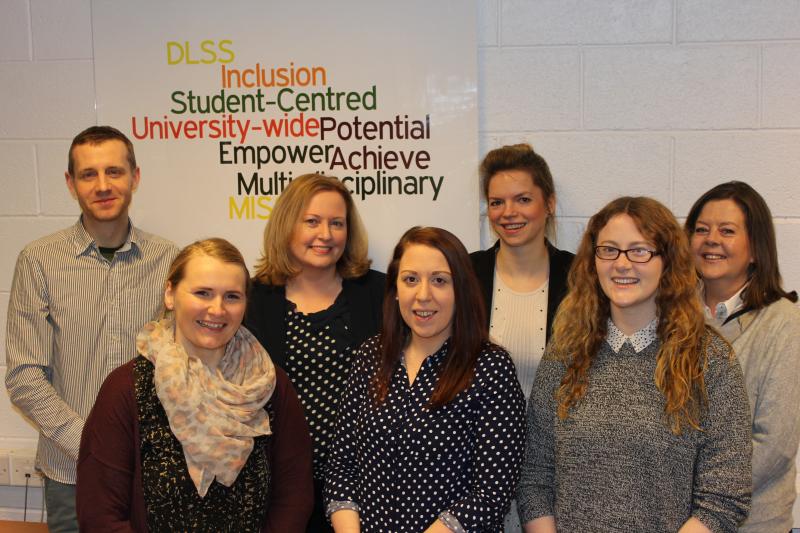 The DLSS Team
Anne O'Connor

Head of Service

Telephone: (01) 700 5160

Email: anne.oconnor@dcu.ie

Room Number CG28,Glasnevin Campus

(Monday - A102 St. Patrick's Campus)

Barbara Gaynor

Administrative Support

Telephone: (01) 700 5927

Email: disability.service@dcu.ie

Room Number CG28, Glasnevin Campus

Carol Ellis

Disability Officer

Glasnevin Campus

Telephone: (01) 700 5208

Email: carol.ellis@dcu.ie

Room Number CG28,Glasnevin Campus

Carmel Carroll

Disability Officer

St. Patrick's Campus

Telephone: (01) 884 2240

Email: carmel.carroll@dcu.ie

Room Number A102, St. Patrick's Campus

Susan Madigan

Occupational Therapist

Telephone: 01 700 6464/ 01 8842034

Email: susan.madigan@dcu.ie

Room Number: CG80, Glasnevin Campus

Room Number: A101, St. Patrick's Campus (Mondays & Fridays)

Occupational Therapist

Telephone: 01 700 6464

Email:

Room Number: CG28, Glasnevin Campus

Mary McGovern


Assistive Technology Officer

Telephone: 01 700 5091

Email: assistive.technology@dcu.ie

Room Number ISS Department
DLSS infomation booklet: PDF version