Disability and Learning Support Service
Academic Supports
The Disability and Learning Support Service delivers a number of academic supports that are available to students registered with the service. The Disability Officers will coordinate all appropriate accommodations needed to help students succeed academically in DCU.
Select a link for further information on a particular support
For information on our Exam Supports please click here
For information on Occupational Therapy (OT) Support please click here
For information on Assistive Technology please click here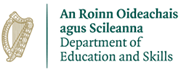 "Third Level Access is co-funded by the Department of Education and Skills and the European Social Fund as part of the ESF Programme for Employability, Inclusion and Learning 2014-2020".