Disability and Learning Support Service
Occupational Therapists|DLSS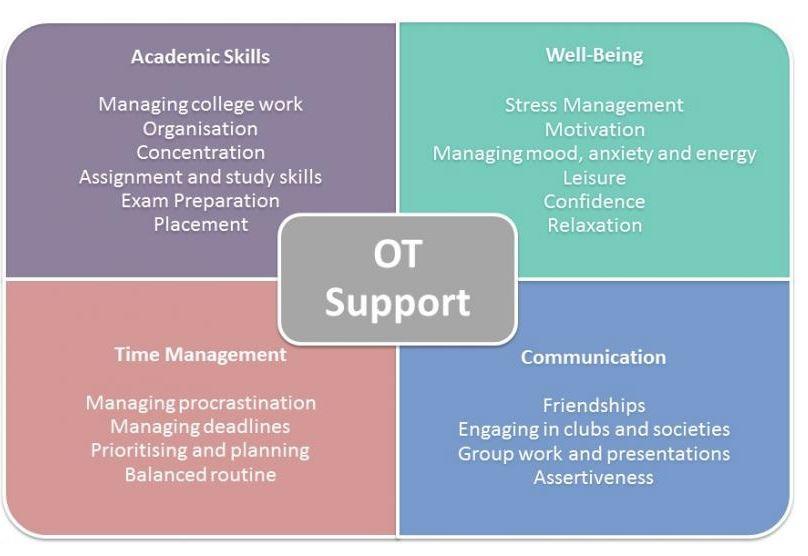 What is OT Support?
The Occupational Therapists (or OTs for short!) support students to manage the occupations and activities of student life.
Students who want to enhance their academic performance, general well-being, time management or communication skills can be referred to Occupational Therapy by their Disability Officer. The OTs deliver groups and workshops for students throughout the year.
"OT Support helped me to stay on track with my college work and maintain a healthy work-life balance, which is so important. I think my favourite thing about OT was how comprehensive and holistic the service was. I would wholeheartedly recommend the service." Psychology Student
What is Occupational Therapy?
Occupational Therapy is a client-centered health profession concerned with promoting health and well-being, and enabling people to participate in the activities of everyday life. Occupation includes: looking after yourself (self-care), enjoying your life and being with others (leisure and social life) and being productive (for example college or work activities).
Occupational Therapists work in lots of different health and social care settings. Here in DCU, the role of Occupational Therapy is to support students to manage their college activities, solve problems and build skills.
Areas of Focus
The OTs typically work with students who are having some difficulty in some of these areas:
Academic Performance
Attending lectures
Managing college work
Organisation
Concentration
Assignment and study skills
Placement
Exam preparation
Time Management
Managing deadlines
Managing procrastination
Prioritising and planning
Balanced routine
Well-Being
Stress Management
Motivation
Leisure
Confidence
Managing mood, anxiety and energy
Relaxation
Sleep
Communication
Friendships
Getting involved in clubs and societies
Group Work
Presentations
Assertiveness
Testimonials
"OT visits were paramount to my success in final exams, as well as CA throughout the semester. I would highly recommend this service to any person in need of help with work or exams. My experience was super duper." Physics Student
"I had a wonderful experience using Occupational Therapy Support at DCU. I began using Occupational Therapy Support after finding myself unable to balance my academics, my social life, my work life and dealing with a new diagnosis. The OT helped me to prioritise and get organised. We discussed the things that I felt were holding me back and set goals and objectives to make things more attainable. The OT then reached out to me to arrange another appointment to review my objectives, celebrate the achievements/adjustments and to set further goals to help me take things back into my own hands. The service was exactly what I needed." Business Student
Interested?
OT Support is available to students registered with the Disability and Learning Support Service (DLSS). If you're interested in using OT Support, you can contact your Disability Officer, call into the DLSS Office or email otsupport@dcu.ie
Email: disability.service@dcu.ie Phone: (01) 700 5927