DCU Institute of Education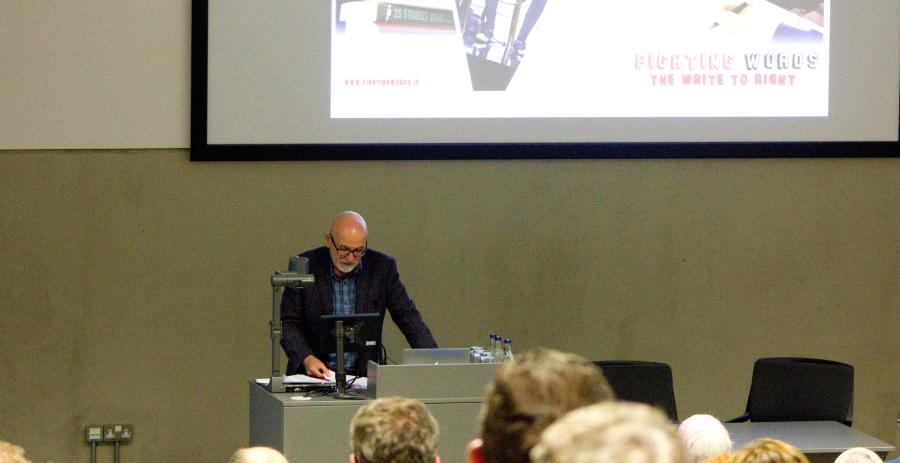 Fighting Words Partnership
Partnership between Dublin City University's Institute of Education and Fighting Words launched by Roddy Doyle.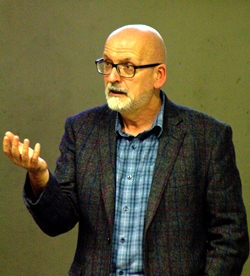 On 27 September 2018, the formal partnership between creative writing centre 'Fighting Words' and Dublin City University's Institute of Education was launched by Roddy Doyle.
As noted by DCU president Brian MacCraith in his opening address, this partnership builds on a range of activities that the organisations have been working together on over a number of years. This includes working with DCU's Intergenerational Project each Bealtaine Festival, bringing children from local primary schools together with residents in nursing homes to create stories together, working with DCU's University of Sanctuary as part of its MELLIE project, and coordinating the citywide 'Dublin in the Coming Times,' creative writing initiative as part of DCU's Regional Centre for Excellence in Education for Sustainability.
Co-founded by Roddy Doyle and Seán Love, the first Fighting Words creative writing centre opened in Dublin in January 2009. Due to demand, there are now nine centres around the country, with further locations due to open. Providing free tutoring and mentoring in creative writing and related arts to as many children, young adults and adults with special needs as they can reach, Fighting Words, will now have a full-time fellow based at the Institute of Education, working closely with staff there, to identify ways of bringing the Fighting Words model to teachers training across a wide range of disciplines.
In fact, it was research carried out by Dr Francesca Lorenzi and Irene White at DCU that underlined the positive effect the Fighting Words model has on participants' personal, social and academic engagement. The evaluation of the Fighting Words model also found considerable grounds for the inclusion of the Fighting Words model in the formal education system. By partnering with the Institute of Education, one of the largest providers of teacher education in the country, there is vast potential to bring the model to educator training. Education students have been supporting the work of Fighting Words, as part of teams of volunteer tutors since the centre opened in 2009, a relationship that continues to the present and something that can be developed further through this initiative.
Head of the Institute of Education, Anne Looney, speaking at the launch, emphasised the shared vision of the two organisations and the manner in which this new partnership complements the work and ideas within the Institute of Education, noting that it gives trainee teachers an opportunity to go out with a sense of empowerment, of giving children agency and an opportunity for self-discovery, which is a great fit for what we are trying to achieve here."
The initial phase of this partnership includes carrying out research with staff across the Institute of Education to identify how and where a Fighting Words learning model might support and compliment the content of pre-existing modules, ahead of its development and introduction.
For further information, please contact: director of Education, Fighting Words/Fighting Words Fellow: Orla Lehane Phone: 087-609 8693
More coverage on the event on the Irish Times Website: https://www.irishtimes.com/news/education/fighting-words-partnership-aims-to-harness-creativity-in-the-classroom-1.3646965