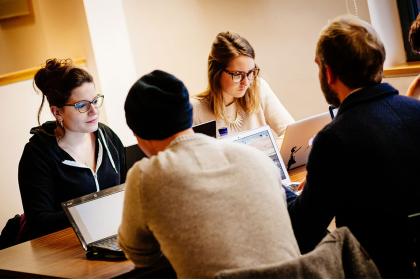 Course Type:
Postgraduate

+353 (0) 1
700 9177

ioe-research-office@dcu.ie
The EdD is a research degree for experienced professionals from education and related fields who would like to extend their professional understanding and develop skills in research, evaluation and high-level reflection on practice.
The programme, offered within DCU's Institute of Education, aims to foster professional development through research as well as meeting the requirements of rigour and originality expected of a doctorate. It includes assessed taught courses, research-focused workshops and supervised original research. It offers participants the opportunity to take modules in and complete a research study in one of the following Areas of Professional Focus:
Arts, Creativity and Imagination in Education
Assessment, Learning and Teaching
Digital Learning
Inclusive and Special Education
Leadership and Evaluation
Religious Education
Teacher Education
Values Education
Through a strong group dynamic, the intention of the programme is to foster cohort solidarity, develop inter- and intra-personal skills that are critical for teamwork, while simultaneously developing writing, research, critical, analytical, communication, leadership and collaborative skills to the highest possible standards. The intention is to educate an existing emergent educational leadership in the Irish context to the highest possible international standards.
The ​Doctor of Education ​programme ​(​Ed.D​) at the Institute of Education is currently running with a cohort which started their taught modules in July 2018. We are currently recruiting for the next cohort with a view to their starting their studies in August 2020​.​​​ Closing date for applications is June 16th, 2020. Click on the Requirements & Fees tab for more detail. Please note that the Areas of Professional Focus on offer​ can ​differ between one intake and the next.
Some Areas of Professional Focus are reaching capacity. Applicants are advised to apply before the deadline of 16 June 2020.  If an Area of Professional Focus reaches capacity applicants will be placed on a waiting list and will be contacted in the event of a place becoming available. Please note that a waiting list is now in effect for the following APFs: Digital Learning and Inclusive and Special Education.
Specifically the programme aims to:
Educate to the highest international standards an existing and emerging educational leadership by providing leading edge experiences to facilitate the development of research expertise, critical and analytical skills in a variety of areas, and capacities for leadership.
Enable participants to develop an in-depth knowledge and understanding in the Areas of Professional Focus while at the same time help them to situate their emerging perspectives within national and international discourses with a view to shaping and giving direction to existing and emerging policy and practice agendas.
It is also intended that the participants will have an opportunity to:
Extend their knowledge of and expertise in competing and complementary research paradigms and genres (including philosophical approaches to enquiry);
Critique policy frameworks and their application in the interrogation of policy documents and/or; international 'social movements' and the manner in which these are refracted nationally within educational discourses;
Develop skills in becoming a critical consumer of published research as well as highly skilled in academic writing and publishing for a variety of educational audiences;
Develop and enhance their leadership potential as well as the skills appropriate for collaboration and team work, communication, interpersonal and intra-personal reflective capacity and presentational skills.
Course Structure
Our part-time EdD programme is over four years with the first two years involving a taught programme and the final two years involving the research under the guidance of your supervisors. 
Year one involves attendance at a summer school in August (e.g. 17th - 21st, 2020) followed by 3 weekends before Christmas and three weekends after Christmas. Weekends typically consist of Friday evening lectures 4.30 - 8.30 and Saturday lectures 9.00 - 6.00 pm. 
Year two just has the six weekends as in year one. 
There are a number of core modules which all students attend together and then a smaller number of modules focusing on your area of professional focus (APF). For further details on course structure click here
View the current course structure
The Institute of Education at DCU represents the largest critical mass of education expertise on the island of Ireland. It  provides initial teacher education and continuous professional development for teachers and educators at all stages of the educational continuum. It seeks to provide opportunities for educators in a diverse range of environments - including schools, healthcare, industrial and commercial settings - to engage with research and ideas that will allow them transform their professional practice. 
Graduate Studies are central to the mission of the Institute. Masters and doctoral students, on both taught and research programmes, make up one quarter of DCU's student body, and are the most diverse group in the University.
Mature students, international students and part time students are all highly represented and contribute to the rich learning environment within the Institute and across the University more generally.
Career Areas
Community based organisations
Consultancy
Education
Government Agencies
Health Sector
Human Resource Management
Industry
Non Governmental Organisation
The Doctor of Education is intended for experienced professionals who wish to take on leadership roles and make a significant contribution to the enhancement of professional practice in education and related fields.
Fees
Requirements
General Entry Requirements
The minimum entry requirements for the programme is a second class or higher Master's degree (or equivalent) in education or a specific discipline area appropriate for one of the Areas of Professional Focus.
Candidates for the religious education APF must hold or have held a position in religious education or related field for at least four years (pre- or post-masters).
For the educational leadership and evaluation APF, candidates will be required to hold or have held a position involving managerial responsibility for at least four years (pre- or post-masters).
In exceptional circumstances, the Programme Board shall make appropriate recommendations to Academic Council for candidates who do not fully meet these criteria. In all cases, such recommendations shall be approved in accordance with the University's APEL guidelines and in line with general University regulations. Upon application, the candidate will submit a draft 1500 word proposal addressing the following issues:
A broad outline of the area of the research the candidate would like to pursue
A rationale for choosing this area and the likely benefits that might accrue from it
The nature of the candidate's experience relevant to this research
A formal, more developed, research proposal will be submitted at the end of year two.
Qualification
Postgraduate Research
Make an Application
Applications are now open for 2020/21. The next intake for this progamme will be for August 2020, beginning with a Summer School on campus in DCU from August 17th - 21st inclusive. 
How to Apply:
Those interested in applying should in the first instance, complete an Expression of Interest Form plus a 1500 word draft research proposal and submit both by email to ioe-research-office@dcu.ie  Closing date for receipt of completed Expression of Interest Form and Research Proposal is 16th June, 2020. 
Following receipt of completed applications, suitable applicants will be invited for a virtual interview on a rolling basis during April and June. Successful applicants will then apply through the Postgraduate Applications Centre (PAC) by visiting www.pac.ie and selecting course DCE49. 
All applicants must submit the following documentation:
Certified academic transcripts for all years of study at college or university in original language, with certified English translations;

Letter of approval from the Institute of Education.

Research Proposal
Applicants are advised to make your application as early as possible to ensure documentation validation is complete prior to the PAC application closing date of 3rd July, 2020. 
If you need a study visa and are a Non EU student, you are not eligible to apply for part-time programmes as study visas are only granted for full-time programmes.