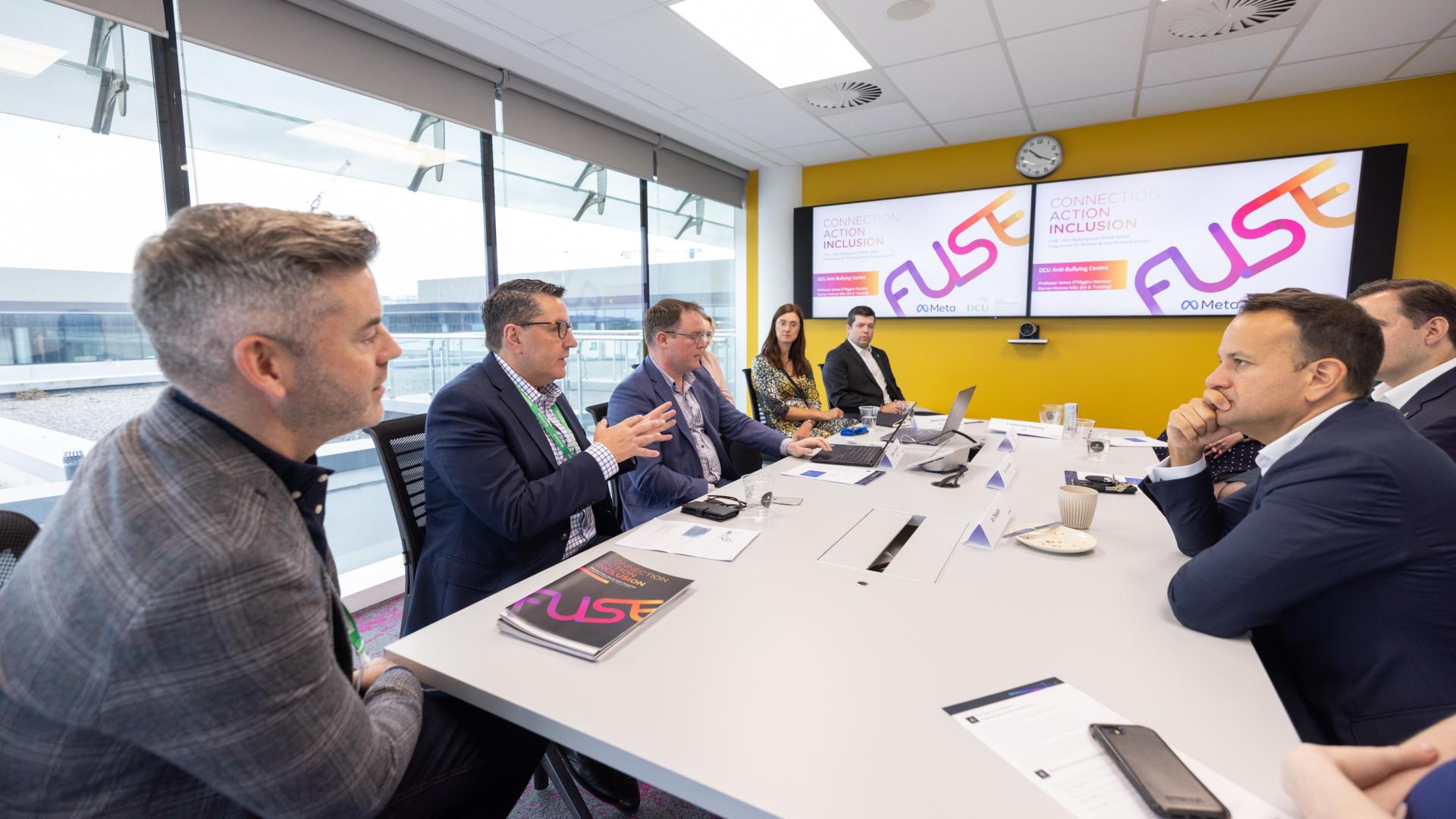 Call for teachers to register for FUSE Anti-Bullying & Online Safety Programme
DCU Anti-Bullying Centre (ABC) is welcoming registration for the FUSE Anti-Bullying and Online Safety Programme 2022/ 23.
Now entering its fourth year, the programme was developed by ABC and supported by Meta, Rethink Ireland and the Department of Education, for students in post-primary schools. FUSE was showcased today by Prof James O'Higgins Norman, Director of ABC, as part of Tanaiste Leo Varadkar's visit to the Meta campus in Ballsbridge.
Speaking at the event, Prof O'Higgins Norman said
"The data from the FUSE programme show that education is key to helping children and young people recognise, respond to and report bullying and online safety issues. 

FUSE has been developed in partnership with hundreds of schools all over Ireland, with support from Meta, Rethink Ireland and the Department of Education, and as such represents the type of positive engagement that is required to solve societal issues such as bullying and online safety."
How FUSE works
FUSE has 14 workshops designed to increase confidence in young people's ability to identify and deal with bullying situations in person and online, either as a victim or bystander, how to take appropriate action to report these incidents and how to be safe online. It supports teachers as champions within each school, who can then educate students, fellow teachers, and parents, on how best to tackle a range of online and offline bullying issues and educate them on online safety.
Darran Heaney, Project Manager at DCU Anti-Bullying Centre said: 
"A recent government study found that 17% of 9-17 year olds reported that they had experienced some form of bullying, either online or offline, in the past year. The highest number of reports came from 13–14 year olds, 22% of whom report having been bullied in the past year. This shows the need for this youth-led intervention that focuses on bringing together all the major stakeholders within the school community in open discussion and empowering students to tackle bullying and online safety.

440 schools engaged with the FUSE programme last year and we're delighted to be rolling this programme again, particularly given the emphasis and importance of online safety now that children are relying more on smartphones and other digital devices for educational and social purposes."
About FUSE
FUSE is the first research-based Anti-Bullying and Online Safety Programme designed to comply with UNESCO's Whole Education Approach to tackle bullying and online safety in schools. It is based on 25 years of research on bullying prevention and intervention and is designed to support the wider SPHE/RSE/Wellbeing curricula in schools. FUSE consists of a suite of student-led workshops and resources which FUSE teachers can deliver in the classroom.
At the heart of FUSE is the aim of building capacity in schools themselves to tackle bullying and online safety issues and to empower children and adolescents to understand their own behaviour, be able to recognise bullying and online safety risks and be confident in how to report and seek support when they need it.
In 2022, FUSE trained 1,200 teachers from 440 schools and has engaged with over 65,000 students to date. 
About ABC
Dublin City University's Anti-Bullying Centre (ABC) is known globally for its research excellence in bullying and online safety. Based in DCU's Institute of Education in Drumcondra, It is home to scholars with a global reputation as leaders in the field. The work of the Centre builds on twenty five years of research in which we were the first in Ireland to undertake studies on school, workplace, homophobic and cyberbullying.
The aim of ABC is to contribute to solving the real-world problems of bullying and online safety through collaboration with an extensive community of academic and industry partnerships.