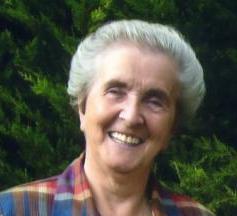 DCU marks dedication of Eileen Randles Lecture Theatre
Sr. Eileen Randles (1937-2015) was a native of Kenmare, and a member of the Loreto Sisters. As a member of the Loreto Sisters, Eileen was motivated to ensure that all students, particularly women, had access to the highest standards of education and the best possible educational opportunities. 
Her sharp intellect, expertise and command of the complex legalities of governance in Ireland single her out as one of the most influential figures in the evolution of the school system in Ireland.
Upon completing her second level education in Loreto Convent Killarney, she joined the Loreto Sisters in 1954. Her leadership ability was recognised at an early age; throughout her six decades as a Loreto sister she held several leadership roles including school principal, community leader and member of the provincial council.
Her leadership skills were also recognised in the public domain. In 1979 she was appointed to the Dublin Diocesan Education Secretariat and was head of the secretariat from 1981 to 1985. From 1982-1988 she served as the Ministerial appointee on the governing authority of UCD. She was general secretary of the Catholic Primary School Management Association (CPSMA) from 1992 to 2002. In subsequent years, she was president of Mater Dei Institute of Education; a member of the Education Commission of CORI (Conference of Religious of Ireland); vice-president of the Joint Managerial Body and a member of the executive committee and trustee of the Association of Community and Comprehensive Schools.
To all of these roles Eileen brought an encyclopaedic knowledge of the Irish education system, forensic analytical abilities and highly regarded political acumen. While much of her work was in Catholic education, she was generous in sharing her experience and she actively supported the development of Educate Together as school patrons.
President of DCU Prof Dáire Keogh said:
"The naming of the Sr Eileen Randles Lecture Theatre is a tribute to her extraordinary legacy as a female leader at a time when Ireland's education sector was very much male-dominated. Her career spanned a period of great change, too, and her encouragement of the fledgling Educate Together movement is a reflection of her commitment to values-based education.

"The University is committed to holding up female role models who can provide an inspiration to our students. The naming of this theatre in honour of Sr Eileen, as part of Project 50:50, is just one of the initiatives DCU has undertaken in this regard."
The event formed part of the DCU Women in Leadership initiative, Project 50:50, which represents a commitment by the university to name 50% of its major buildings and lecture theatres after inspiring females.