DCU National Centre for Family Business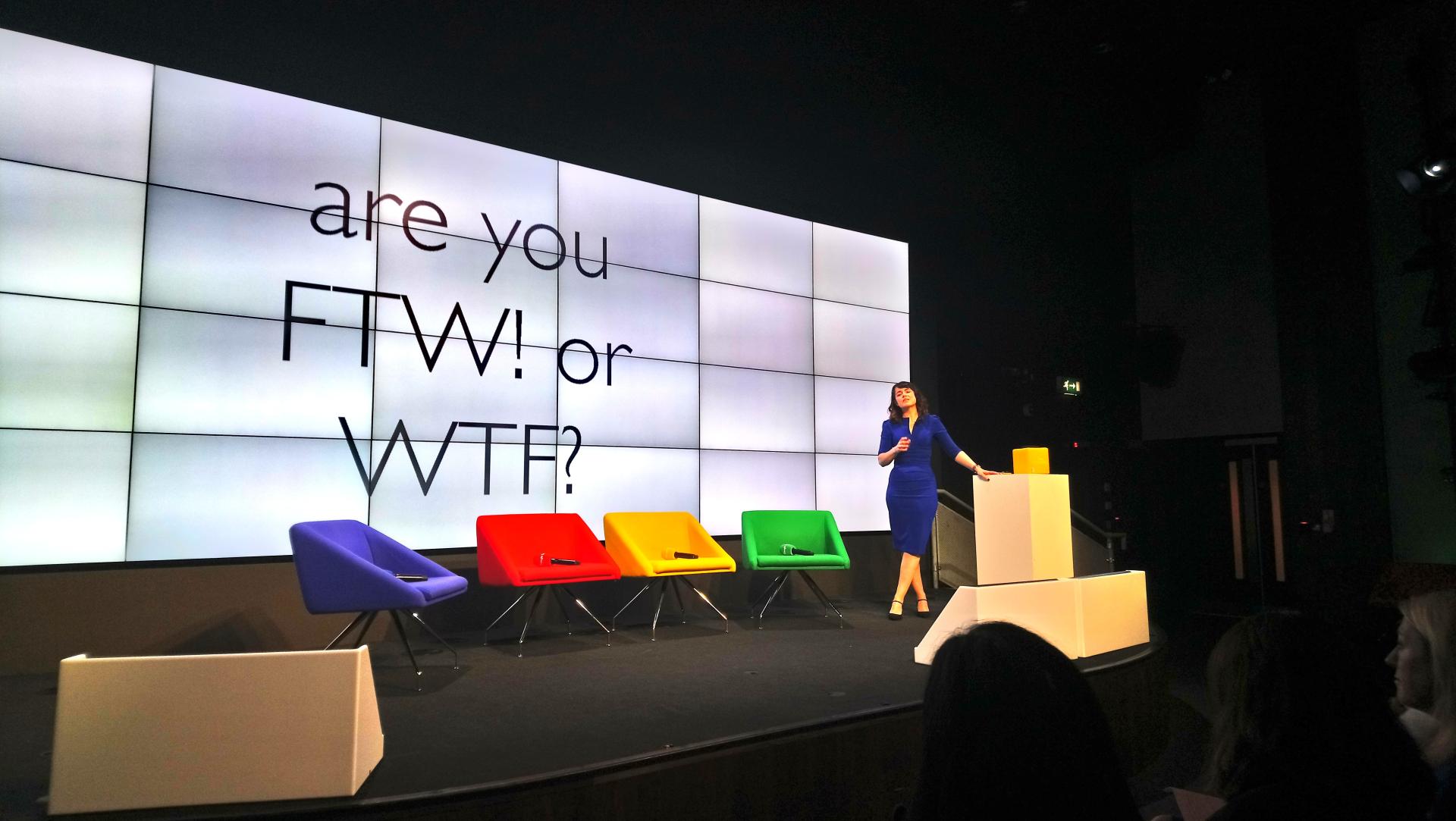 Below Image
Thinking entrepreneurship? Mindset matters – DCU marks collaboration with Enterprise Ireland
Taking another step forward in their continued commitment to supporting innovation in Ireland's economy and communities, Dublin City University and Enterprise Ireland recently marked their collaboration at an event hosted by Google. The event, entitled 'The Entrepreneurial Mindset', took place on Monday September 17 at The Foundry and featured two panel discussions, with a keynote presentation from DCU's Professor Maura McAdam.
There were a total of ten industry experts on stage across the afternoon. Joining the panel discussions were Sandra Whitney, Director of Global Partnerships at Google; Sandra Healy, Director of DCU Centre of Excellence for Diversity and Inclusion; Garvan Callan, strategist, innovator and transformation advisor; Paddy Flynn, Director of Geodata Operations at Google; Sarita Johnston, HPSU Start Manager at Enterprise Ireland; Liz Fulham, CEO at Salesoptimize; Paul Mullin, Managing Director of the White Hag Brewery; Anne Marie McSorley, CEO and founder of Veri; and Liz Cunningham, Director of Tax for EMEA at Google.
Rethinking failure and taking risks with confidence
Liz Cunningham opened the event with a brief outline of the Women@ programme which has been curated by Google as a means to offer mentorship to women and support their career development. The latest partnership with DCU and Enterprise Ireland will further enhance the impact of this programme.
In an article with Women Mean Business earlier this year, Liz spoke about the significance of these kinds of support systems.
"Peer-to-peer coaching remains, I believe, the single most important thing any of us can do in our organisational roles… Today, we know that providing women with better opportunities to connect with one another can help build community and support career growth and development" (WMB, 2018).
Professor Maura McAdam, Director of Entrepreneurship at DCU and Director of Research at DCU Centre for Family Business, turned the audience's focus inward as she described the ways in which our mindset can shape entrepreneurial outcomes.
"Mindset matters when creating scenarios for successful entrepreneurship" (Prof Maura McAdam)
Prof Maura McAdam
Maura put emphasis on the need for a cultural shift in how we, as individuals and as a society, perceive failure. Rather than relating failure to the difficulties and challenges associated with entrepreneurship, a focus on resilience is a more beneficial approach.
Questions from the audience brought the conversation back to gender in entrepreneurship. One of the key factors, Maura outlined, we need to consider when cultivating an environment of equal opportunity is role models. Having people to identify with who are visible in positions of leadership, and who are relatable to our own sense of self can potentially readdress the shortcomings in women's self-efficacy.
Panel discussion: Entrepreneurship on the Inside
Paddy Flynn moderated the first panel of the afternoon, taking the opportunity to explore the internal, less visible ways in which innovation and entrepreneurial thinking take place.
Sandra Healy highlighted the need to create spaces that "enhance and foster that mindset". An example being DCU's Innovation and Enterprise Centre, known as Invent, as a space where there is a focus on co-creation and the inclusion of the external DCU community.
Is entrepreneurship for the means, or the ends? Garvan Callan turned our attention to motive in innovation and described the importance of understanding people's ambitions. "It doesn't work if you're doing it for the brand", pointing out the difference in seeing the entrepreneurial journey as a process instead of a plan.
Resources and risk were the key topics brought up by Sandra Whitney. In any entrepreneurial endeavour the availability of resources may depend on a trade-off, where you sacrifice some to gain others. She emphasised the importance of rewarding people for taking risks, as entrepreneurship "needs to be the core message".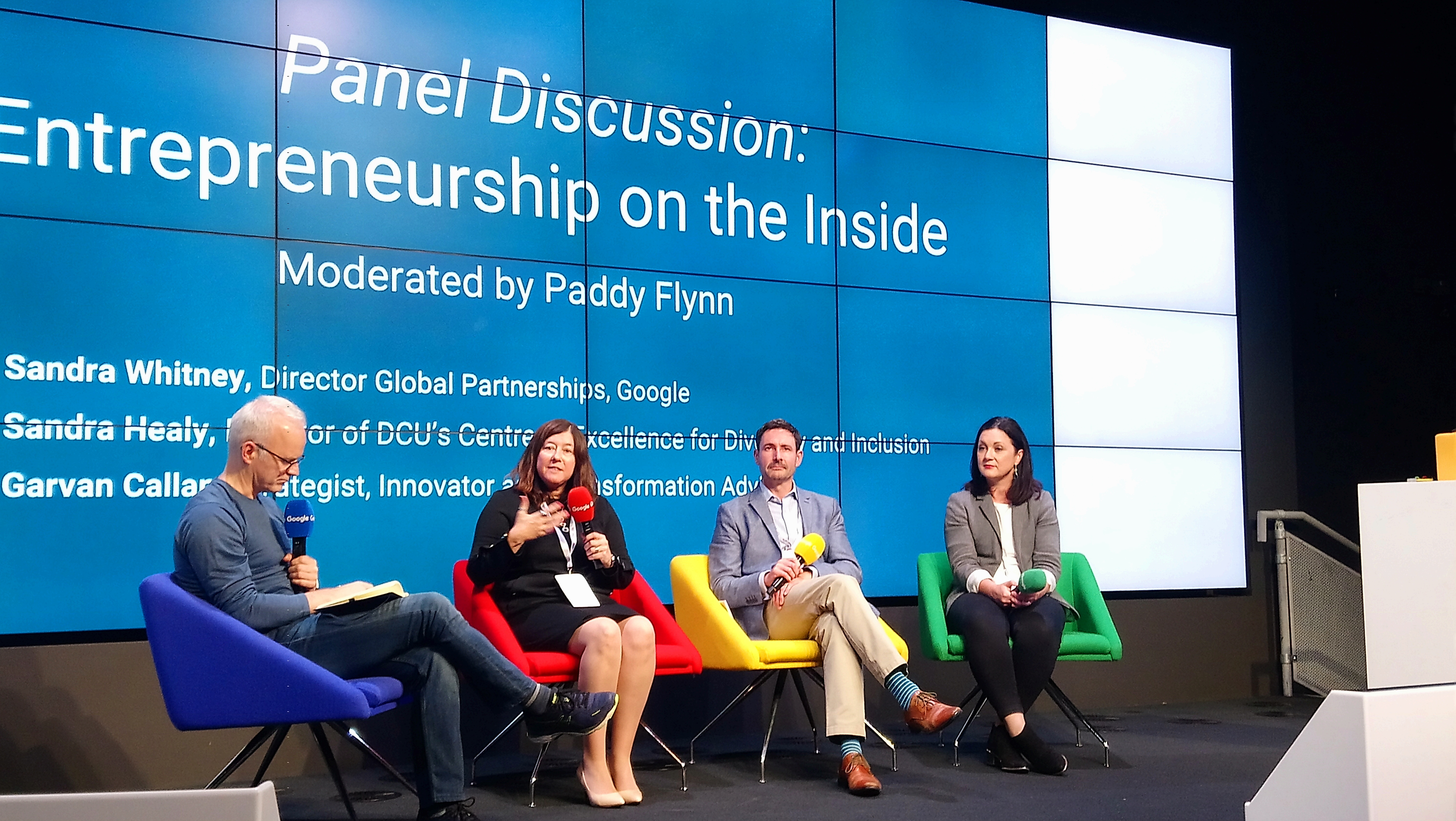 Left to right: Paddy Flynn (Google), Sandra healy (DCU), Garvan Callan, Sandra Whitney (Google)
Panel discussion: The Leap into Entrepreneurship
Sarita Johnston led the second and final panel discussion of the afternoon, drawing attention to what motives people to be entrepreneurial.
The fact that entrepreneurship gave her the opportunity to design and "move at speed" was something that appealed to Liz Fulham. Her product and business is customer focussed and outward looking, which makes this characteristic important in all of their processes.
Paul Mullin began thinking about entrepreneurship at an early age, as he recalled his teenage years and his uncle advising him to innovate. Something which helped him in moments where his confidence was challenged, was "taking a step back" and looking at the positive impact of the product and the reaction from consumers.
Never underestimate the importance of people and a supportive atmosphere. Anne Marie McSorley described the positive impact of being involved with Enterprise Ireland's Competitive Start Fund for Female Entrepreneurs where she met other women who were also scaling their ambition. Her advice for start-ups: be able to prove the product's worth before you ask for funding.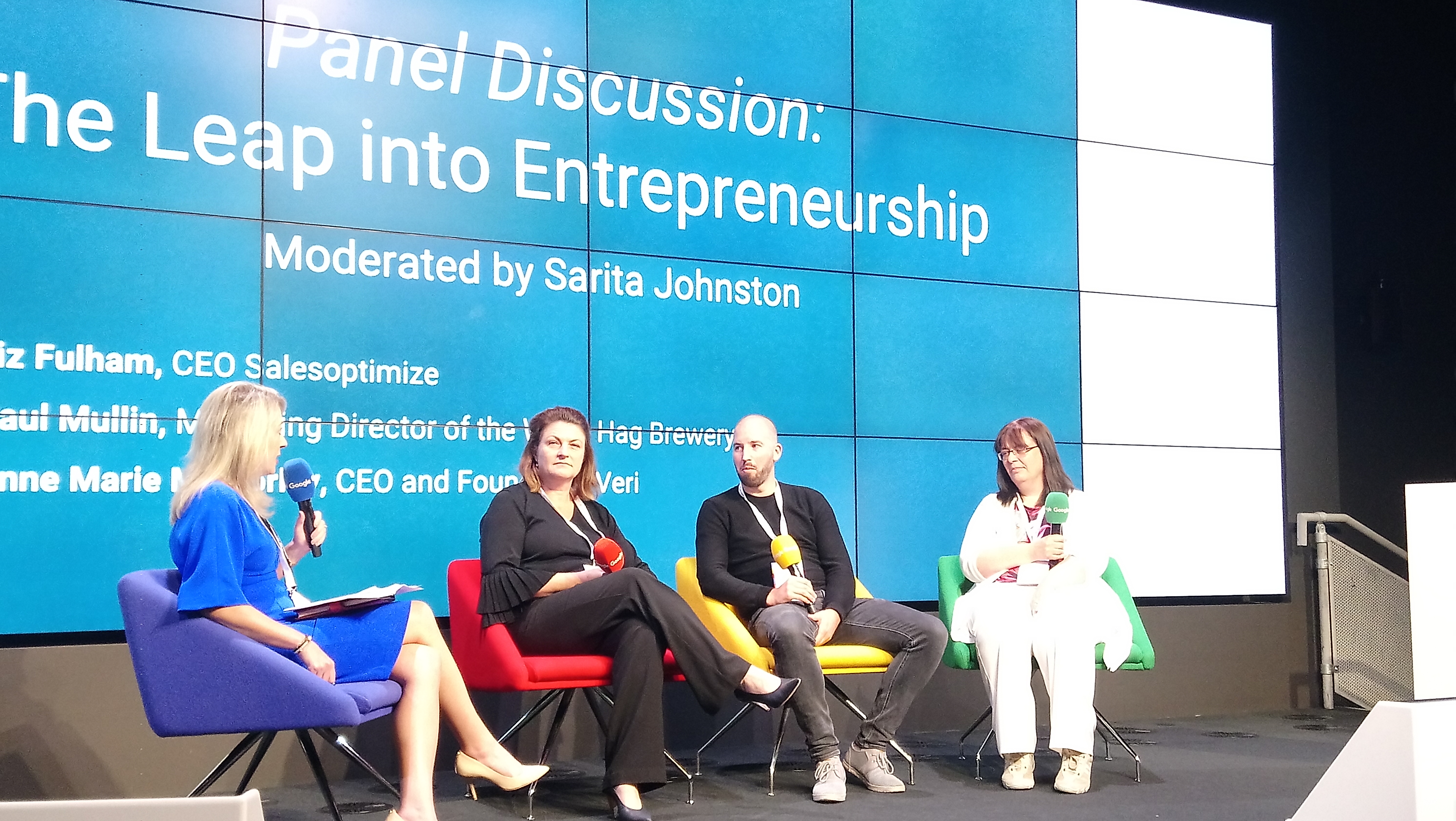 Left to right: Sarita Johnston (Enterprise Ireland), Anne Marie McSorley (Veri), Paul Mullin (The White Hag Brewery), Liz Fulham (Salesoptimize).
A strategy for success – DCU and Enterprise Ireland
The collaboration between DCU and Enterprise Ireland reflects the core strategies and values of both organisations. Enterprise Ireland has continuously reached outward into communities with initiatives and funding support schemes to help secure the success of local businesses, start-ups, SMEs and entrepreneurs who are taking that initial leap – some of whom were on stage at this event. In its 2017-2022 Strategic Plan, DCU has laid out its central vision and mission.
"To transform lives and societies through education, research, innovation, and engagement" (DCU Strategic Plan, 2017-2022).
'Stronger together' appears to be the entrepreneurial motto.