DCU National Centre for Family Business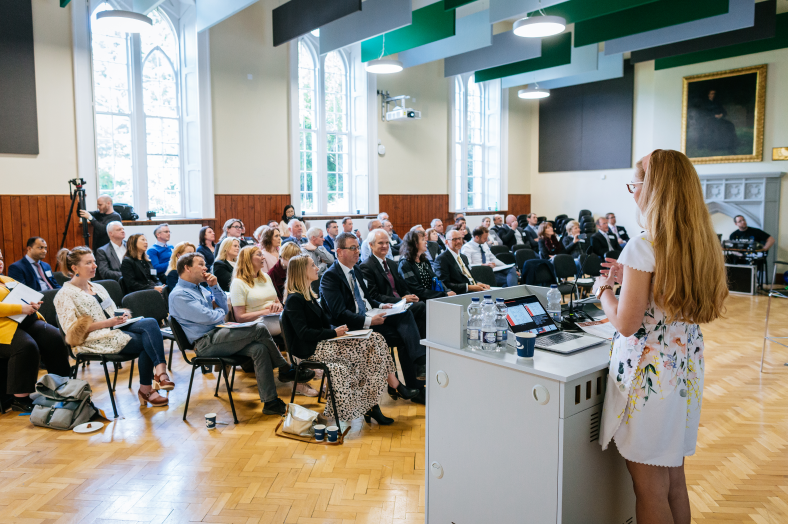 Below Image
Connecting research to the community – Catherine Faherty and insights on trust in family firms
When we think about the core of what makes a business run smoothly, certain concepts come to mind; people, money, services, values, reputation, image, and trust. The kind of trust that is fostered between people and within relationships can help or hinder businesses in reaching their goals, and there are plenty of reasons why the concept of trust has captured the attention of academic researchers worldwide.
Trust is defined by scholar James H. Davis as "the willingness to take a risk and be vulnerable to another party". It's a complex concept, which can have a significant long term and short term impact on business growth.
Building Trust in the Family Firm
Years of hard work and PhD research led to the report launch, hosted by DCU National Centre for Family Business, which took place on June 19 at DCU All Hallows Campus. At 'Building Trust in the Family Firm', Dr Catherine Faherty presented the main findings from her PhD, which explored the dynamics of trust in family owned firms, in a unique all-Ireland study.
In total, 406 Irish family executives, including 161 family firm CEOs and 245 senior managers (comprised of 105 family and 140 top management team non-family members) were included in the survey study. Participating firms ranged from being in business from four years, to over 207 years with familial involvement extending from the first generation to the eighth generation.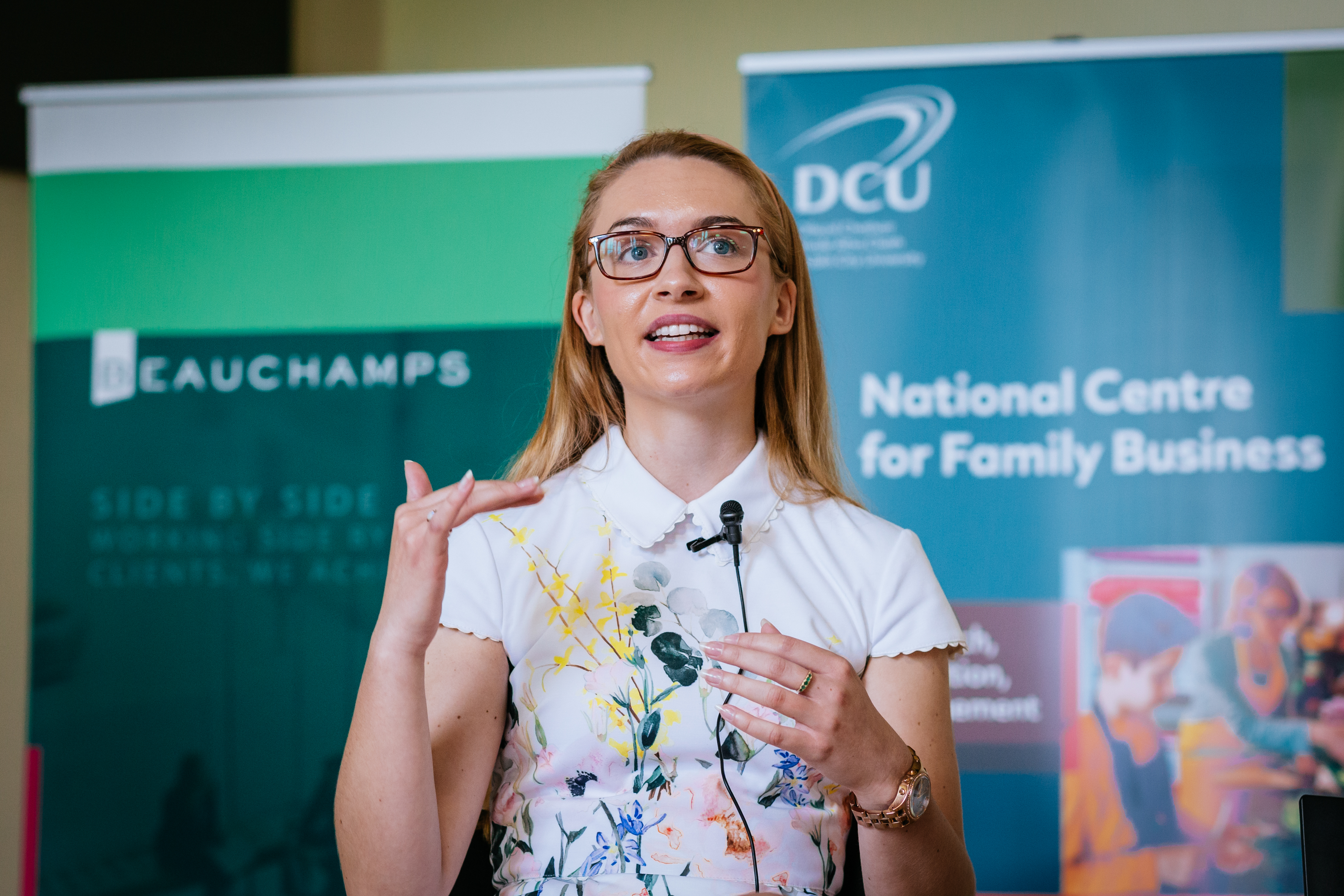 Dr Catherine Faherty, member of DCU National Centre for Family Business and Post Doctoral researcher at Northwestern University
Her findings demonstrate that when it comes to trust, family members in top management positions view their CEO as more trustworthy than TMT non-family members. Those family members are also more willing to share sensitive information with their CEO than their non-family counterparts, which is a significant insight for future conversations around open disclosure in business.
Overall, TMT non-family members involved in the survey felt that their CEO was less benevolent towards them than family members – benevolence being the genuine care and concern that someone holds. Non-family TMT members also reported feeling less trusted by the family CEO than their family TMT colleagues. In terms of perceptions of ability in the CEO, there were no significant differences between the perceptions of family and non-family TMT members.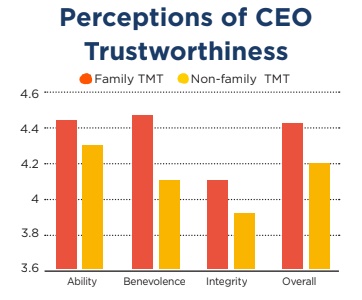 "This research sheds light on how the decision to trust a leader is made in family firms. By recognising and understanding the factors behind this decision, family firm leaders can maintain harmonious relationships with both family and non-family members and create an environment in which trust can thrive. If family firms are to pursue continuity across generations, leaders must focus on developing trust among members in order to increase commitment and, in turn, performance." – Report on Building Trust in the Family Firm, Dr Catherine Faherty
In addition, Faherty also examined next generation and trust dynamics in family owned firms. Her research found that CEO perceptions of ability in next gens are lower than perceptions of benevolence and integrity, indicating that next gens may need to employ strategies to boost their parent's perceptions of trustworthiness.
Faherty's PhD research was nominated for the prestigious Grigor McClelland Doctoral Dissertation Award, where she was shortlisted among the final three candidates.
Attendees also heard from renowned scholar and leading academic on the topic of trust, Professor James H. Davis, Department Head for the Marketing and Strategy Department at Utah State University.
"The essence of leadership is trust", says Davis, who began researching trust in the early 1990s. In his research he has examined individual leaders and companies in order to understand what trust is and the role it plays. Davis' research has addressed a knowledge gap in academia and has led to a more nuanced conversation about leadership and management theory.
A key insight, according to Davis, is that trust is domain specific – it may not transfer from the family to the business. In addition, when broken, trust may be restored but not always to the same level that it was before. Davis also spoke about perceptions of the next generation and the benevolence of parents as factors in their decision to join.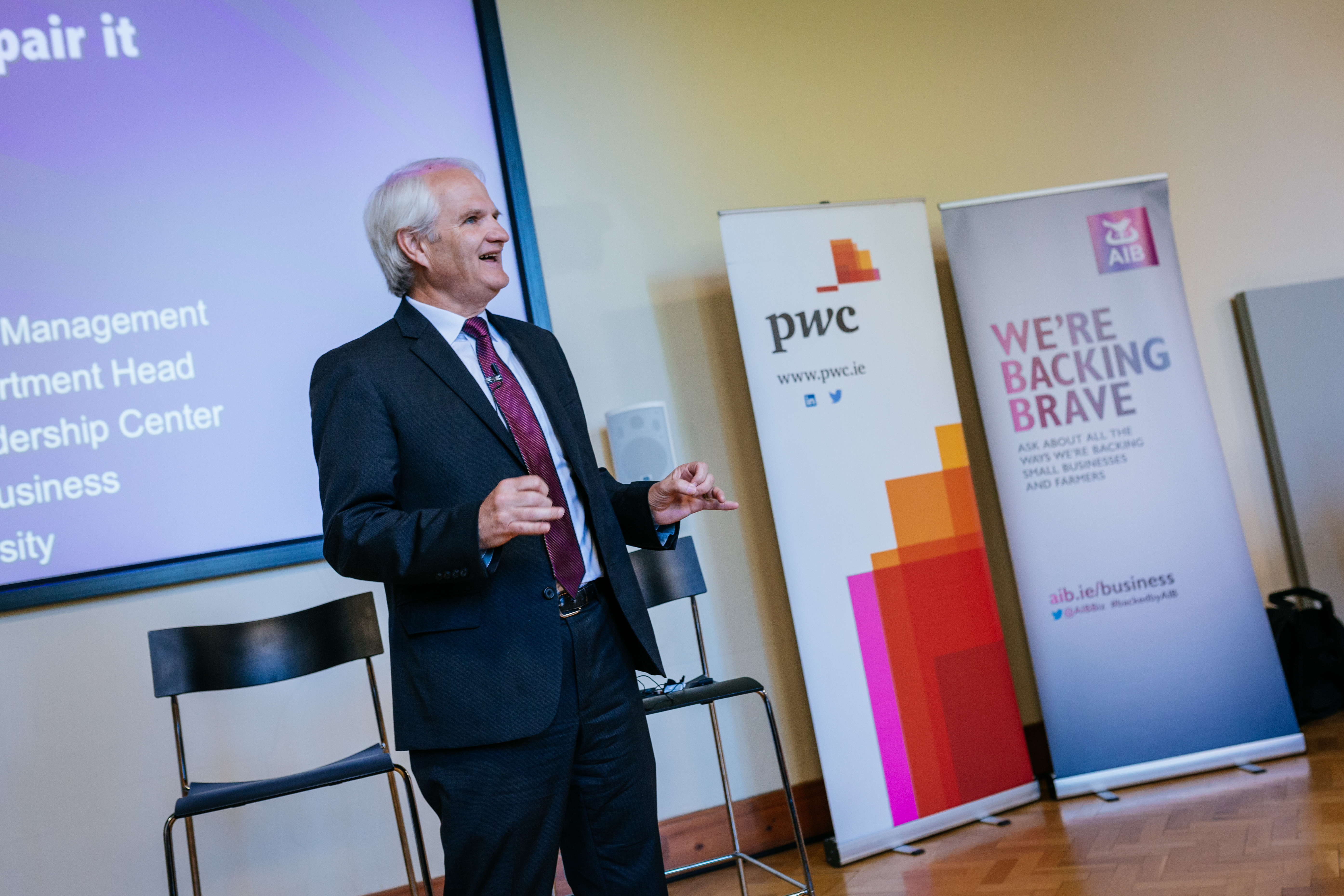 Professor James H. Davis, Utah State University
During the panel discussion Professor Craig Crossley, Associate Professor of Management at University of Central Florida, went into more detail about what happens when trust fails. Crossley had once worked in a second-generation family owned business, and over time he became interested in the ways in which trust can break down. "The opposite of trust is control, and a lack of trust leads to levels of control increasing", says Crossley.
During the panel discussion, Eddie Buckley, Head of Customer Financial Planning at AIB and MC for the morning, directed a question about working across generations to Ruth Gill, CEO of Gill Books, a sixth-generation family business.
Ruth described how her parents worked hard on clarity of ownership when the business was passed down to her and her sisters. Understanding their roles was very important, and the so was process of "disentangling personal identity from professional identity in the business" which has led to her interest in coaching. Some practical steps that they took included creating an advisory board, and ensuring the visibility of their strategy.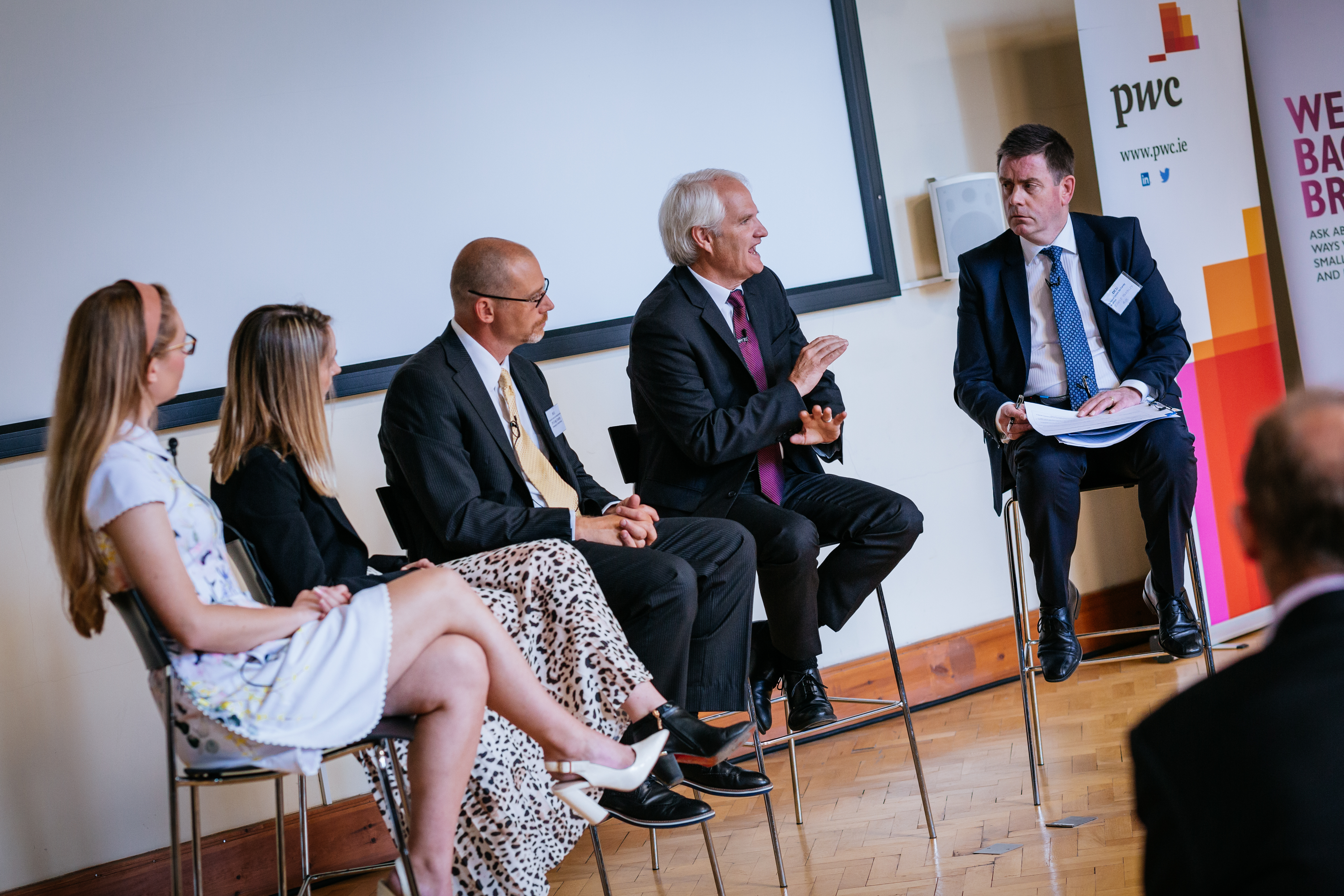 From left to right: Dr Catherine Faherty, Ruth Gill, Craig Crossley, James H. Davis, Eddie Buckley.
Photographs from Building Trust in the Family Firm can be viewed here.
Dr Faherty's research was funded by DCU Ryan Academy and the Irish Research Council and will be available for download on the DCU National Centre for Family Business website www.dcu.ie/ncfb