Barretstown Children's Charity
DCU Artwork Raffle for Barretstown Children's Charity
**** This raffle is now closed****
Interested in starting or adding to your art collection while supporting a great cause? Well, now's your chance!
DCU Visual Artist in Residence Joanna Hopkins has kindly donated two artworks to help us make a difference for Barretstown. The raffle is open to all staff, students and the wider community of DCU and will run until 12noon on Friday 12th February 2021.
About the Artwork
Tickets are €10 each and 100% of proceeds go directly to Barretstown Children's Charity.
The raffle will take place on Monday 15th February 2021. The first two names drawn from the raffle will win one of these fantastic works of art, with the first name drawn having first preference.
How to buy your raffle ticket  
To enter the raffle simply click on the DCU Online Pyment Portal link below and fill in your details by 12noon on Friday 12th February 2021.

Select 'Barretstown' in the Payment Category box.
In the Payment Item section, select 'Barretstown Art Raffle Feb 2021'.
Enter the total amount you wish to pay into the raffle in the Amount to Pay section. Each ticket costs €10 so, for example, if you wish to buy three tickets enter €30 in the Amount to Pay box. Your receipt shows the total amount and we will make sure three tickets with your name are entered into the raffle. Please pay in multiples of €10 only.

Enter the rest of your details to complete payment.
*****This raffle has now closed*****
Data Protection: By entering the raffle with your contact details on the payment platform you are consenting to the processing of your personal data by DCU for the purpose of the DCU Barretstown Children's Charity Artwork Raffle February 2021 only. See here for terms and conditions and further information on how your personal data will be used.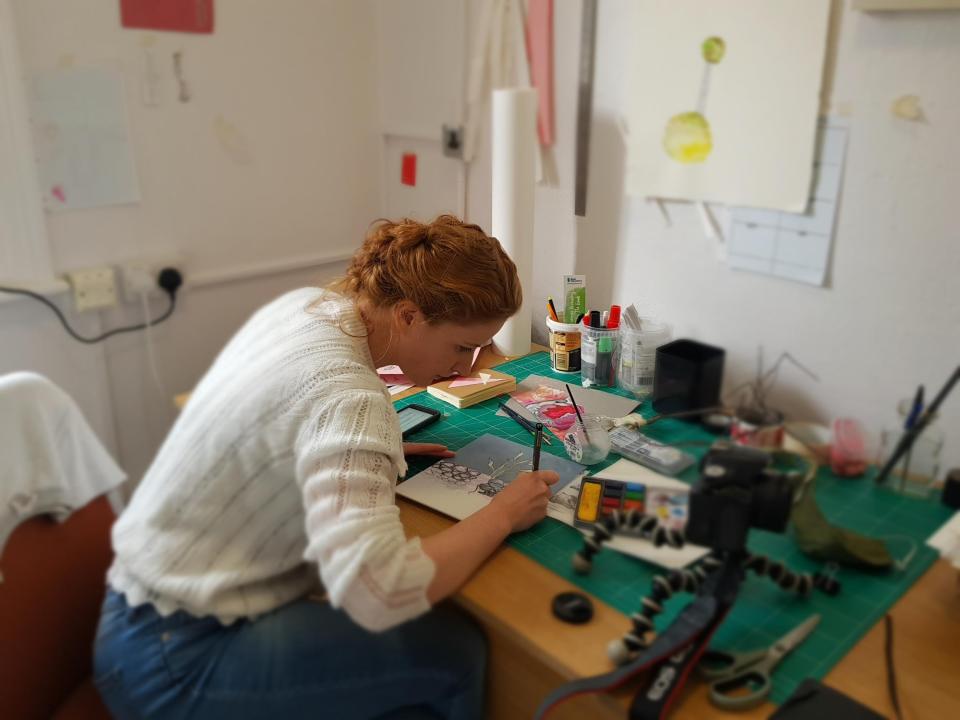 About the Artist
Joanna Hopkins is originally from Mayo. Her work explores the interface between humans, empathy, memory, technology and the digital world, the work is often site-specific and ephemeral, using video, installation and organic materials. She has exhibited in Ireland, Asia, the USA, UK and Europe. https://www.joannahopkins.com.
DCU's Visual Artist in Residence
DCU's arts and culture programme has grown significantly in recent years, in particular its Visual Arts initiatives. While the university has had a history of dynamic and ambitious artist residencies, 2019 was the first time two artist studios were developed on All Hallow's campus. In partnership with the Fire Station Artist's Studios, the university was delighted to welcome its inaugural Visual Artists in Residence - Joanna Hopkins and Mandy O'Neill.
The permit to hold this lottery is held by Mary Colgan, President's Office, DCU, Glasnevin, Dublin 9 and is being promoted and conducted for the benefit of Barretstown Children's Charity, Barretstown Castle, Ballymore Eustace, Co Kildare W91RDX6 (CHY 10715), as granted by Superintendent Brian Daly of Ballymun Garda Station on 27 January 2021.