Professional Diploma in Inclusive and Special Education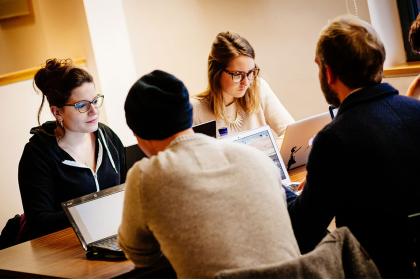 Course Type:
Postgraduate

+353 (0) 1
700 9062

ioe.ise@dcu.ie
Ireland's ratification of the United Nations Convention on the Rights of Persons with Disabilities has increased expectations around the creation of more inclusive schools and systems. In addition, the Teaching Council has identified Inclusion as a key learning area in Cosán -  Framework for Teachers' Learning. The Professional Diploma in Inclusive and Special Education (ISE) has been developed by DCU to support teachers to meet the needs of all learners in an inclusive classroom. This fully online programme provides continuing professional development in a structured and sustained way at convenient times, in an easily accessible manner regardless of location, to support the practical application of skills learned at classroom level. It is a Level 9 programme on the National Framework of Qualifications (NFQ).
The overall aim of this programme is to support primary and post-primary mainstream subject/class teachers, and special education teachers to develop inclusive practice. In particular, the programme aims to provide an opportunity for teachers to develop knowledge, skills and competencies in key areas of inclusive and special educational provision and planning at school and class level. It also aims to create a community of learners who will communicate and collaborate with each other in support of the teaching and learning of all learners , including those with special educational needs.  
On successful completion of the three Certificate modules, students may choose to exit with the Certificate award or to continue to Year 2, which involves completion of the Diploma module: Individually Relevant Learning. Students who wish to complete the Diploma module must be working in a teaching role as it involves the development of assessment skills in order to accurately identify an individual learner's current level of performance, strengths and areas for development and to plan appropriately to meet those areas for development in varying contexts and school settings.
Certificate: The programme includes three Certificate modules in Year 1: Si420 Inclusion and Special Educational Needs (10 credits), Si421 Understanding Dyslexia (5 credits), Si422 Understanding Autism (5 credits), Total: 20 credits, minimum study time: 1 year
Diploma: completion of 3 Certificate modules plus one year long Diploma module: Si902A Individually Relevant Learning (10 credits), Total: 30 credits, minimum study time: 2 years
For more details, please refer to the Frequently Asked Questions » 
Dublin City University is widely recognised as a dynamic and innovative institution that is distinguished both by the quality and impact of its graduates and by its focus on the translation of knowledge into societal and economic benefit.
The DCU Institute of Education is the newest faculty of Dublin City University. Established through the incorporation of St Patrick's College, Drumcondra, Mater Dei Institute of Education, Church of Ireland College of Education and the DCU School of Education Studies, With a staff of more than 125 full-time academics and a student body in excess of 4,000, DCU Institute of Education is a recognised centre of excellence in teacher education nationally and internationally, and has  a distinguished record in providing continuing professional development offering a range of taught and research programmes to masters and doctoral  level. 
DCU students have access to two extensive libraries that include a vast array of educational resources and diverse study spaces for both collaborative and independent work. Remote access to journals and eBooks enable and enhance study at a distance.
The ISE programme is a fully online course that facilitates access regardless of geographical or other constraints. The online flexibility of this programme is enhanced by engagement with your peers, engagement with the content through responding to online learning activities, and by reflecting on your own experiences and practice.
Support for course fee payment can be applied for through the Teacher Refund Scheme administered through the Marino Institute of Education. Tax relief is available for postgraduate study through Revenue.ie
On successful completion of the three Certificate modules, students can exit with the Certificate award or continue to the Diploma module.
On successful completion of the Diploma module, students are eligible to exit with the Diploma award or they may apply to the following masters' programmes with certain module exemptions:
Master of Education (Special and Inclusive education option) (MEd SIE) with an exemption from two modules: Concepts and Contexts of SIE SI901 (10 credits) and Individually Relevant Learning SI902 (10 credits)
OR
Master of Education in Autism (MEdA) with an exemption from two modules: Understanding Autism SI601A (5 credits) and Autism: Assessment, Profiling and Planning SI602A (10 credits).
Requirements
Application is open to qualified teachers, at primary and post-primary level, who hold a recognised qualification, Level 8 Pass Degree / Third Class degree, from an awarding institution in Ireland or elsewhere.
Consideration will also be given to Graduates with a level 8 degree (with experience of working in an educational, training or education-related professional context). 
Candidates must submit the following:
· Certified academic transcripts for each and every year of study
· Detailed CV
· Personal statement of 250 words outlining your reasons for applying
Qualification
Professional Diploma
Fees
Part time
EU Status Fee Part-time
Yr. 1 €2,500 - Yr. 2 €1,250
Non EU Fee Part time
Yr. 1 €5,300 - Yr. 2 €2,500