Professional MA in Healthcare Chaplaincy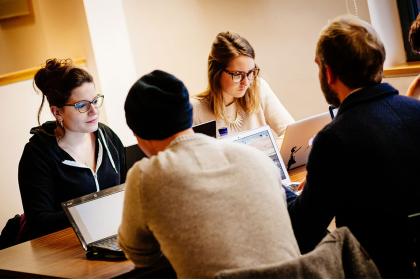 Course Type:
Postgraduate

+353 (0) 1
8842141

thomas.grenham@dcu.ie
The Professional MA in Healthcare Chaplaincy, is a three semester programme which will facilitate experiential learning through intensive clinical exposure and reflective practice. The programme is designed to offer those interested in pursuing a career in healthcare chaplaincy an opportunity to acquire the theological and professional competencies required for effective ministry within intensive clinical environments and complex healthcare systems.
This is currently the only level 9 masters programme offered in an Irish university which combines both the academic and clinical practice elements required to apply for certification as a hospital chaplain.
Upon successful completion of this programme the Graduate will be able to:
Demonstrate an ability to engage in a holistic manner with the Chaplaincy needs of patients, residents, family, staff and wider community
Exhibit self knowledge to a degree that permits pastoral care to be offered within the contexts of his/her strengths and limitations
Be aware of and articulate how their feelings and attitudes, values and assumptions affect their ministry
Be competent in reflecting theologically and facilitating that process in others; Give evidence of understanding current theological, spiritual and ethical issues that confront chaplains
Demonstrate an ability to articulate and empathise around spiritual, moral and medical issues; Demonstrate an ability to understand and help others discover the meaning in the experience of suffering, grief and loss
Demonstrate the facility to integrate theology of ministry and pastoral practice
Understand the operational systems in the healthcare setting
Engage sensitively in faith conversation and faith development initiatives in an invitational and inclusive manner
Exhibit competence as a reflective practitioner and openness to continuing spiritual, theological, professional and personal development
Demonstrate the ability to manage his/her own work as a Chaplain and to integrate this with the work of others in order to provide an effective Chaplaincy Team Service in a healthcare setting.
This is currently the only level 9 masters programme offered in an Irish university which combines both the academic and clinical practice elements required to apply for certification as a hospital chaplain.
You will study at the largest and most innovative Institute of Education in Ireland and the UK. Programmes are designed to meet the personal and professional needs of chaplains/pastoral workers and delivered by academic and practising experts. We focus on creating a rich, collaborative and safe learning environment where the student voice is central.
You will have full access to our first class facilities, including an extensive library with remote access for on-line students.
The programme is designed for those wishing to pursue a career in Healthcare Chaplaincy in a variety of approved healthcare contexts including: Hospitals Hospices Rehabilitation Facilities Nursing Homes & Care Facilities
Requirements
A good honours primary degree, minimum H2.2 in Theology or Religious Studies (with a minimum 80 ECTs in Theology/Religious Studies).
There is a minimum age requirement of 23 years at the time of application. Applicants must have secured a suitable first placement prior to application
Applicants must be successful at a pre-admission interview
International Applications
International candidates are expected to have educational qualifications of a standard equivalent to those outlined above. In addition, where such candidates are non-native speakers of the English language they must satisfy the university of their competency in the English language. For further information on international applications click here.
Student Visas
Applicants who require a student visa for entry to Ireland are encouraged to seek clarification from the relevant Irish embassy regarding the closing date for application for such visas. Applicants who do not secure a study visa in time will be unable to take up their offer of a place on any DCU programme.
Fees