Fiontar Graduates
In their own words, Fiontar graduates tell you about the course they completed. You will get a great understanding of the beneficial and enjoyable experience of studying with us here in DCU.
Tomás Ó Madagáin MSc - Financial Advisor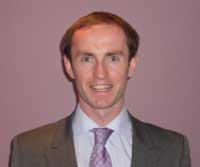 I did a degree in Irish and History in NUIG. One day a lecturer from Fiontar came and gave a presentation and there and then I decided that the MSc i nGnó agus i dTeicneolaíocht an Eolais (MSc in Business and IT) was the course for me. I chose it because the fees were subsidised at the time and because I wanted to go into business in some way. I wanted to continue my education through Irish and I knew that DCU had, and still has a good reputation in business studies. Also, I knew that employers out there know that if you come out of DCU you have worked hard and done great things, and I think that helps you at interviews.
The course was enjoyable because you could give your own opinions and you could develop your own business style during the course – in presentations, the assignments and in the thesis at the end. Despite myself perhaps, I grew and developed as a person during the course. We studied various entrepreneurs and I learned that you have to be confident of your own ability and if you want to have a great unique life for yourself you need to go out and establish your own business.
After spending a year working in IT with Gael Linn, for the last three years I've been self-employed as a financial consultant. For the last two years I've been a member of the Million Dollar Round Table – the top 1% of financial consultants worldwide. I was at the annual meeting in Toronto last year and I'm going to this year's meeting in Indianapolis. I meet the most inspiring people in the world there – it's amazing.
I've got good experience in the consultancy but my passion is sport – that's very important in life. Therefore, I'm starting a new business called Sports Academy International, an innovative company organising training camps in Ireland and throughout Europe, for professional and amateur teams in Gaelic, rugby and soccer etc. For the last few months we've got most of the senior intercounty teams – myself and my business partner Tony Griffin. Also I'm on the Clare senior football county panel. I'm busy and life is good here in Clare.
The Masters helps me a lot as it gave me the basic business skills – how to write reports, how to make a presentation in front of the Director of the London Irish Rugby Team; now to manage the company's finances; how to grow a business; and how to manage it from day to day. I got great experience during my time in Fiontar – the lecturers were very helpful, the course was very innovative and it's a great experience for anybody thinking of going into business or to establish a company or be self-employed. Basically it gave me the skills and self-confidence to go out and do the work. Seriously, I'm not lying, I really enjoyed my time now that I look back!
Niamh Ní Bhroin MSc - Broadcasting Executive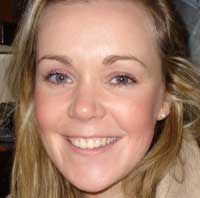 I had a first class honours degree in Communications (Film and Broadcasting) from DIT. I was working full-time as a director with Macalla Teoranta. At that time, Macalla was primarily concerned with dubbing cartoons into Irish for broadcasting on TG4. I wanted to enhance my academic skills, particularly with regard to business. I had always been interested in Fiontar as it was possible to obtain a third level education through the medium of Irish there. I didn't want to stop working. I chose to undertake the Masters in Business and Information Technology on a part-time basis.
I liked a lot of things about the course: it was clearly laid out; the classes were small; I was able to attend college after work; and, the staff were always more than willing to assist the students in any of the work that they were undertaking. What I liked the most was probably the fact that I met like-minded people who were interested in the importance of the Irish language and in finding ways of using the language in our daily lives. I would say this about the staff and the students. There was always a lovely atmosphere in Fiontar.
I prepared a thesis on the main reasons that Irish-language programming was broadcast on commercial radio in Ireland in 2005 and 2006. I was interested in understanding why these programmes were broadcast and in what stations' obligations were in relation to Irish language programming. In addition, I was interested in researching whether there were other reasons, apart from contractual obligations, that these programmes were broadcast.
At the moment I am working with the Broadcasting Commission of Ireland. Most of my work is concerned with the various policies that the Commission is required to implement. In addition, I am secretary to an Irish Language Development Committee that the Commission founded with Foras na Gaeilge, Gael Linn and the community and commercial radio stations in 1999. This committee aims to find ways of promoting and enhancing the use of the Irish language on independent radio stations.
The Masters helps me with my work in three main areas:
• What I learned in terms of business and resource management assists me with management, be that people, project or work-plan management;
• The essays, projects and thesis that I prepared during the course added to my communication and analytical skills, and this helps me when preparing reports, researching particular policies or analysing information submitted to the Commission; and,
• The presentations I made during the course added to my communication skills. This helps when I need to make presentations in work (which happens a lot!).
Caoimhe Ní Laighin MSc - Journalist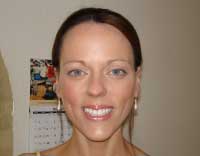 I started Fiontar's MSc in Business and Information Technology in 2003. I had just finished a BA in Journalism in Dublin Institute of Technology and I wanted to develop my practical skills.
I felt that a lot of the practical skills I needed in my profession were covered by the course – skills in computing, business and research. During the course the topics I liked most were the research on multimedia and the opportunity I had to do a Masters level thesis. I really liked the fact that I had the freedom to concentrate on the disciplines in which I was particularly interested. As I had a qualification in journalism, I decided to write my thesis on the Irish language media and I thought the lecturers gave me great help and support.
After qualifying with the MSc, I worked with the Northern Ireland Screen and Television Commission for a while and then I worked as a freelance journalist and as the editor of the internet magazine Beo! (www.beo.ie). I'm currently working as an editor with Nuacht RTÉ/TG4. I've also done some part time lecturing with Fiontar and have given guest lectures in Dublin Institute of Technology.
I think the postgraduate course genuinely helped me develop my professional career – with the skills I learned and the contacts I made. I would strongly recommend this course to everybody. It opens many doors, regardless what your background is. There was even a chemistry graduate in our class. People don't get 'put in boxes' and students are given the freedom to concentrate on their own interests during the course.
Nollaig Ó Maonaigh MA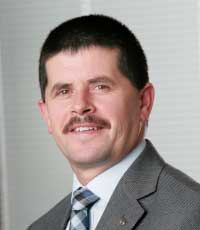 I was a Sergeant Major in the Army working in the Strategic Planning Office when I decided to apply for the MA in Bilingual Practice with Fiontar. I had just finished the BA in Irish in UCD. I had two reasons to continuing my Irish studies. As I was very interested in the language and was able to deal with Irish language matters in the Army, I thought the course would help me a lot in my work. I was a member of the Irish language Council of the Army and one of the responsibilities of the Council was to promote Irish in the forces. One of my responsibilities was to write the Army's Irish language policy and later I also developed and published the Army's first official language scheme.
I hoped to learn more about the official status of the Irish language and the rights citizens have to conduct their business with the state through the medium of Irish. I have to say that I was not disappointed by the end of the course. What I liked most about the course was that I could study at home using the internet, rather than have to go up to Dublin every week. I had done that for the BA and it was tough.
I think I learned a lot of new things on the course. The things that still help me most in my daily work is the understanding I got about the Constitutional status of the language as an official language. I left the Army during the course and got a job with The Teaching Council. My fluency in Irish helped me get the new job. My interview was conducted bilingually and the MA in Bilingual Practice was discussed during the interview.
I decided to do something useful and practical for my thesis . I examined the Teaching Council as a newly formed organisation and I developed a framework for the organisation's language policy.
The time I spent with Fiontar opened my eyes about Irish speakers' rights and particular specialist knowledge was shared with me during the course. I would recommend this course to anybody working in the public sector who is interested in the language. There's a great need in the public sector for more people with expertise on citizens desire to have services through the medium of Irish.
Carmel Mac Domhnaill MA - Irish Language Development Officer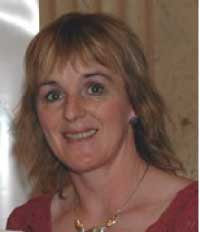 I was working as an Irish Language Development Officer with the Health Services Executive when I decided to return to college even though I didn't have a primary degree. Fiontar gave me a chance to attend their MA in Bilingual Practice because of my work experience and because I was sufficiently fluent and accurate in my Irish. I was very thankful for that opportunity.
At that time the HSE was legally required by the Official Languages Act (2003) to design and implement a language scheme, and those of us employed as Irish language officers had responsibility for the scheme. When I read that the course would give me an education and training in management and in the delivery of bilingual services, as well as practical training with a theoretical basis in bilingual best practice I knew I would enjoy and benefit from the course. The course set up was very handy as most of the teaching was on line and we only had to attend the campus on 6 weekends each year. This is great for people who work fulltime and who don't live near Dublin.
All the Fiontar staff were very helpful to all of us and always ready to help and provide support. While there was a lot of work involved, the course was well laid out and we had enough time to do all the assignments.
After I finished the course I continued as an Irish Language Development Officer but now my job is permanent. The MA gave me a great foundation in a wide range of subjects. It gave me an understanding of the theories and practices in diversity and equality. I was hoping to finish the course with high level skills in delivering services through Irish and I have to say I was not disappointed. Not only did I gain an understanding of conducting business through Irish, but I also got the information and skills I needed to ensure I would provide high quality service to the public along international standards.
For my thesis I chose to do some research on Teastas Eorpach na Gaeilge – the European Certificate in Irish – for adult learners of Irish. The TEG is linked to the Common European Framework of Reference for Languages and as Irish is one of the official working languages in Europe, I had a particular interest in it. Also, I was teaching internal classes in our workplace and using this system which examines four skills – speaking, listening, reading and writing. My thesis was about the theory and the history of Teastas Eorpach na Gaeilge.
Bairbre Uí Theighneáin - Irish Language Development Officer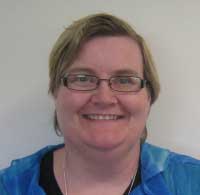 I'm Bairbre Uí Theighneáin. I'm an Irish language development officer and I work with the Health Services Executive. I got my nursing training in NUIG and spent 17 years working as nurse. I was employed in the General Hospital in Tullamore when I saw an advert for a new job – Irish Language Development Officer. I didn't know what the job would be but I was ready for a new challenge. I started the job in July 2000.
I heard about the MA in Bilingual Practice with Fiontar from a friend who was in the first year of the course. He was very dilligent and he inspired me to get more information about the course. When I saw I would get training in various issues such as bilingual design, Irish and the law, not to mention how to deal with language promotion in a business-like manner, I was really interested in it. Still and all, i was not sure if I would do the course as I didn't have a degree in Irish, Once I heard I could do the course as I was working with the language, I decided to apply.
I liked a lot of things about the course. There were very interesting people in the class – i got to know them while I was in college. I learned a lot about how to do research, something I'd never learned before. The lecturers were really great – very hepful and friendly. That really added to the experience. I'm still in touch with them. Our prior experience was acknowledged and we had plenty of opportunities to incorporate the work we had already done into the tasks we had to do.
What I learned most on the course was to ensure that any information given to me is accurate. I learned about the importance of ensuring that I and others should use credible sources – especially when dealing with statistics. I decided to do my thesis about the difficulties encountered by older people whose first language is Irish when living in long stay nursing homes run by the HSE. I hope to finish the thesis soon.
Everytime I send a translation for signage or stationery to a manager I ensure that I include notes on best practice in bilingual design. I use what I learned in the design module every day. I feel I have gained a comprehensive understanding on a lot of matters since I finished the taught part of the course and through all the reading for the thesis.
Everybody in Fiontar was very friendly and they gave us huge help in learning how to do research and how to undertake a thesis. They always gave honest helpful feedback. I feel proud of Fiontar every time I see the name on focal.ie or on logainm.ie as I think the School makes a difference in the day-to-day lives of people working with the Irish language.
Aisling Nic Craith - Administration and Corporate Affairs Manager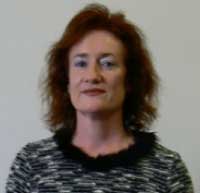 I have an interesting background because of all my travelling and experience. After school I did a Certificate in Art. I then worked in the hospitality sector in New York and later spent three years in Japan and Korea, teaching English and learning karate. I have a black belt in karate and a Diploma in Japanese. After returning to Ireland I spent seven years working in the tourism industry. I had a wide range of experience in those years – guiding Japanese groups around the country; organising international conferences and incentive visits for large multinationals; as well as marketing and sales. For the last six years I've been working as an administration and corporate affairs manager with COGG - Comhairle um Oideachas Gaeltachta & Gaelscolaíochta. COGG's regulatory functions include coordinating the provision of textbooks and resources for the teaching of Irish and through the medium of Irish; provision of support services; and coordination of research.
I chose the MSc in Business and Information Technology in order to develop my professional skills in terms of analysis; research; IT; and business. I thought the course covered a wide range of subjects and was very practical and suitable for the workplace. My primary and secondary level education had been through the medium of Irish and now I'm working in an office that conducts all of its business through the medium of Irish. I was attracted to the MSc because it was run through Irish.
I liked the technological element of the course a lot, especially the design and the web development and database design. I was able to use my own creativity with the new IT skills I learned. What I learned most on the course was: how to analyse documents, statistics and annual reports; how to do research; and how to structure a report or an academic essay properly. All the modules are very interesting and very useful in business.
I draw on various aspects of the course every day at work:
- dealing with the COGG website
- developing databases for various projects
- implementing things I learned in the marketing and communications modules
- using the skills I learned in the project management module when organising our various projects
- analysing accounts
My thesis is about my work in COGG – the provision of resources to second level schools. I highly recommend this course as you can use the skills and knowledge you learn in all kinds of jobs and careers. While the teaching and learning is all through Irish you don't need to be working in the Irish language sector.
Bairbre Ní Choisdealbha MSc - Mathematics Teacher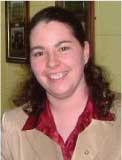 I'm a secondary school teacher who used to teach maths and computing in Coláiste de hÍde – a Gaelscoil in Dublin. I had responsibility for IT in the school. I am a member of the executive committee of the Computer Education Society of Ireland. I was the site co-ordinator of the CESI Annual Conference in Coláiste de hÍde from 2002 to 2008 and I am the deputy co-ordinator this year. The conference is attended by around 300 teachers, and includes 34 computing sessions.
I chose the MSc because of the IT component run through the medium of Irish and I was interested in the modules offered on the course. The Computer Networks for Business module was directly related to my responsibility for ICT in the school. I saw how the Multimedia Publishing and Marketing modules would help me create a professional online image for the school. I also liked Fiontar's ethos.
I did the part-time course to get a formal qualification in computing but I got so much extra out of the course. We studied a wide range of subjects which greatly added to my skills, not just as a teacher but also as a person in general. These skills – communications, research, human resource management, strategic planning – help me in my daily work. Through the modules we did in business and management, I now have a far better understanding of and respect for the management and leadership role in school. As a citizen of a minority language country, I have a deeper understanding and higher awareness of the importance of heritage and culture.
The course fostered my entrepreneurial and innovation skills. My computing skills developed to such an extent that I was able to undertake the development of a maths teaching tool as part of my thesis. The tool I created was recognised as one of the Top 100 for the E-Learning Awards in 2005 (http://elearningawards.eun.org). As a result of the Masters qualification I am now qualified to teach a wide range of subjects including business studies. Because of that wide range and my primary degree in maths, I got a teaching job in a new Gaelscoil – Coláiste an Eachréidh in Co Galway.
I made great friends with many of my fellow students on the course, and I have great memories of the craic we had. I loved my time in DCU. The classes were small; the interdisciplinarity and the different academic backgrounds of all the students; the co-operation to meet deadlines; the different approaches we all had; the very good relationship we had with the lecturers; the encouragement they gave us to recognise our own visions and to achieve them. I had great fun on the masters programme – I got so much from it. I can only praise it. Our school's website is here .